Any Kings Canyon tour is going to take you to at least a few waterfalls. In fact, the mix of deep canyons and yearly snowmelt means that Kings Canyon National Park has some of the most powerful waterfalls in the Western Hemisphere. Here are a few highlights:
Roaring River Falls
Located deep in the valley, Roaring River Falls is one of the most dramatic waterfalls in the park. There's a short, five-minute trail that leads to the bottom section of the falls, where water rushes through a narrow granite gap and falls 40 feet to the pool below. Feel free to spend some time wading in the pool or scrambling up the rocks to see the rest of the falls, although any climbing is at your own risk.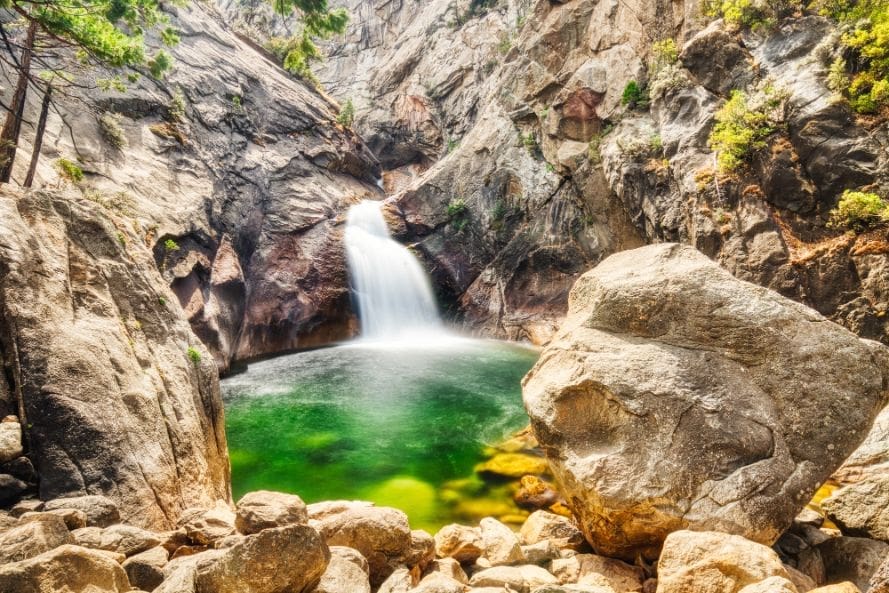 Mist Falls
Perhaps the most iconic waterfall in Kings Canyon, Mist Falls lies at the end of a comfortable hiking trail. Visitors to the falls are rewarded with the sight of the Kings River cascading about 100 feet down a granite incline, throwing up the bracing mist that gives the waterfall its name.
Grizzly Falls
Located just off the Kings Canyon Scenic Byway, this 80-foot waterfall is worth visiting at any time. However, the real attraction is in the spring, when the force of the water thundering down Grizzly Falls can be felt even from the shore.
Tokopah Falls
Although it's technically located in nearby Sequoia National Park, we'd be remiss if we didn't mention the serene beauty of Tokopah Falls, a 1,200-foot high series of cascades that has become one of the area's most iconic attractions.
Make the most of your next trip to Kings Canyon with our Sequoia & Kings Canyon Self-Guided Driving Tour. More prolific travelers might be interested in Action+, a yearly subscription that grants unlimited access to over 100 tours, including Sequoia, Yosemite, and more.
Essential Travel Guide: