Since the drive from Sequoia National Park to Kings Canyon is only a few minutes, you can easily see both parks in a single day. However, we'd recommend taking a few days if you want to see the most iconic attractions in the area. As a general rule, we suggest spending about two days in Sequoia National Park and another day in Kings Canyon National Park, although you can certainly explore for much longer.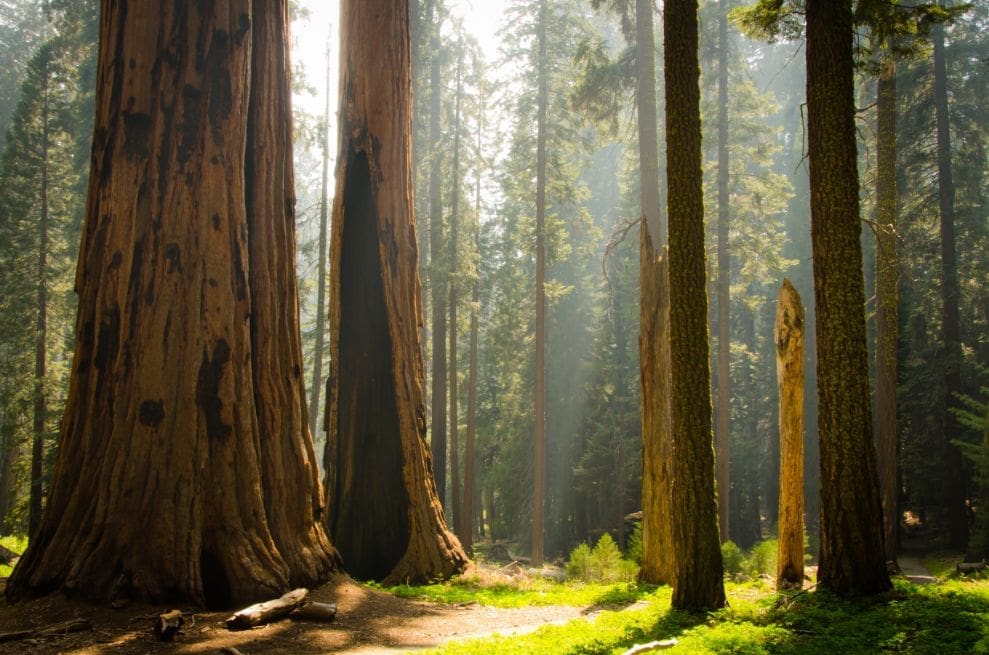 The primary attractions in Sequoia National Park are the groves of giant sequoia trees that give the park its name. The two best trails through the giant forest are Congress Trail and Big Tree Trail, both of which are worth seeing. The Congress Trail is the most essential of the pair, as it takes you past General Sherman, the largest tree in the world and the pride of the park. Other must-see locations include Crystal Cave, a picturesque marble cavern available for guided tours, Moro Rock, which towers above the rest of the park and offers a perfect viewpoint of the natural beauty below, and Tokopah Falls, a 1,200-foot series of cascades at the end of a short trail.
While Kings Canyon is the less famous of the two parks, there's still plenty to see there. It's worth visiting Grant Grove to see General Grant, the partner tree to Sequoia's General Sherman, but the real draw of Kings Canyon lies in its valleys, waterfalls, and granite peaks. Roaring River Falls and Mist Falls are both must-see sites, as is the scenic Kings Canyon Overlook. If you're willing to brave the dizzying 172-step climb, we highly recommend visiting Buck Rock Lookout, originally built in 1923 as a fire watch outpost.
For more suggestions, check out our Sequoia & Kings Canyon National Park Self-Guided Driving Tour, or subscribe to Action+ for unlimited access to over 100 other tours for a single yearly price.
Essential Travel Guide: