As the name suggests, the most impressive and iconic part of any Sequoia National Park tour is getting to see the groves of giant sequoias that fill the park. The most massive trees in the world, giant sequoias are a type of redwood tree found only on the western slope of the Sierra Nevada mountain range. They are also among the oldest living organisms on Earth – the oldest known giant sequoia tree is estimated to be about 3,200 years old. An average giant sequoia can grow to be between 150 and 275 feet tall, with a base diameter of between 20 and 25 feet. Although some species can grow taller than sequoias, these massive redwoods are the largest in the world by volume and pure mass. In fact, the largest tree on the planet, the General Sherman tree, is a sequoia located in the Giant Forest in Sequoia National Park.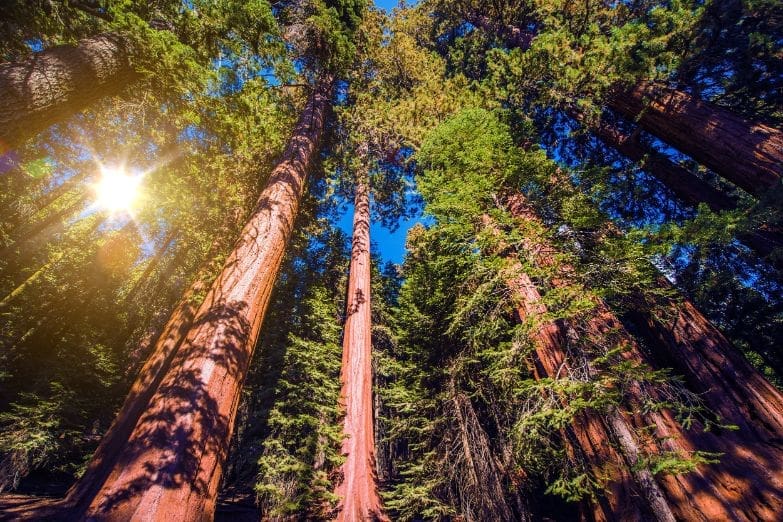 Although there are sequoia groves scattered all the way up and down the Sierra Nevada, including in nearby Yosemite National Park, by far the largest are in Sequoia National Park. The park itself was founded in 1890 primarily to conserve these trees, so the groves in Sequoia and neighboring Kings Canyon National Park are largely untouched by logging efforts. Fortunately, giant sequoias are known to shatter when felled, making them less than ideal for logging. However, despite the protections afforded to the trees, the fact that they can only naturally grow in one small part of the world means that they remain endangered, with fewer than 80,000 trees remaining on the planet.
Make the most of your next trip to the Sierra Nevada with our Sequoia & Kings Canyon National Park Self-Guided Driving Tour, or check out Action+ for unlimited access to over 100 tours for a single yearly price.
Essential Travel Guide: