Autumn in New England is synonymous with vibrant foliage, crisp air, and picturesque landscapes. If you're seeking the best places to immerse yourself in the season's splendor, look no further. We have curated a list of 14 self-guided New England fall foliage tours, each offering a unique perspective on this enchanting season.
1. Acadia National Park (Driving)
Acadia National Park, located in Maine, presents a vast canvas of crimson, gold, and amber. Embarking on this self-guided New England fall foliage tour, drive through scenic loops offering panoramic ocean and mountain views. Don't miss the summit of Cadillac Mountain; on clear days, it's the first place in the U.S. where you can see the sunrise.
2. Bar Harbor (Walking)
A coastal town adjacent to Acadia, Bar Harbor is a haven for walking enthusiasts. Stroll through its charming streets, filled with local shops and restaurants, all while surrounded by the brilliance of autumn leaves.
3. Blue Ridge Parkway (Driving)
The Blue Ridge Parkway, often referred to as "America's Favorite Drive", is a testament to nature's majesty. A medley of autumnal hues and breathtaking mountain backdrops will accompany you as you drive.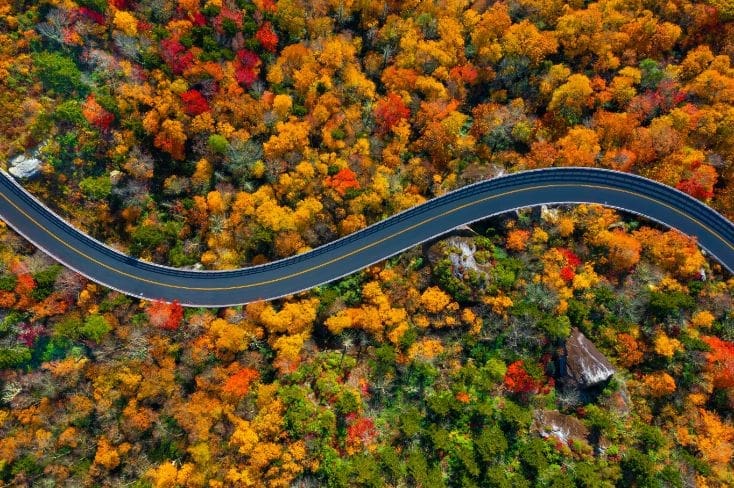 4. Boston Freedom Trail (Walking)
Historic and scenic, the Freedom Trail in Boston is a 2.5-mile-long path through 16 historically significant sites. As you delve into America's history, the autumnal canopy overhead adds a special touch to the journey.
5. Boston Harbor (Walking)
Experience architecture on Boston Harbor's waterfront while the cityscape dons its fall attire. This walk offers a blend of history, modernity, and nature's seasonal artistry.
6. Cades Cove (Driving)
Tucked within the Great Smoky Mountains, Cades Cove is a broad valley surrounded by mountains. The looped drive offers unparalleled views of wildlife, historic buildings, and the golden hues of fall.
7. Cambridge (Driving)
Adjacent to Boston, Cambridge is famous for its esteemed universities. Drive through its tree-lined streets, where gothic architecture gets accentuated with the changing leaves.
8. Cape Ann (Driving)
This rocky cape in north-eastern Massachusetts boasts quaint fishing villages and lighthouses. The coastal roads draped in autumnal colors make it a must-visit during the fall.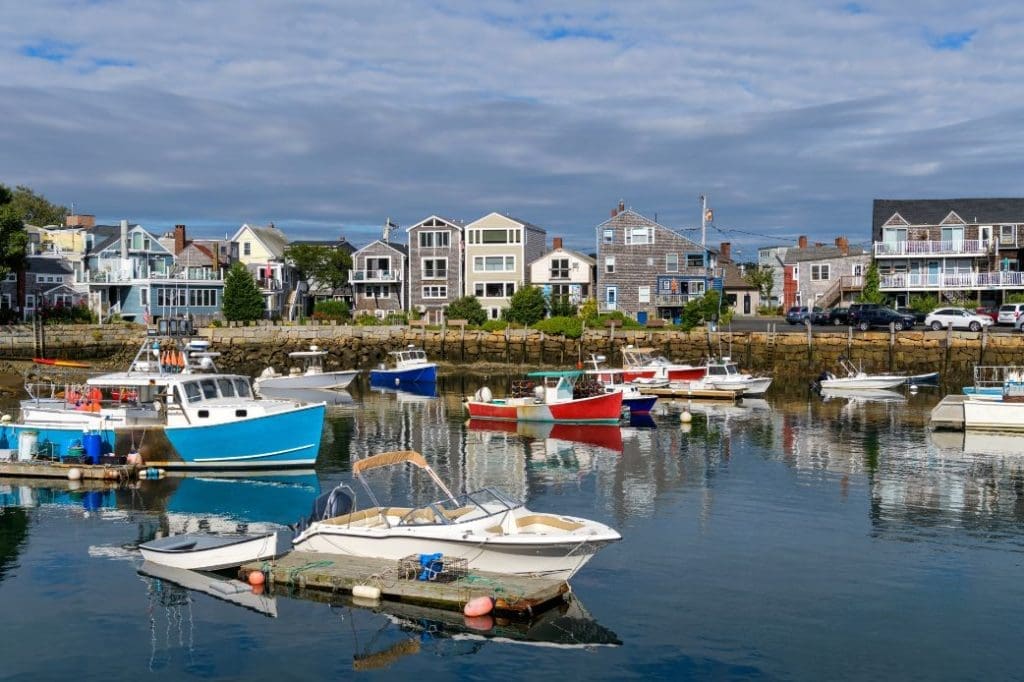 9. Cape Cod (Driving)
The charm of Cape Cod is elevated during the fall. Drive along the coastline, watching the cranberry bogs turn deep red, perfectly complementing the ocean's blue.
10. Central Park (Walking)
New York City's Central Park is a serene escape amidst the urban hustle. During autumn, it transforms into a vibrant spectacle, making it a perfect place for a self-guided New England fall foliage tour.
11. Great Smoky National Park (Driving)
Known for its mist-covered mountains, this national park becomes even more magical with the onset of fall. Winding roads take you through dense forests painted in shades of autumn.
12. Harvard Yard (Walking)
Situated within Harvard University in Cambridge, this historic yard is a treat during the fall. Walk amidst centennial trees showcasing a riot of colors and soak in the academic ambiance.
13. Kancamagus Scenic Byway (Driving)
This highway in New Hampshire is renowned for its fall foliage vistas. It's an unadulterated nature drive, with the White Mountains on one side and the Swift River on the other.
14. Lexington and Concord (Driving)
Revisit the beginnings of the American Revolution as you drive through these towns. The historical significance, paired with the autumn scenery, makes it a noteworthy part of any self-guided New England fall foliage tour.
In conclusion, New England is a treasure trove of autumnal delights. Whether you prefer walking through historic cities or driving through nature's vastness, these self-guided New England fall foliage tours promise an unforgettable experience. So, pack your bags and let the beauty of fall guide your way.