Lake Tahoe and Sequoia are about six hours apart by car, making it pretty much impossible to do a Lake Tahoe and a Sequoia National Park tour in a single day. However, if you leave time for travel, they do make two ends of a terrific road trip.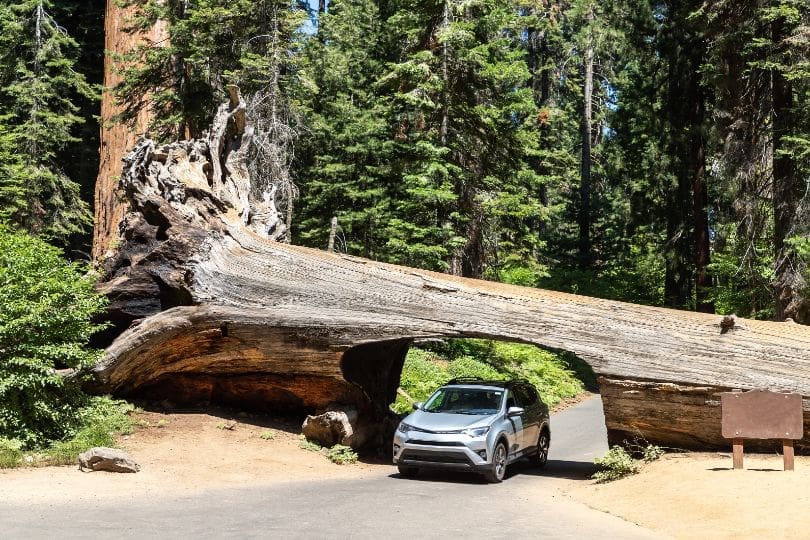 The fastest way to travel from Lake Tahoe to Sequoia National Park is to take CA-99 most of the way. You'll drive through Eldorado National Forest shortly after leaving southern Lake Tahoe, which is a pretty scenic route, but once you reach CA-99 you'll mostly be traveling in the Central Valley. The drive itself is also fairly scenic, so you can head straight to the park without getting too bored. However, there are plenty of opportunities to turn off the highway and head back up to the Sierra Nevada if you're looking for more natural beauty.
The most famous attraction between Lake Tahoe and Sequoia National Park is Yosemite National Park, located more or less smack dab between the two places. As one of the most popular national parks in the country, Yosemite is absolutely a must-see for anyone who hasn't been there before. If crowds aren't really your thing, Yosemite is bordered to the north by Stanislaus National Forest, which offers a more low-key alternative. Yosemite's iconic canyons and viewpoints are also partially replicated in Kings Canyon National Park, located south of Yosemite, right up next to the northern edge of Sequoia. An entrance pass into Kings Canyon also gets you into Sequoia free of charge, so we highly recommend spending time in both parks during your visit.
Make the most of your next trip to the Sierra Nevada with our Sequoia & Kings Canyon National Park Self-Guided Driving Tour. More prolific travellers might also be interested in Action+, a new subscription that grants unlimited access to over 100 tours around the world for a single yearly price.
Essential Travel Guide: