Most Sequoia National Park tours will start at the Foothills Visitor Center, just past the entrance station on Generals Highway at the southern part of the park. This center has plenty of maps, information, and gifts, as well as some exhibits about the park. It's also the starting point for most ranger-led programs. Unlike many buildings in Sequoia, Foothills Visitor Center is open year-round, although the hours change depending on the season.
Another popular visitor center is the Giant Forest Museum, located in the park's largest giant sequoia grove. The museum features plenty of exhibits on the sequoia trees and a registration station for wilderness backpacking permits. The Giant Forest Museum is also open year-round.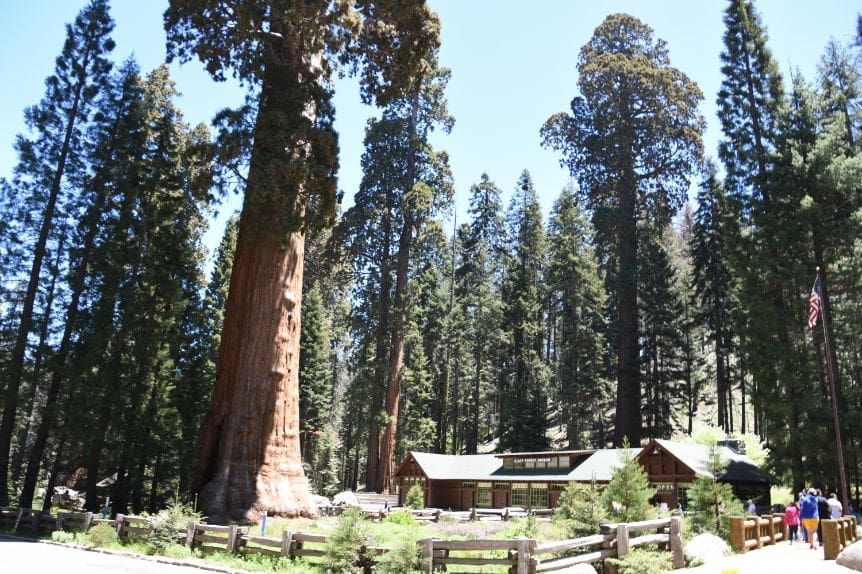 Located up north at neighboring Kings Canyon National Park, the Kings Canyon Visitor Center is right next to Grant Grove and has some additional exhibits on the giant sequoias, as well as maps and gifts. Kings Canyon Visitor Center is open year-round as well.
Located in the conifer zone in Sequoia, the Lodgepole Visitor Center is one of the best in the park. It features brand new exhibits covering every natural ecosystem in the area as well as human history in the southern Sierra Nevada. The visitor center also has educational films and a registration station for wilderness permits. Lodgepole Visitor Center is open between May and October, with the exact dates depending on the weather.
There are two more seasonal visitor centers in Sequoia National Park, Cedar Grove Visitor Center and Mineral King Visitor Center, but both are closed through the rest of 2023 due to damage from winter storms that affects road access. As of August 2023, the park has yet to announce when these centers will be open again.
Make the most out of your trip to the Sierra Nevada with our Sequoia & Kings Canyon National Park Self-Guided Driving Tour, or check out Action+ for unlimited access to over 100 tours at a single yearly price.
Essential Travel Guide: