Although Saguaro East National Park is located only half an hour from Tucson, the second-largest city in Arizona, you might be surprised by how little light pollution there is at night. On moonless nights, you can see hundreds of stars as well as the arms of the Milky Way. In fact, the Sonoran Desert is known as one of the best places in the world for stargazing; just make sure you dress for cold weather since the desert can get pretty chilly once the sun goes down.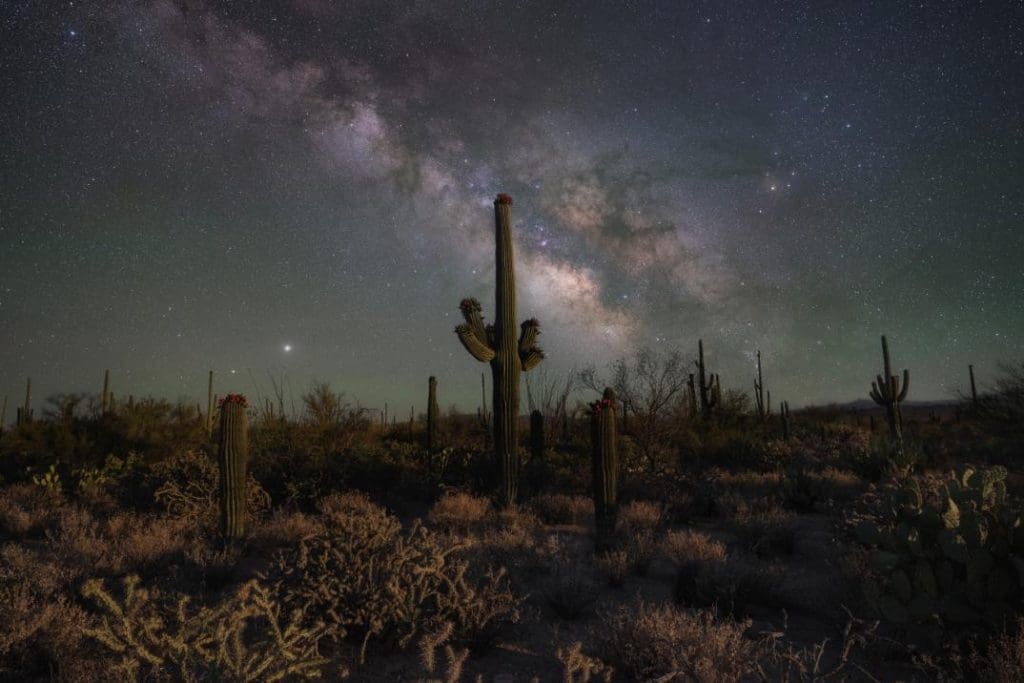 Unfortunately, the roads through Saguaro National Park close at sundown, so you won't be able to drive over and check out the stars at night. However, the park itself is open 24/7 except during emergencies, so you're welcome to walk around even after the sun goes down. We would recommend driving up to the entrance, parking your car nearby, and then walking or biking down the road until you find a nice-looking spot. Make sure you choose the right night – if the moon is too bright, then you won't be able to see much even out in the desert. As a general rule, it's best to do your stargazing on nights with a new moon so there's no light at all other than the stars.
If you don't like the idea of straying too far from your vehicle, you can head to other spots just past the park. The Catalina Highway on Mount Lemmon has some popular stargazing spots among locals that are known for being especially quiet and isolated since most tourists don't know where they are.
To make the most of your next trip to Saguaro, check out our Saguaro East National Park Self-Guided Driving Tour. More prolific travelers might also be interested in Action+, a subscription service that grants access to over 100 tours for a single yearly price.
Essential Travel Guide: