Tour Details



Driving


2 - 3 Hours



Purchase QTY


One Per Car



Distance


100+ miles



Audio Stories


50



Self Guided


At Your Own Pace



Tour Benefit


Tour Anytime
Any Day



Works Offline


100%
Money-back
Guarantee
Welcome to the Death Valley Tour
Experience the harsh beauty of a land like no other: Death Valley. Famed for its record-breaking temperatures, this valley also serves some sizzling scenery, from sprawling salt flats to rainbow-colored badlands and soaring mountain ranges. This self-guided driving tour shows you the best spots in the park and fills you in on this area's rich history. Follow in the footsteps of Gold Rush miners and hear their stories as you explore this bizarre, unforgettable valley.
About the Tour
Your journey will begin at Death Valley Junction, just a short way outside the park. As you drive, you'll get acquainted with some basic facts about safety in such an extreme climate. You'll also hear about the unfortunate miners who gave this place its ominous name.
Soon, you'll have the opportunity to take a detour to Dante's View, offering incredible vistas from 5,000 feet above the valley's lowest point. Past that, you'll come to an iconic scenic drive at Twenty Mule Team Canyon, which shows off some of the area's strange and beautiful badlands.
Next is Zabriskie Point, a phenomenal place to watch the sunrise or start a badland hike.
Then it's on to the oasis of Furnace Creek, where the valley's hottest-ever temperature was recorded.
After a stop at the visitor center, you'll head down Badwater Road, where you'll find the Golden Canyon Trail, one of the park's most popular hikes. Beyond that is the strange and captivating landscape of Artist's Drive, home to brilliantly colorful rock formations that look like they've been splattered with paint!
Then you'll see Devil's Golf Course, a seemingly endless field of craggy salt crystals which pop under the heat of the Death Valley sun. Next, you'll pass the Natural Bridge Trail, offering a look at a rocky bridge formed by erosion.
Finally, you'll arrive at Badwater Basin. This isn't just the lowest elevation point in North America; it's also where you can walk across Death Valley's famous salt flats! Your Death Valley tour concludes here.
Upgrade to the California Tours Bundle
This is a great time to visit California! With 14 tours across the state, our value-for-money California bundle (priced at just $39.99) gives you the flexibility to see all the top sights in the state at your own pace.
Where to start?
How does it work?
Once you book a tour, you'll get a text/email with instructions.
Download the app (while in good wifi/signal) and use your unique password to access your tours.
To begin touring, go to the starting point and launch the app.
The audio starts automatically once you reach the starting point. Stick to the tour route & speed limit for the best experience.
Please note that no one will meet you at the starting point.
What You'll See
Welcome

Timbisha Shoshone

Gold!

The Death Valley 49ers

Lost in Death Valley

Stranded 49ers

Why Is It So Dry?

Why Is It So Hot?

Safety Reminders

Borax

Native American Music

Dante's View

Superblooms

Pete Aguereberry

Twenty Mule Teams

Twenty Mule Team Canyon

White Gold

Zabriskie Point

Christian Brevoort Zabriskie

A Thirsty Oasis

Furnace Creek Visitor Center

Collision and Separation

Golden Canyon and Red Cathedral Trail

Booms and Busts

Ghost Towns

Mars Hill

A "Zabriskie" Gamble

Artist's Drive

Artist's Palette

Building Death Valley

Devil's Golf Course

Natural Bridge Trail

A Legacy to Be Proud Of

Death Valley Today

Badwater Basin
Preview the Tour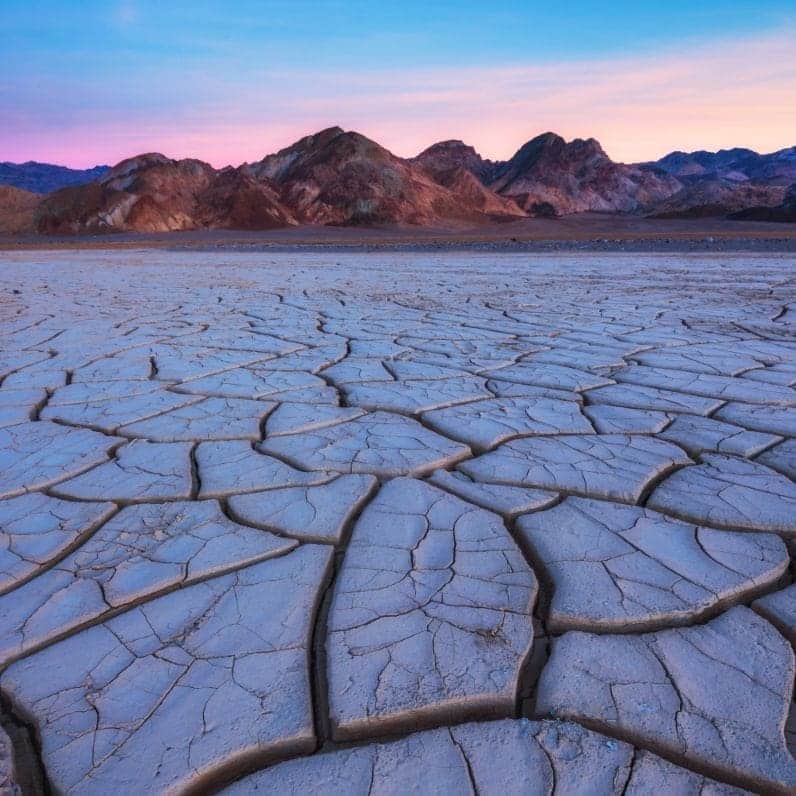 Why So Dry Audio Story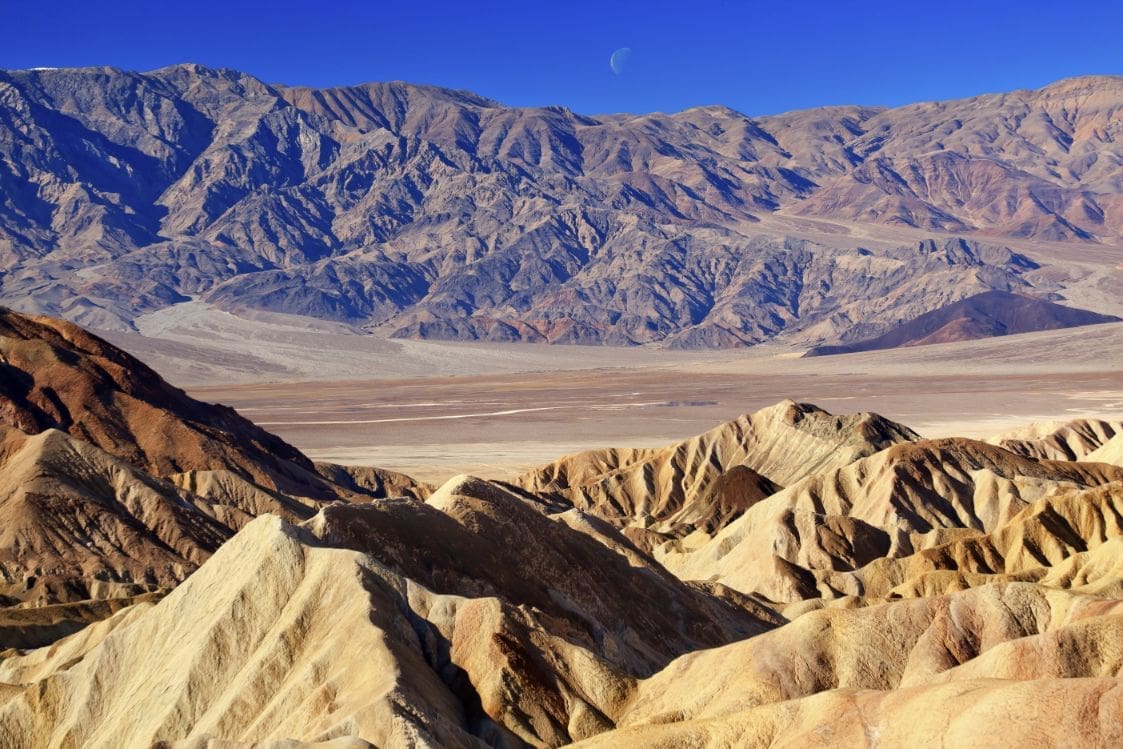 Zabriskie Point Audio Story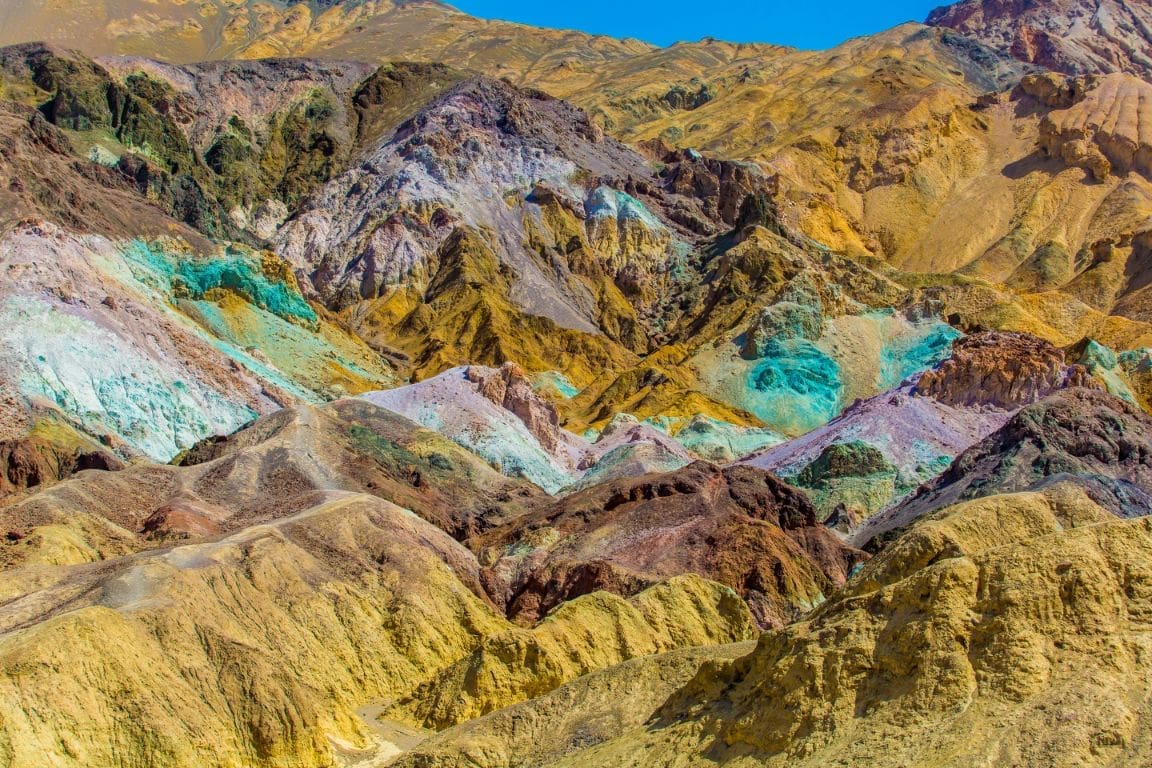 Thirsty Oasis Audio Story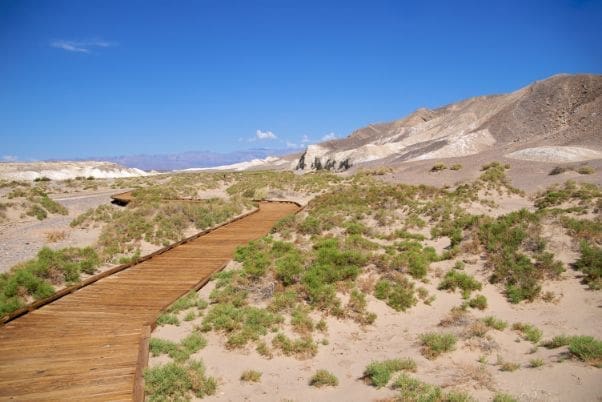 Collision Audio Story
Tour FAQs
While there's no official record corroborating it, the most popular explanation is that the name came from the 49er pioneers who had just crossed the valley at great cost. Supposedly, as they finally left the valley behind, one man turned and said "Goodbye, Death Valley," thus giving the area its name.
Death Valley really is the hottest place on earth, at least as far as surface temperatures go. It's also the driest place in North America. Despite this, the Timbisha Shoshone people actually lived here hundreds of years ago!
Death Valley is perfectly safe to visit during the summer as long as you take proper precautions! Always bring more water than you think you need, make sure your car's A/C is functioning properly, and don't embark on any long hikes. If you keep all this in mind, you've got nothing to worry about!
While pets are allowed in all developed areas of the park, like roads and overlooks, they are not allowed on trails. That includes popular trails like the Salt Flats!
The standard $30 per vehicle pass gets you into Death Valley for 7 days, but if you plan to visit other national parks this year, you should definitely opt for the $80 American the Beautiful pass. It's good for 12 months and gets you into any national park in the country!
What you've heard is true: Death Valley really IS the hottest place on Earth! In 1913, the Furnace Creek thermometer measured an air temperature of a sweltering 134 degrees fahrenheit, the highest ever recorded.
If you want to expand your trip beyond Death Valley itself, you can always visit Las Vegas! It's only a couple hours away and offers plenty of lively activities to break up your national park exploration.
Despite its harsh climate, there are actually animals in Death Valley! Everything from jackrabbits to desert bighorn sheep and even mountain lions can be found in the valley!
Contrary to what you might expect, life is actually quite plentiful in Death Valley, including all manner of mammals, reptiles, and insects. There's also a thriving micro ecosystem known as the "cryptobiotic crust," which means "hidden life"!
As you might expect, the weather in Death Valley is HOT, especially during the summer. During the cooler months, however, the valley becomes quite temperate, and can even get chilly at night! Rain is rare, so you probably won't need to pack an umbrella!
While it's possible to visit Death Valley in one day, it's recommended to spend more time to fully explore and appreciate the park's diverse landscapes and attractions. To see everything the park has to offer, plan for at least 2-3 days.
Cell phone coverage in Death Valley can be limited due to its remote location. While some areas may have reception, there are also areas with no signal. It's a good idea to check with your service provider and plan accordingly.
The coldest month in Death Valley is typically December. While the park is known for its extreme heat, temperatures can drop significantly during the winter months, especially at night. Read more here.
Inclusions and Exclusions
Inclusions:
App on your phone: A link to download the Action Tour Guide App and Password for your tours.
Flexible schedule: Use any day, any time. Travel over multiple days or on next trip. Never expires.
Easy to use: Stories play automatically by GPS. Hands-free. Get HELP all day: Call, Chat, or Email.
At your own pace: No group. Take breaks for photos/ snacks/hikes. Go at your own pace.
Offline use: No cell signal or wifi required. Offline GPS Map & route. Stop-to-stop direction.
Don't miss a thing: Full itinerary, travel tips, professionally narrated videos, text, and hidden gems.
Exclusions:
Transportation, parking fees, food, and drinks.
Entry tickets or reservations to any attractions along the route.
Car Rental: Please arrange a rental car at the closest airport or train station.