Tour Details



Driving


2 - 3 Hours



Purchase QTY


One Per Car



Distance


123+ miles



Audio Stories


40



Self Guided


At Your Own Pace



Tour Benefit


Tour Anytime
Any Day



Works Offline


100%
Money-back
Guarantee
Welcome to the Grand Staircase Escalante tour
Explore the hidden wonders of UT-12 with an epic and scenic drive through Grand Staircase Escalante. Drive along the Hogback (the ridgeline), learn about the hidden mysteries of this giant geologic staircase, and discover the long-buried secrets of the Fremont and Puebloans.
About the Tour
Your adventure into the stunning Utah landscape begins near the Red Canyon Visitor Center, perched high up on the rocky cliffs of Flaming Gorge and offering a commanding view of the vast Red Canyon, carved by the Green River many eons ago.
Next on the Grand Staircase Escalante tour, you'll pass by Bryce Canyon National Park and get a crash course in the wild geology that created both Bryce and the Grand Staircase. Then, we'll reach the staircase itself and gain insight into the ancient Fremont and Puebloans who once called this land home. We'll also hear about the Paiute, who later occupied this harsh landscape and wove intricate legends about their place in it.
After that, we'll leap back in time by an extra 75 million years to learn why the staircase is so rich in dinosaur fossils, including a T-Rex! Our next stop will be at the breathtaking Powell Point vista, where you can see the land unfurl for miles and miles in front of you.
As we keep driving on the Grand Staircase Escalante tour, we'll regale you with even more tribal legends and myths that are still such an important part of this land. Hear the story of when Coyote tried to ride the sun and what was inside the mysterious sack offered by the Old Woman of the Sea.
We'll then continue into the Escalante Petrified Forest, another geological time machine. The trees have long since turned to stone, and their ancient, multi-colored bark offers clues to the landscape's distant past.
Our journey takes us next to Spooky Gulch, a particularly narrow and winding crevasse not for the faint of heart. If you're able to make the squeeze, hiking through the gulch can be quite the experience.
Then, we'll make our way to the Upper Calf Creek Falls and hear about the invisible life which is all around us in this seemingly empty landscape! Next, the road takes us along the famous Hogback, a dramatic, winding roadway with stunning views off to both sides.
Sail through the tiny town of Boulder (I'm talking a population of only 200!) and hear about the intrepid explorer who made a home for himself in this challenging area. Return to the Ice Age in the Dixie National Forest, then hear about the modern flora and fauna which flourish here.
Our adventure continues through the unique Heritage Overlook, where keen-eyed observers might be able to catch a glimpse of Glen Canyon, far to the southeast. Next, we move to Homestead Overlook, which affords a panoramic view of the whole landscape of Dixie Forest and the Grand Staircase.
As we make our way to Capitol Reef and the conclusion of our Grand Staircase Escalante tour, we'll hear the surprising facts about wildfires in this area and how they help the forests survive and give rise to new generations!
​Starting Point Address: Red Canyon Visitor Center
Planning your next road trip to Utah? 
Get the most out of your Utah vacation with this $39.99 package, which includes Arches National Park, Canyonlands National Park, Bryce Canyon National Park, Capitol Reef National Park, Zion National Park, Monument Valley, and Grand Staircase Escalante. Save 49% and see all the top sights in the state at your own pace.
Unlock the Adventure of a Lifetime on Our Grand Circle Tour
Unlock the adventure of a lifetime for just $49.99 and enjoy an incredible 62% savings on our Grand Circle Tour! This bundle offers the perfect blend of history, natural beauty, and adventure. Join us for a once-in-a-lifetime exploration of the iconic destinations.
Journey Through America's Southwest Wonders: Embark on an Epic tour
Experience the wonders of the American Southwest on an unforgettable tour. Explore the stunning red rock formations of Sedona, wander through the otherworldly landscapes of the Grand Canyon, and immerse yourself in the rich Native American culture of the region. From the vibrant city lights of Las Vegas to the serene beauty of Zion National Park, this tour will take you on a journey through some of America's most iconic destinations.
How does it work?
Once you book a tour, you'll get a text/email with instructions.
Download the app (while in good wifi/signal) and use your unique password to access your tours.
To begin touring, go to the starting point and launch the app.
The audio starts automatically once you reach the starting point. Stick to the tour route & speed limit for the best experience.
Please note that no one will meet you at the starting point.
What You'll See
Welcome

Red Canyon's Arches

Bryce Canyon National Park

Powell Point Vista

Upper Valley Granaries Vista

Detour: Escalante Petrified Forest

Escalante Visitor Center

Spooky Gulch

Kiva Koffeehouse

Lower Calf Creek Falls

The Hogback

Detour: Upper Creek Falls Trail

Boulder

Burr Trail Road

Dixie National Forest

Heritage Overlook

Homestead Overlook

Larb Hollow Overlook

Capitol Reef National Park
Preview the Tour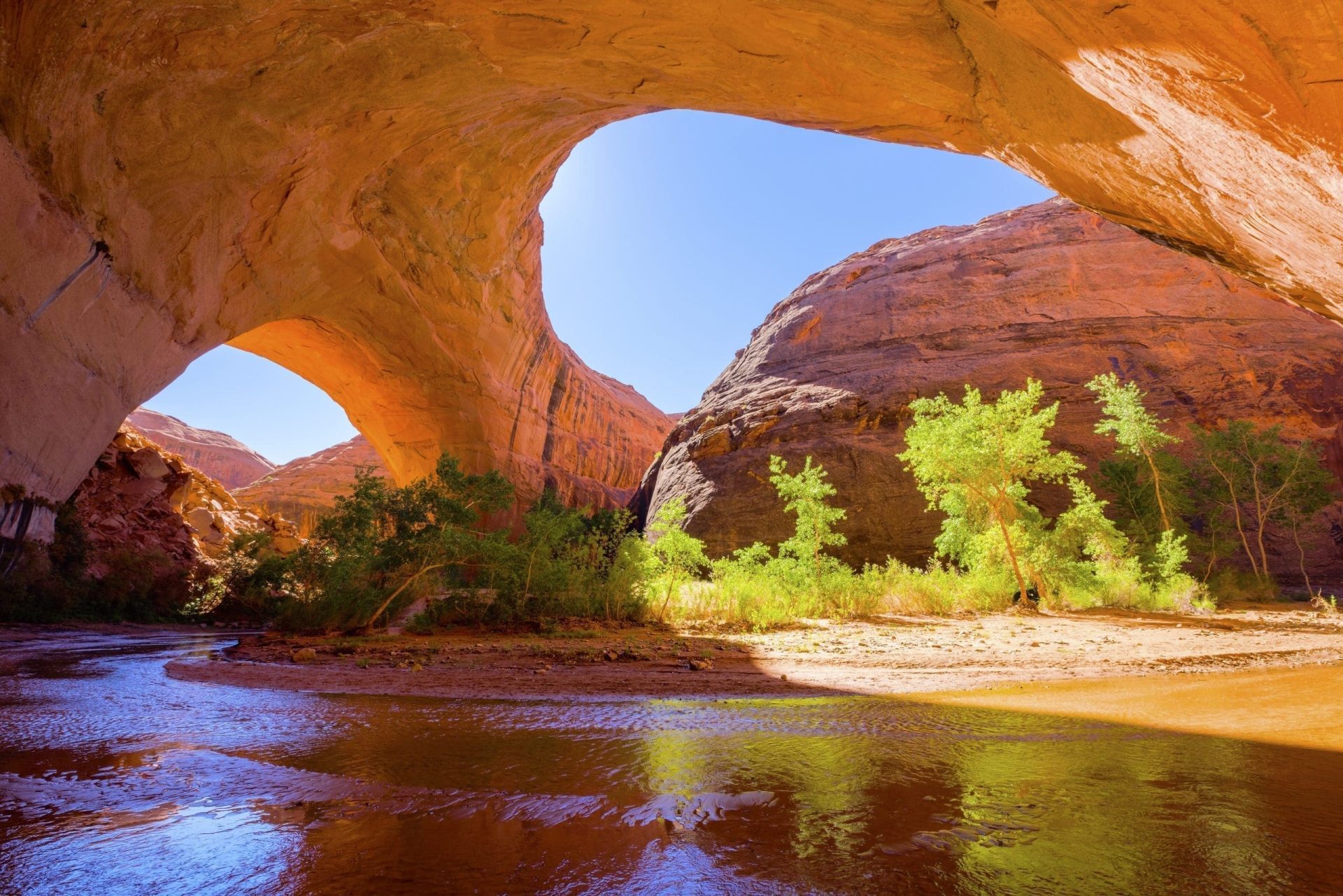 StWelcome Audio Story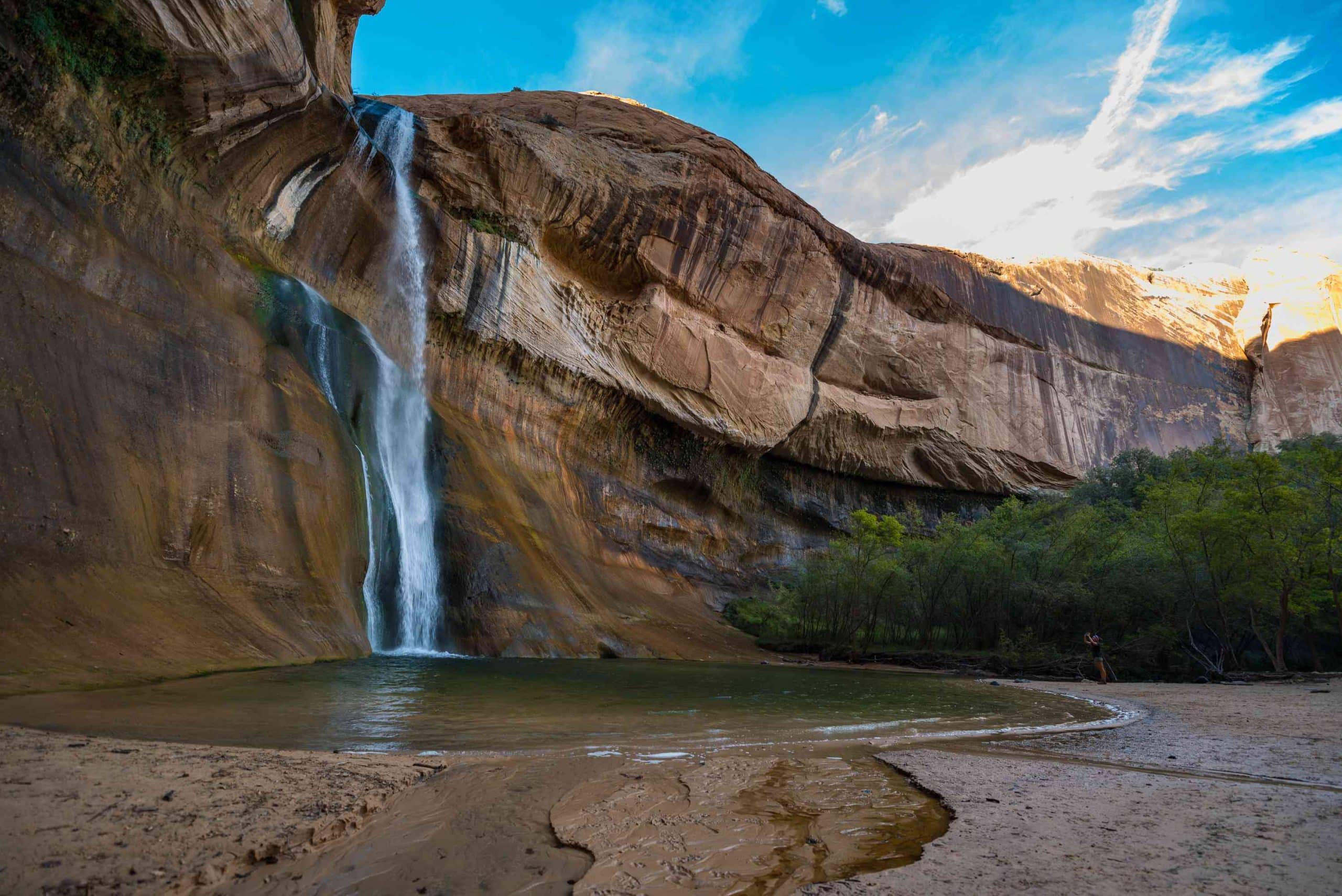 Lower Calf Creek Falls Vista Audio Story
Tour FAQs
The Grand Staircase is a set of huge stone "steps" spanning around 100 miles. Each "stair" is a cliff composed of a different geological layer. Viewed from afar, it looks like a staircase for giants!
One hundred percent! Grand Staircase-Escalante may not receive the same attention as its neighboring parks, but that's part of the appeal. In addition to the amazing landscapes you'll find here, you'll also encounter smaller crowds. Read about the worthiness here.
Thanks to its unique structure, Grand Staircase-Escalante reveals long-buried secrets of Planet Earth. Everything from geological marvels to dinosaur fossils and remains of ancient human civilizations have been exposed by this picturesque formation. Learn more by checking out our blog posts on the speciality of Grand Staircase-Escalante.
Driving is the best way to see the Grand Staircase, in part because it's so large and in part because it also gives you access to the adjacent parks.
You should be able to satisfactorily explore Grand Staircase-Escalante within the space of a single day. That'll give you enough time to take in the sweeping vistas, embark on a short hike or two, and learn about the area.
There's actually no entrance fee to access the Grand Staircase-Escalante! That's because it's a national monument, not a national park.
The Staircase partly gets its name from the nearby Escalante River. That river, in turn, gets its name from the 18th century missionary Silvestre Velez de Escalante. Read our blog for more information.
Highway 12, also known as Scenic Byway 12, starts in Panguitch. From there, it travels over 120 miles northeast to Torrey.
Expect a typical high desert climate when visiting Grand Staircase-Escalante. That means hot days and cold nights for most of the year, so make sure to bring layers just in case!
While there are some brown bears and black bears in the Grand Staircase, you're not likely to see them. They are vastly outnumbered by the other wildlife in the area.
Inclusions and Exclusions
Inclusions:
App on your phone: A link to download the Action Tour Guide App and Password for your tours.
Flexible schedule: Use any day, any time. Travel over multiple days or on next trip. Never expires.
Easy to use: Stories play automatically by GPS. Hands-free. Get HELP all day: Call, Chat, or Email.
At your own pace: No group. Take breaks for photos/ snacks/hikes. Go at your own pace.
Offline use: No cell signal or wifi required. Offline GPS Map & route. Stop-to-stop direction.
Don't miss a thing: Full itinerary, travel tips, professionally narrated videos, text, and hidden gems.
Exclusions:
Transportation, parking fees, food, and drinks.
Entry tickets or reservations to any attractions along the route.
Car Rental: Please arrange a rental car at the closest airport or train station.