Tour Details



Driving


2 - 3 Hours



Purchase QTY


One Per Car



Distance


93+ miles



Audio Stories


51+



Self Guided


At Your Own Pace



Tour Benefit


Tour Anytime
Any Day



Works Offline


100%
Money-back
Guarantee
Welcome to the Guam Tour
Welcome to the tour of Guam! This tiny island has an extensive history — spanning over four millennia! Today, our tour will circle the entire island while stepping back into this rich past. We'll explore everything from the ancient Chamorro culture to WWII battlegrounds… as well as some beautiful beaches, natural pools, and famous landmarks! Hop in your car, get the tour guide app set up on your phone, and get started. All audio plays automatically based on location.
About the Tour
Are you looking for a slice of paradise — without crowds? You'll find it right here in Guam. This tour begins in the island's capital of Hagåtña, which boasts a population of only 1,000 people! From here, you'll cruise along Guam's coast and get familiar with the Chamorro people, whose presence here dates back over four millennia.
As you reach Two Lovers Point, you'll hear the tragic legend that lends it this name and pick up some history about the Spanish occupation, which forever transformed this island. 
Then it's on to the Last Mission Memorial to learn all about World War II. On the way, this tour will bring you up to speed on the American presence in Guam, the island's dramatic capture by the Japanese, and the hair-raising tale of an American soldier who evaded capture by hiding out in the jungle for months and months.
Next, get your camera ready because you'll be arriving at Ritidian Point, the northernmost point on the island. This spot offers some seriously incredible ocean views you'll want to document!
As you head toward Guam's southern coast, you'll hear about the Japanese sergeant who refused to give himself up long after the war had ended. You'll also hear more about how World War II transformed this island and the unique position it holds in the world today.
Then, marvel at one of Guam's most impressive golf courses and beaches — maybe even take a quick break from the tour! After that, you'll pay a visit to the beautiful Malojloj Falls and the shimmering Inarajan Natural Pool, two of the island's most picturesque attractions.
On your way to the historic Merizo Bell Tower, you'll learn about the significance of music and dance in Chamorro culture. You'll also hear one of Guam's biggest secrets about its beaches.
After that, you'll visit the Fort Nuestra Señora de la Soledad, a remnant of a bygone era when great Spanish galleons roamed the seven seas.
You probably don't expect to find a mountain taller than Everest on Guam, but that's exactly what you'll see as you pass Mount Lamlam. Don't worry; you'll learn how such a thing is possible along the way!
You'll pay a visit to the Stella Bay Overlook next for another staggering vista, then continue to the Piti Guns. These beautifully decaying artillery pieces were once a serious threat to American forces. Today, they're gradually being reclaimed by the jungle.
Next, you'll swing by the Latte of Freedom, an impressive structure emulating New York City's Statue of Liberty. 
Finally, you'll end up right back where you began in Hagåtña, near the Dulce Nombre de Maria Cathedral Basilica, which dates back to the earliest days of Spanish occupation. The tour concludes here.
Starting Point Address: Padre Palmo Park, 1, Hagåtña, 96910, Guam
How does it work?
Once you book a tour, you'll get a text/email with instructions.
Download the app (while in good wifi/signal) and use your unique password to access your tours.
To begin touring, go to the starting point and launch the app.
The audio starts automatically once you reach the starting point. Stick to the tour route & speed limit for the best experience.
Please note that no one will meet you at the starting point.
What You'll See
Welcome

Puntan Dos Amantes (Two Lover's Point)

WWII Memorial The Last Mission

Ritidian Point

Guam Adventures

Pagat Cave Trailhead

Onward Mangilao Golf Club

Pago Bay Overlook

Country Club of the Pacific

Malojloj Falls

Inarajan Natural Pool

Bear Rock

Merizo Bell Tower

Fort Nuestra Senora de la Soledad

Magellan Monument and Bay of Umatac

Mount Lamlam Summit (Actual)

Cetti Bay Overlook

Stella Bay Overlook

Piti Guns

Fish Eye Marine Park

Asan Point

Latte of Freedom

Ricardo J. Bordallo Governor's Complex (Adelup)

Pacific War Museum

Hagatna

Plaza de Espana

Dulce Nombre de Maria Cathedral Basilica
Preview the Tour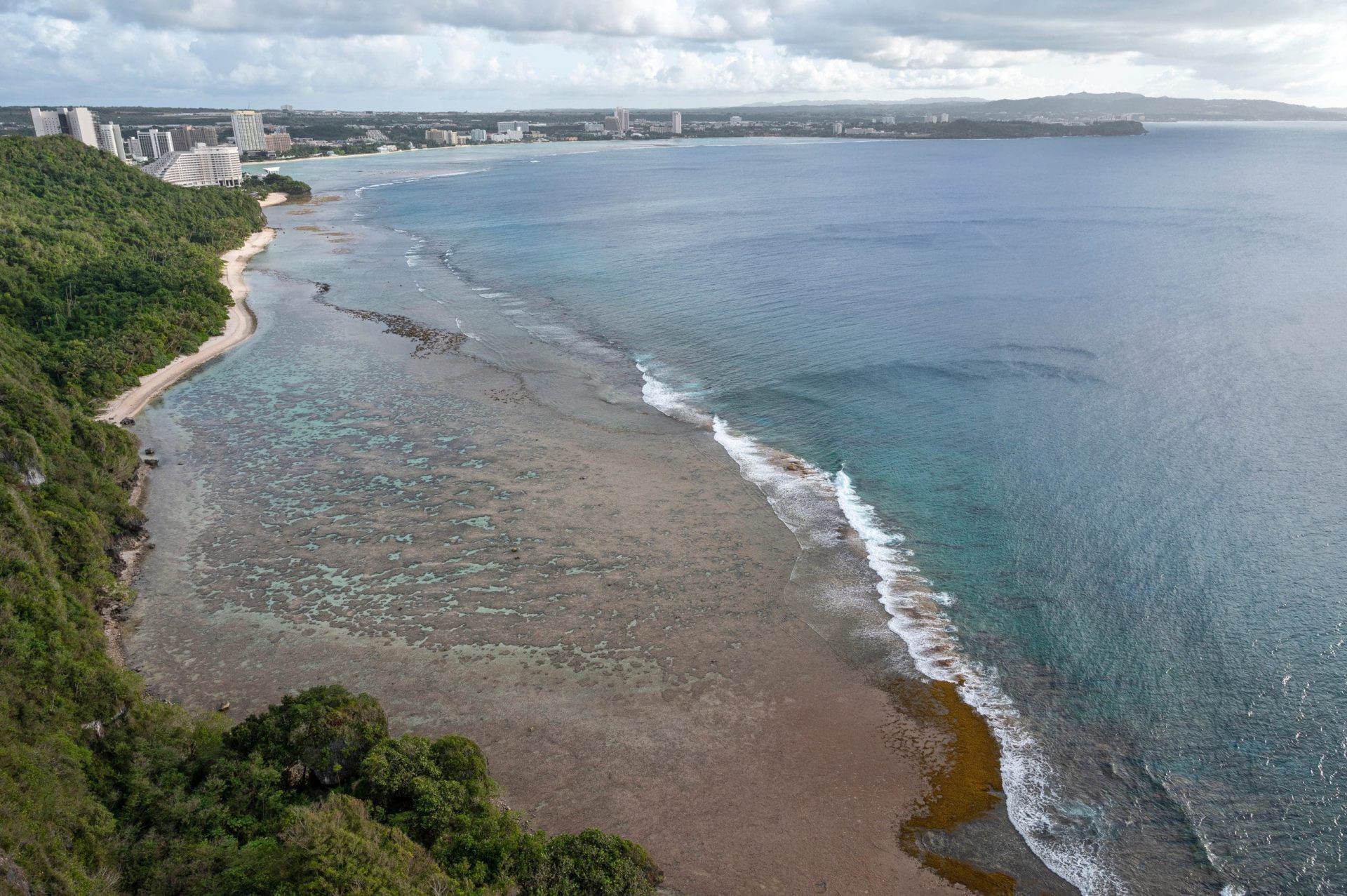 Welcome Audio Story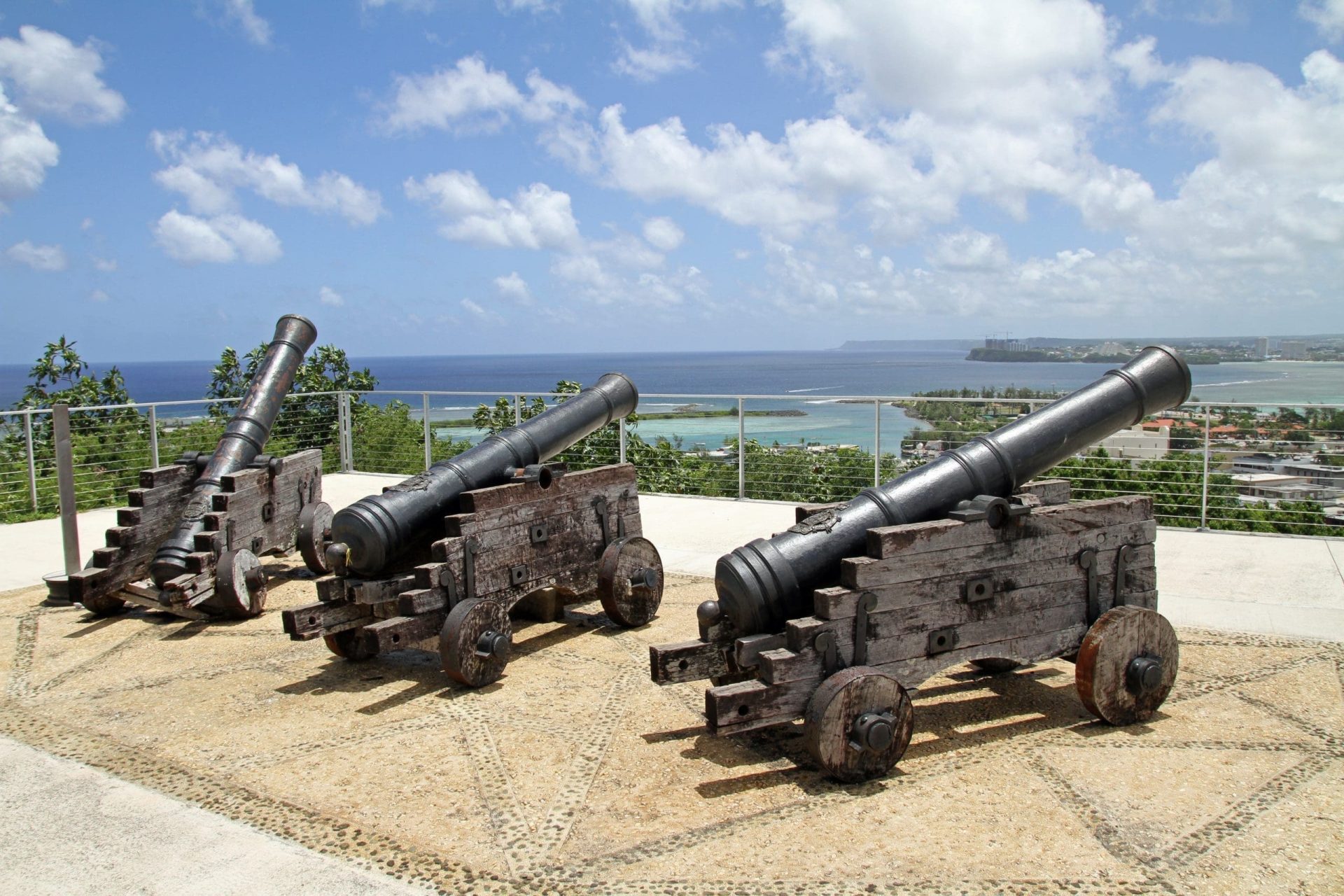 US Naval Era (1898-1941) Audio Story
Tour FAQs
Guam is famous for combining beautiful island beaches with rich World War II history. Whether you're a history buff, a vacationer seeking some sun and surf, or somewhere in between, you'll find it on Guam.
The name "Guam" comes from the word "Guåhan" in the language of the native Chamorro people, though accounts on the meaning differ. One suggestion is that "Guåhan" means "a place with resources." Another is that it is a greeting with which the Chamorro met incoming sailors, who assumed it was the island's name.
If you're seeking pristine beaches, startlingly blue water, and jungle scenery, Guam is a must-visit destination. And if you're interested in World War II history? Even better!
Guam's beaches are its number one attraction, but the island hides other hidden gems as well. Deep in the jungle you can find the Piti Guns, leftover artillery from World War II. High on the coastal bluffs sits Two Lovers Point, boasting unbelievable ocean views.
Guam is extremely welcoming to tourists, and makes for a great alternative to more popular islands like Hawaii. If you're looking for a tropical escape without the crowds, Guam should be near the top of your list!
Guam is a US territory, but not a state. That makes it the first place the sun rises on US land! It was also the site of bitter fighting during World War II, and remnants of this fraught history still remain on the island.
January through May is the best time to visit, as this is Guam's dry season. July through November is the rainy season, which can definitely put a damper on beach day plans. December and June aren't totally dry, but aren't quite as rainy either.
Ritidian Point is probably the most popular spot for impressive views, but if it's sun and surf you're seeking, you'll want to check out Taga'chang Beach or the ever-popular Tumon Beach.
Guam's rainy season gets started in June, but doesn't kick into full gear until July. After that, it lasts until about November and peters out throughout December.
Ofcourse! Major rental car providers include Hertz, National, Enterprise, Alamo and Avis, but Guam also offers other rental car brands. Reserve early to get the best-priced rental car for your trip to Guam.
Guam is home to tons of great jungle hikes, as well as opportunities for kayaking, surfing, fishing, and more. If you just want to lounge in the sun, the island's many beaches are perfect for that as well.
July 21st marks Guam's Liberation Day, so there are always celebrations and festivals unfolding around that time. Those seeking a taste of the tropics will also want to consider visiting in April, when the annual Coconut Festival is held.
Guam is an ideal family vacation destination. Not only does it have ample opportunities for younger visitors to safely enjoy the waters of the Pacific, but it also features plenty of fascinating history for those who want to mix their fun with a little bit of learning.
Guam is near a few smaller islands, like the Northern Mariana Islands, but very little is closer than a few hundred miles away. If you want to combine a visit to Guam with a larger trip, Japan or the Philippines are great options!
Inclusions and Exclusions
Inclusions:
App on your phone: A link to download the Action Tour Guide App and Password for your tours.
Flexible schedule: Use any day, any time. Travel over multiple days or on next trip. Never expires.
Easy to use: Stories play automatically by GPS. Hands-free. Get HELP all day: Call, Chat, or Email.
At your own pace: No group. Take breaks for photos/ snacks/hikes. Go at your own pace.
Offline use: No cell signal or wifi required. Offline GPS Map & route. Stop-to-stop direction.
Don't miss a thing: Full itinerary, travel tips, professionally narrated videos, text, and hidden gems.
Exclusions:
Transportation, parking fees, food, and drinks.
Entry tickets or reservations to any attractions along the route.
Car Rental: Please arrange a rental car at the closest airport or train station.