Tour Details



Driving


2 - 3 Hours



Purchase QTY


One Per Car



Distance


43+ miles



Audio Stories


33+



Self Guided


At Your Own Pace



Tour Benefit


Tour Anytime
Any Day



Works Offline


100%
Money-back
Guarantee
Welcome to the Olympic National Park Tour
Where but Olympic National Park can you find beaches, mountains, and rainforest all in one place? This self-guided tour takes you through the most beautiful sites in this one-of-a-kind park. Cruise along the shores of a glacial lake, embark on hikes through lush old-growth forests, and take in views from lofty mountain vistas—all while hearing about the fascinating history of this landscape! Also included are bonus tours of Hurricane Ridge, Hoh Rainforest, and coastal beaches.
About the Tour
Your tour of Olympic National Park will begin at the Olympic National Park Visitor Center. From here, you'll drive through the town of Port Angeles and out toward the most popular parts of the park. As you drive, you'll hear about how this landscape formed, the early human inhabitants of the area, and what it took to turn it into a national park.
Then you'll come to the Elwha River Observation Area, offering stupendous views of the park's most powerful river. This spot also offers a detour to a hiking trail leading to Madison Falls. This boardwalk trail, which ends with a sparkling waterfall, is totally accessible!
Continuing along the main route, you'll learn about the dams that once stopped up the river and the huge impact this had on the ecosystem. Then you'll pass Lake Sutherland, a picturesque glacial lake surrounded by summer cottages and vacation homes; after that is the much larger Lake Crescent. Though beautiful, this lake has some dark stories in its past, all of which you'll hear as you cruise along the waterfront.
At Lake Crescent Viewpoint, up next, you'll have the opportunity to snap jealousy-inducing photos of this picture-perfect lake. Beyond that, you'll see Marymere Falls Trail, a short hike through old growth forest which ends with a 90-foot waterfall.
Ready for a break? You'll find the perfect spot for it at La Poel, a picnic area on the edge of Lake Crescent.
Then you'll head to Sol Duc Valley, one of the park's most iconic landscapes. This valley features ancient forests, mountain views, and plenty of can't-miss sights. You'll pass the Salmon Cascades next. If you're visiting in September, you can watch the famous salmon run from this spot!
Finally, you'll arrive at the Sol Duc Falls Nature Trail, an easy but hugely rewarding hike through mossy, ancient groves. Your main tour concludes here, but if you want to keep the adventure going, you can boot up the bonus tour of Hurricane Ridge or Hoh Rainforest and the coastal beaches!
Hurricane Ridge Road
: Subject to winter closure. When open during winter, usually only on weekends.
How does it work?
Once you book a tour, you'll get a text/email with instructions.
Download the app (while in good wifi/signal) and use your unique password to access your tours.
To begin touring, go to the starting point and launch the app.
The audio starts automatically once you reach the starting point. Stick to the tour route & speed limit for the best experience.
Please note that no one will meet you at the starting point.
What You'll See
Welcome Olympic National Park

A Little Bit of Everything

Geology

Glaciers

Native History of Olympic National Park

Creating Olympic National Park

Elwha River Observation Area & Detour

Madison Falls Trailhead

Elwha to Hurricane Hill Trailhead

Glines Canyon Dam Spillway Overlook

The Elwha River

Demolishing the Dams

Rivers of the Park

Lake Sutherland

Lake Crescent

Lake Crescent Viewpoint

Marymere Falls Trail

An Angry Mountain

The Lady of the Lake

La Poel

Meldrim Point

Preserving Heritage

Sol Duc Valley

Bears

Deer and Elk

Salmon Cascades

Ancient Groves

Warring Dragons

Sol Duc Trailhead
Preview the Tour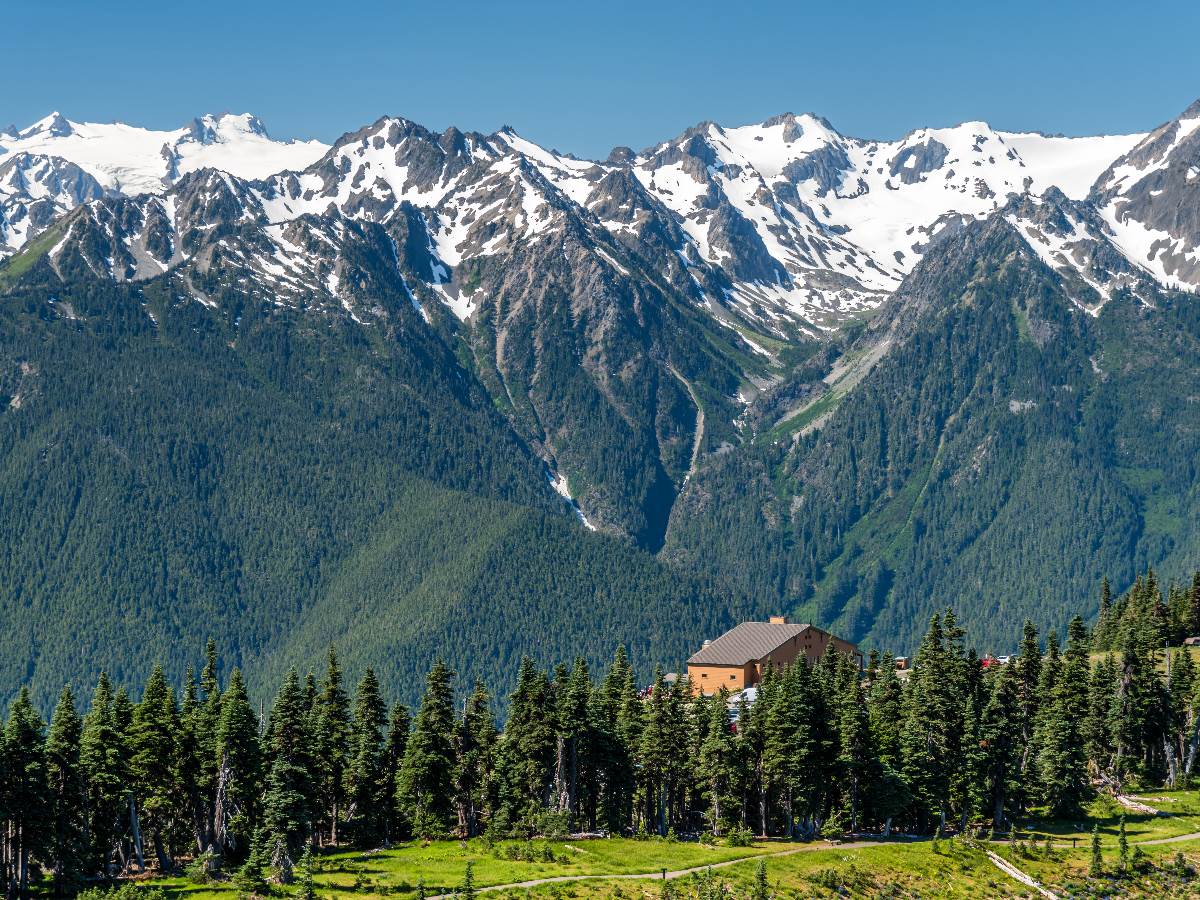 Glaciers Audio Story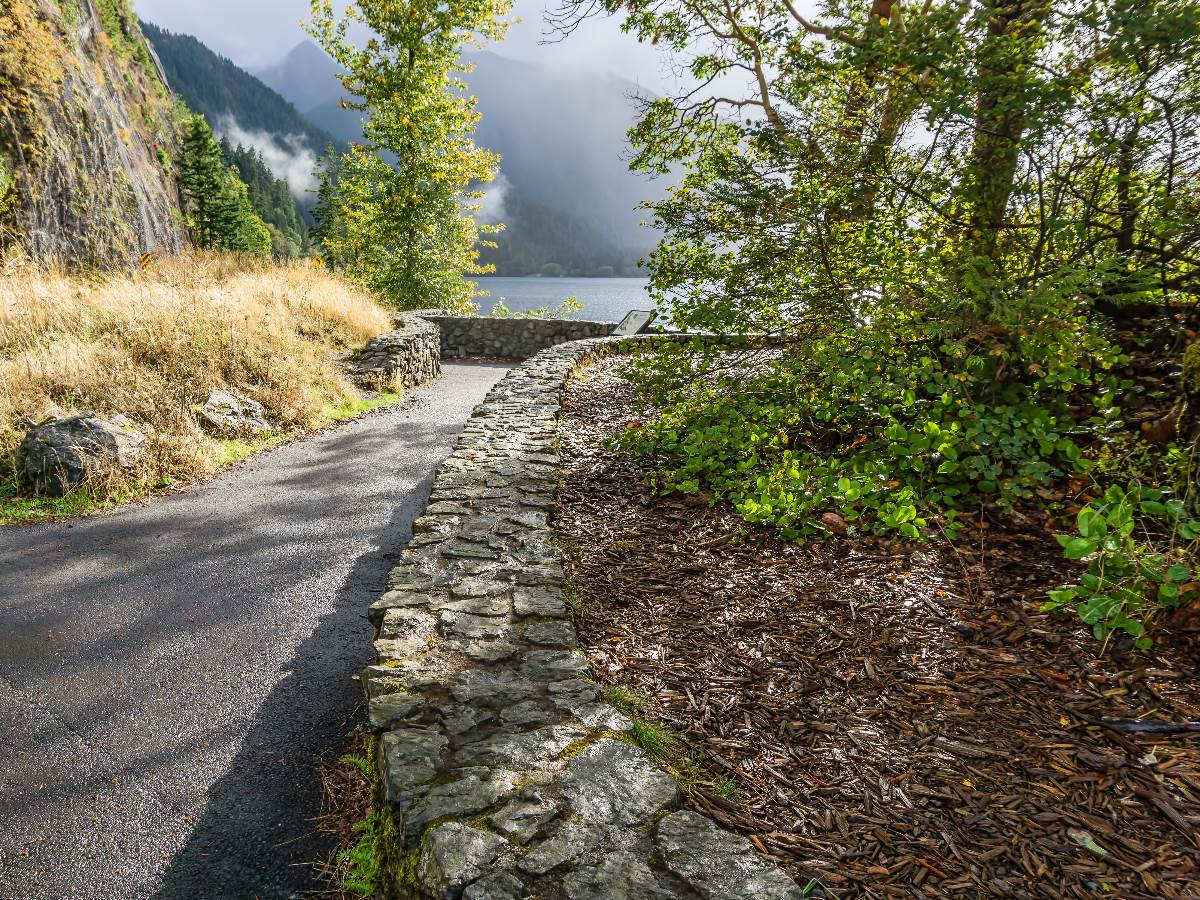 Lake Crescent Viewpoint Audio Story
Tour FAQs
Olympic National Park is renowned for the richness of its different ecosystems – the rough Pacific coastline and vast glacier-clad summits.
Port Angeles is near Olympic National Park. With its proximity to Seattle (just two hours away), Olympic is a popular destination for urbanites seeking a taste of nature.
It is definitely worth visiting Olympic National Park because whether you like to climb mountains, stroll through tide pools, or explore the woodland, the Olympics has something for everyone.
The Olympic Peninsula is home to a wide variety of landscapes, including temperate rain and old growth forests, the sandy beaches of the wild coast, and the spectacular vistas of rocky, glacier-capped mountains. It is well-known for the variety of ecosystems that receives an average of 150 inches of rain each year.
The Olympic National Park does not require any sort of advance planning or booking. But you should book ahead if you want to spend the night in the park or nearby.The park entrance fee is $30 for a private, non-commercial vehicle, $25 for individuals entering on a motorcycle, or $15 for individuals entering on foot or bicycle.
Olympic National Park is gorgeous from spring to fall. In summer, Olympic National Park's best areas are open to visitors, marmots are active, and wildflowers blossom. The park is less congested in fall and winter. Plan your trip to Olympic National Park during these dates to escape the crowds.
1) There are 56 species of mammals and over 300 species of birds in Olympic National Park. 2) It spans an area of 922,651 acres. 3) 50–70 annual research licences are issued. 4)Roughly 4,000 kilometres of waterways made up of rivers and streams. 5)Park Goers love whale breaches. Breaching whales are unforgettable during migration seasons. 6) Banana slugs are vital to park ecosystems. Banana slugs digest waste. They consume plants and disperse seeds, making them vital to the environment.
On dark, clear evenings, the Milky Way is visible from Olympic National Park.
The best way to get around Olympic National Park is by car since the park spans nearly 1 million acres.
Inclusions and Exclusions
Inclusions
App on your phone: A link to download the Action Tour Guide App and Password for your tours.
Flexible schedule: Use any day, any time. Travel over multiple days or on next trip. Never expires.
Easy to use: Stories play automatically by GPS. Hands-free. Get HELP all day: Call, Chat, or Email.
At your own pace: No group. Take breaks for photos/ snacks/hikes. Go at your own pace.
Offline use: No cell signal or wifi required. Offline GPS Map & route. Stop-to-stop direction.
Don't miss a thing: Full itinerary, travel tips, professionally narrated videos, text, and hidden gems.
Exclusions
Transportation, parking fees, food, and drinks.

Entry tickets or reservations to any attractions along the route. 

Car Rental: Please arrange a rental car at the closest airport or train station.