Tour Details



Driving


2 - 3 Hours



Purchase QTY


One Per Car



Distance


15+ Miles



Audio Stories


53



Self Guided


At Your Own Pace



Tour Benefit


Tour Anytime
Any Day



Works Offline


100%
Money-back
Guarantee
Welcome to the Self-Guided Sedona Tour
Tap into the energy of the Earth in beautiful Sedona! Locals call this a cathedral without walls, and it only takes one look to understand why. Surrounded by towering buttes and spires of bold red rock and bisected by a canyon that's green all year-'round, Sedona is like nowhere else on the planet. Explore its mountainous vistas, discover countless shops and galleries, and learn about its history and spirituality too!
We are proud to be an official Sedona Chamber member.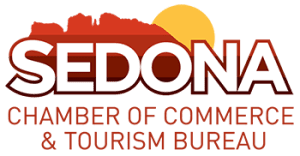 About the Tour
Your Sedona tour begins at 431 Forest Road Sedona. From here, you'll turn onto Route 89, also known as the famous Red Rock Scenic Byway. As you drive this beautiful roadway—which offers stunning views of the rock formations for which Sedona is famous—you'll get acquainted with the spiritual history of this town. You might be surprised to know it predates the New Age movement by over a millennium!
Your first big stop will be at the Tlaquepaque Arts Shopping Village, a cute and quirky destination filled to the brim with boutiques, galleries, and restaurants. Once you've had a chance to explore this incredible spot, you'll continue south to your first hiking trail: Marg's Draw. This trail boasts more than just some views of the red rocks: it also features plenty of blooming flowers in the spring!
The next stop is Broken Arrow Trail. In addition to leading hikers to commanding views of Sedona, this trail also bears the same name as one of many movies filmed in town! 
After that is one of the most significant stops on your route: the Chapel of the Holy Cross, this towering structure inspired by the Empire State Building, is almost too beautiful to be believed. You'll also find an easy hiking trail through some of Sedona's coolest rock formations!
Next is the trail for Cathedral Rock, probably Sedona's most famous formation. This awe-inspiring tower of red rock is incredible from the ground, but the views are even better from halfway up!
As you continue south, you'll hear about the movie industry's departure and the arrival of many artists in Sedona's ever-changing town. Then, you'll reach the Courthouse Vista, where you'll find not only some spectacular views of a red rock formation big enough to rival Cathedral Rock but also a trail that leads to one of the town's vortexes—sites supposedly charged with spiritual energy which make for an incredibly potent meditating experience.
Finally, you'll arrive in the Village of Oak Creek, full of shops and restaurants that tend to escape the crowds in Sedona proper. Your tour will conclude here, but that's not where your journey needs to end!
Complimentary Tour of West Sedona
Also included with this package is a complimentary bonus tour of West Sedona, which features extra vistas and hiking trails in the red rock region's more secluded wilderness. This bonus tour also takes you to Red Rock State Park, packed with even more natural beauty for those who can't get enough!
Entrance fees
Red Rock State Park requires an entry ticket. Note that tickets cannot be bought in advance and need to be purchased at the front gate. To know more visit https://azstateparks.com/red-rock.
Park Entrance Fee
Adult (14+): $7.00
Youth (7–13): $4.00
Child (0–6): FREE
Park Hours of Operation
Monday – Thursday: All year  & Friday – Sunday: Labor Day through May 23
8:00 a.m. – 5:00 p.m.
Last entry at 4:30 p.m.
Visitor Center
9:00 a.m. – 4:30 p.m.
Holiday Hours
Thanksgiving: 8:00 a.m. to 2:00 p.m. Last entry at 1:30 p.m.
Christmas Eve: 8:00 a.m. to 2:00 p.m. Last entry at 1:30 p.m.
Christmas: Closed
Extended Summer Hours of Operation 
Friday – Sunday, last weekend in May through the Sunday before Labor Day
8:00 a.m. – 6:30 p.m.
Last entry 6:00 p.m.
Visitor Center
9:00 a.m. – 6:00 p.m.
Experience Arizona's Iconic Destinations with our Tour Bundle
Arizona Bundle, a collection of awe-inspiring tours that showcase the breathtaking beauty of Arizona's most iconic destinations. Whether you're an adventure seeker, a nature enthusiast, or a history buff, this bundle promises an unforgettable journey that will leave you in awe. Don't miss the opportunity, book your Arizona Bundle today.
Journey Through America's Southwest Wonders: Embark on an Epic tour
Experience the wonders of the American Southwest on an unforgettable tour. Explore the stunning red rock formations of Sedona, wander through the otherworldly landscapes of the Grand Canyon, and immerse yourself in the rich Native American culture of the region. From the vibrant city lights of Las Vegas to the serene beauty of Zion National Park, this tour will take you on a journey through some of America's most iconic destinations.
Where to start?
We recommend starting your self-guided tours from the designated starting points for the best experience.
Public Parking Lot: 431 Forest Rd, Sedona
Red Rock Range District Visitor Center: 8375 AZ-179, Sedona
How does it work?
Once you book a tour, you'll get a text/email with instructions.

Download the app (while in good wifi/signal) and use your unique password to access your tours.

To begin touring, go to the starting point and launch the app.

The audio starts automatically once you reach the starting point. Stick to the tour route & speed limit for the best experience.

Please note that no one will meet you at the starting point.
What You'll See
Welcome

Spiritual Sedona

"New Age"?

Tlaquepaque Arts

The Sinagua

Marg's Draw Trail

The Great Abandonment

Broken Arrow Trail

Call of the Canyon

Hey, Little Hollywood

Chapel of the Holy Cross

Silver Screen Hits

Creating Sedona

Cathedral Rock Trail

The Artists Arrive

Vortexes

Courthouse Vista & Trail

Harmonic Convergence

World Peace?

Village of Oak Creek
Tour FAQs
Absolutely! Sedona has all the natural beauty of a national park, combined with the charm of a quirky, one-of-a-kind desert town. Seeing it in person is well worth the trip.
A car is actually the best way to see Sedona! While there are some tour buses available, these won't be able to show you the whole town. Having a car gives you much more freedom to explore on your own and escape the crowds.
April and May are among the best months to visit Sedona. You'll beat the heat, beat the majority of the crowds, but still have plenty of opportunity to enjoy the sun.
While you can see a lot of Sedona's attractions in a single day, we recommend spending at least two or three days there for the full experience. This will give you the opportunity to hike, linger at the coolest spots, and explore West Sedona as well.
Sedona is about 115 miles from Phoenix and takes around two hours to reach by car. During the busy summer months, however, you should anticipate quite a bit of traffic going into the city, which can add an extra 30-60 minutes to your travel time.
The Grand Canyon takes a little over two hours to reach from Sedona, so you can definitely make a day trip if you're feeling ambitious. With that said, if you plan on doing any hiking at the Grand Canyon (rather than just walking along the South Rim), you'll probably want at least two days there.
The South Rim of the Grand Canyon is much closer to Sedona. This is also the much more popular and accessible rim of the canyon, with lots more trails, park services, and food and lodging options.
Spiritual folks consider Sedona to be a place of intense energy thanks to its breathtaking landscape. The "vortexes" are places where this energy coalesces and is directed upward (by rock formations) or downward (by chasms).
Sedona has several different vortexes (7 or 8 depending on who you ask), but the best known are the Airport Mesa Vortex, the Bell Rock Vortex, the Cathedral Rock Vortex, and the Boynton Canyon Vortex. Of these, the first three are said to direct energy upward, while the last directs it downward.
If you're just parking for under 15 minutes to snap a few photos, no pass is needed. But if you plan to spend longer at the major attractions like Cathedral Rock, you'll need a Red Rock Pass. If you have an America the Beautiful pass, however, you can use this instead of the Red Rock Pass!
Sedona's rocks get their red color from iron oxide. This is a key part of the geological layer known as the Schnebly Hill Formation, which makes up Sedona's most striking formations.
This depends on what time of year you're visiting, but you'll want to bring layers no matter what! If you're visiting in the summer, short sleeves, shorts, and a light jacket just in case should be sufficient. But during the cooler months, you'll want to make sure you bring heavier layers for those cold nights. And don't forget a good pair of hiking shoes!
Start by paying a visit to some of the most iconic rock formations, like Chapel Rock and Courthouse Butte. On the way, stop by the awe-inspiring Chapel of the Holy Cross as well. As the day winds down, head into town and check out the shops and galleries in the Tlaquepaque Arts Village. Then grab a bite to eat at any of the fabulous spots in Uptown! For indepth details read our blog. 
There's no "best" part of Sedona, but there are a few spots you simply can't miss. First is Cathedral Rock, one of the most-photographed spots in the country. Another is the Chapel of the Holy Cross. And if you're into New Age spirituality, you cannot leave without visiting one of Sedona's incredible vortexes.
From luxurious 5-star resorts to cozy inns perfect for a romantic getaway to affordable motels, Sedona has it all.
The Phoenix Sky Harbor International Airport is where you should land. It is a two-hour trip from Phoenix to Sedona.
Sedona is 4500 feet above sea level, which is higher than Phoenix and Scottsdale. Spring and autumn have very agreeable temperatures, with highs in the 70s and 80s. Summertime temperatures average between the upper 90s and low 100s (about 10 degrees cooler than Phoenix). Evening temperatures in the summer range from the upper 60s to the low 70s. During the winter, daytime highs can range from 30 to 60 degrees Fahrenheit. Nighttime temperatures can range from the mid-teens to the thirties.
From Phoenix: Total Distance: 115 Miles; Estimated Travel Time: 2 Hours
Option A: Take I-17 north to Flagstaff (98 miles), exit onto State Route 179 (exit 298), turn left (west) onto State Route 179, and continue on State Route 179 to Sedona (14 miles).
Option B: Take I-17 north toward Flagstaff (98 miles), exit at AZ 260 (exit 289), turn left onto AZ 260, proceed west toward Hwy 89A (16 miles), turn right onto Hwy 89A, and proceed to Sedona (19 miles).
From Las Vegas: Total Distance: 280 Miles; Estimated Travel Time: 5 Hours
Take I-515/US-93 towards Hoover Dam/ Arizona (20 miles), Continue on US-93 towards Kingman, AZ (6 miles), Turn left onto US-93/I-40 (78 miles), Continue east on I-40 towards Flagstaff, AZ (145 miles), Take I-17 south (exit 195) (3 miles), Take Hwy 89A (exit 337), Continue south on Hwy-89A towards Sedona (23 miles).
From Los Angeles: Total Distance: 480 Miles; Estimated Time: 7 hours 30 minutes
Option A: Take I-10 east to Hwy-101 north, then Hwy-101 north to I-17 north. From Phoenix, follow either option A or B.
Option B: Take I-40 east towards Flagstaff, then I-17 south (exit 195) (3 miles), then Hwy 89A (exit 337), then Hwy-89A south (23 miles) to Sedona.
Inclusions and Exclusions
Inclusions
App on your phone:

 

A link to download the Action Tour Guide App and Password for your tours.
Flexible schedule:

 

Use any day, any time. Travel over multiple days or on next trip. Never expires.
Easy to use:

 

Stories play automatically by GPS. Hands-free. Get HELP all day: Call, Chat, or Email.
At your own pace:

 

No group. Take breaks for photos/ snacks/hikes. Go at your own pace.
Offline use:

 

No cell signal or wifi required. Offline GPS Map & route. Stop-to-stop direction.
Don't miss a thing:

 

Full itinerary, travel tips, professionally narrated videos, text, and hidden gems.
Exclusions
Transportation, parking fees, food, and drinks.

Entry tickets or reservations to any attractions along the route. 

Car Rental: Please arrange a rental car at the closest airport or train station.