Tour Details



Walking


1 - 2 Hours



Purchase QTY


One Per Person



Distance


1.39+ miles



Audio Stories


22+



Self Guided


At Your Own Pace



Tour Benefit


Tour Anytime
Any Day



Works Offline


100%
Money-back
Guarantee
Welcome to the Nashville Walking Tour
Experience the sights and sounds of Music City with this self-guided walking tour of Nashville! Dive into the history of country music legends like Johnny Cash, Dolly Parton, and more as you stroll these storied streets. Stop by the Country Music Hall of Fame, visit one of the original homes of the Grand Ole Opry, and, of course, pay a visit to the famous Honky Tonk Highway!
About the Tour
Your Nashville Walking Tour begins at the Cumberland Riverfront near 105 1st Ave South. From there, you'll stroll down 1st Ave and hear all about Johnny Cash, the Fisk Jubilee Singers, and how one school's desperate bid to secure funding started Nashville on the journey to becoming Music City.
Then you'll head into Walk of Fame Park, adorned with plaques dedicated to the biggest-ever names in country music. After that, where else but the Country Music Hall of Fame! Here, you'll also get a glimpse into one of the most recognizable names celebrated within that hallowed hall.
Next, pass the arena that's seen everyone from Elton John to Metallica. Your route brings you next to the ever-changing Legends Corner Mural as you hear what an financial company has to do with Nashville's country music history.
Following that is the historic Ryman Auditorium, once the home to the famous Grand Ole Opry. Then, find out just what people mean when they talk about the "Nashville sound" and the unique system of writing music that makes this city's live performances really stand out from the rest.
Up next is Printer's Alley, chock full of fascinating Prohibition and country music history. On your way to the famous Wildhorse Saloon, you'll get a look at the shadier side of the music industry and untangle the country music controversy around superstar Taylor Swift. Finally, you'll reach the bustling Honky Tonk Highway, where your tour will conclude.
Tour Starting Address: 105 1st Ave S, Nashville, TN
How does it work?
Once you book a tour, you'll get a text/email with instructions.
Download the app (while in good wifi/signal) and use your unique password to access your tours.
To begin touring, go to the starting point and launch the app.
The audio starts automatically once you reach the starting point. Stick to the tour route & speed limit for the best experience.
Please note that no one will meet you at the starting point.
What You'll See
Cumberland Riverfront & Light Meander Sculpture

Johnny Cash & Demonbreun St

Cold War Radio Operator

Landsberg Barbarians

Fisk Jubilee Singers & Symphony Center

Walk of Fame Park & Garth Brooks

Country Music Hall of Fame & Dolly Parton

Music City Center & Bridgestone Arena

"We Shield Millions" & Grand Ole Opry

Crossing Honky Tonk Highway

Legends Corner Mural

Ryman Auditorium & Lula Naff

From Hillbilly Music to Nashville Sound

Chet Atkins

The Nashville Number System

Money Talks

Chasing Dreams

Taylor Swift

Wildhorse Saloon

Honky Tonk Highway & Conclusion
Preview the Tour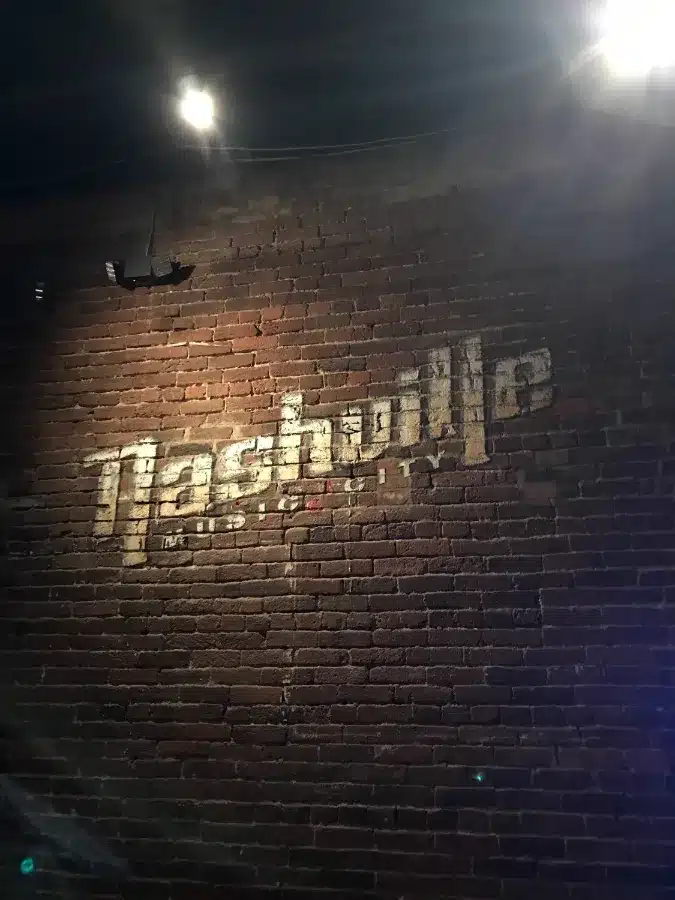 Legends Corner Mural Audio Story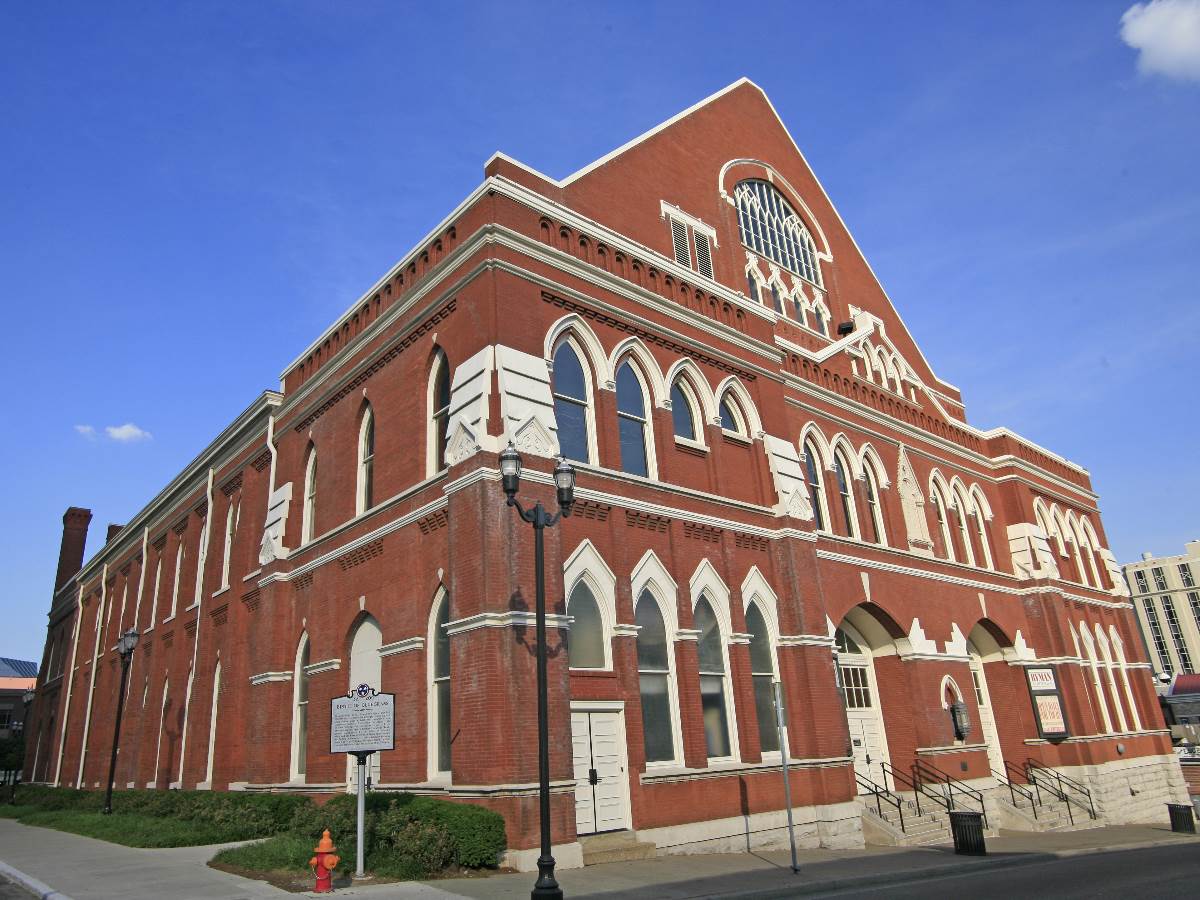 Ryman Auditorium Audio Story
Tour FAQs
Yes, Nashville is a walkable city, especially in the downtown area, making it easy to explore its attractions on foot.
Yes, Nashville is a walkable city, especially in the downtown area, making it easy to explore its attractions on foot.
Lower Broadway is the main attraction street in Nashville, known for its vibrant nightlife, live music venues, and iconic honky-tonk bars.
Celebrities in Nashville can often be found in upscale restaurants, bars, and music venues in areas like The Gulch and 12 South.
Downtown Nashville has a casual vibe. You can wear comfortable attire like jeans and casual tops. Dressing up a bit for the nightlife is also common.
Yes, Music Row is worth a visit, especially for music enthusiasts. It's a historic district with recording studios, record labels, and music industry landmarks.
Yes, the Grand Ole Opry offers self-guided tours where you can explore the iconic venue at your own pace.
Yes, Nashville is a walkable city, especially in the downtown area, making it easy to explore its attractions on foot.
Yes, the Grand Ole Opry tour is worth it for music enthusiasts and anyone interested in the history of country music.
The number of country singers in the Country Music Hall of Fame varies, as new inductees are added regularly. As of my last update in September 2021, there were over 140 inductees.
The Honky Tonk Highway is approximately a block-long stretch along Lower Broadway in downtown Nashville, filled with iconic honky-tonk bars.
In Nashville, honky-tonk refers to the famous bars and live music venues along Lower Broadway that play a pivotal role in the city's music scene.
No, Honky Tonk Highway and Music Row are not the same. Honky Tonk Highway is a stretch of bars in downtown Nashville, while Music Row is an area known for its recording studios and music industry offices.
Inclusions and Exclusions
Inclusions:
App on your phone: A link to download the Action Tour Guide App and Password for your tours.
Flexible schedule: Use any day, any time. Travel over multiple days or on next trip. Never expires.
Easy to use: Stories play automatically by GPS. Hands-free. Get HELP all day: Call, Chat, or Email.
At your own pace: No group. Take breaks for photos/ snacks/hikes. Go at your own pace.
Offline use: No cell signal or wifi required. Offline GPS Map & route. Stop-to-stop direction.
Don't miss a thing: Full itinerary, travel tips, professionally narrated videos, text, and hidden gems.
Exclusions:
Transportation, parking fees, food, and drinks.
Entry tickets or reservations to any attractions along the route.
Car Rental: Please arrange a rental car at the closest airport or train station.