Tour Details



Walking


1 - 2 Hours



Purchase QTY


One Per Person



Distance


4.8+ Miles



Audio Stories


70+



Self Guided


At Your Own Pace



Tour Benefit


Tour Anytime
Any Day



Works Offline


100%
Money-back
Guarantee
Welcome to the Savannah Walking Tour
Discover the heart of the oldest city in Georgia with this self-guided Savannah walking tour! Stroll along cobblestoned streets and past all kinds of cute shops and restaurants on the beautiful riverfront. Admire beautifully preserved historic architecture. Get to know Savannah's most influential residents of days past. And, of course, dig into the complex history of the city, from the Native tribes who once occupied the region to the battle between enslavers and abolitionists and beyond.
About the Tour
Your Savannah walking tour begins at the Visitor Center. From there, you'll stroll toward the waterfront. On your way, you'll hear about Savannah's pre-colonization history.
The first landmark you'll see is the Ships of the Sea museum, which offers a chance to learn more about how maritime trade shaped Savannah. Then there's the First African Baptist Church, dating back to 1773!
You won't be able to resist snapping some photos when you arrive at the riverfront, especially since it looks like a slice of the past! As you walk along these cobbled streets, you'll hear about the struggle between enslavers and abolitionists.
Then, you'll stop at Factor's Walk, an old brick building that was once one of the biggest export hubs of cotton in the world. After that, you'll pass Emmet Park and discover why Irish history is such a big deal in Savannah.
Your route takes you next to the Olde Pink House, which dates back to 1771 and has seen just about every significant era of Savannah's history firsthand. But the next stop, Johnson Square, is even older, with origins in 1734!
Next, you'll pass a market that has been through wars, hurricanes, and even fires. Just beyond that is Telfair Academy, the oldest art museum in the southern US.
At the Owens-Thomas House, next, you'll get a good look at some of Savannah's most striking historic architectural trends. Then you'll stop by the birthplace of Juliette Gordon Low, founder of the Girl Scouts of America!
After that, you'll find yourself at the Harper Fowlkes House, a Greek Revival structure exemplifying the lavish wealth of antebellum Savannah. Next, take a breather on a bench in Chippewa Square, where a famous scene from Forrest Gump was filmed!
Then, check out the Independent Presbyterian Church of Savannah, built to look just like the one commissioned by King George II.
Savannah Theatre is up next, a still-active theatre that has been putting on performances since 1818! Then you'll stop at Savannah's first Roman Catholic church and learn its unexpected origins.
Next, you'll see Madison Square and relive the bloody battle that played out there in 1779. Then, take a moment to admire the Sorrel Weed House, the largest residential property in the entire city.
Hear about General Sherman's march on Savannah as you continue your tour, then pause by a lavish piazza once owned by Savannah's wealthiest resident.
Literary buffs won't want to miss the next stop—the childhood home of famous author Flannery O'Connor! That's followed by Calhoun Square, a pleasant park with a dark past. Then there's the lush Forsyth Park, the city's oldest park and the perfect place for a picnic.
Next, swing by the site of a grisly murder that was made infamous by the 1994 novel Midnight in the Garden of Good and Evil.
Finally, you'll arrive at the Ralph Mark Gilbert Civil Rights Museum. Your tour concludes here.
Starting Point Address: Savannah Visitor Center
Experience everything Savannah has to offer:
Discover the beauty of Savannah and immerse yourself in its unique history, culture, and attractions on a customized journey through this charming city. Explore Savannah at your own pace with our Self-Guided Bundle of Savannah Walking Tours priced at $16.99
How does it work?
Once you book a tour, you'll get a text/email with instructions.
Download the app (while in good wifi/signal) and use your unique password to access your tours.
To begin touring, go to the starting point and launch the app.
The audio starts automatically once you reach the starting point. Stick to the tour route & speed limit for the best experience.
Please note that no one will meet you at the starting point.
What You'll See
Savannah Welcome Center

Tomochichi Meets Oglethorpe

Coosaponakeesa

Ships of the Sea

First African Baptist Church

Port City

Abolitionist Voices

The Middle Passage

Factor's Walk

Emmet Park

Saint Paddy's Day in Savannah

Reynolds Square

The Olde Pink House

Johnson Square

A City Built on Mulberries

City Market

Savannah's Ill-Fated Laws

Telfair Academy

Wright Square

Owens-Thomas House

Ghostbusting Paint

Olaudah Equinao's Story

Juliette Gordon Low Birthplace

Harper Fowlkes House

Chippewa Square

The Independent Presbyterian Church of Savannah

Savannah Theatre

The Cathedral of St. John the Baptist

The Siege of Savannah

Sorrel Weed House

Sherman Takes Savannah

The Oglethorpe Plan

Andrew Low House

Flannery O'Connor Childhood Home

Calhoun Square

Massie Heritage Center

Forsyth Park

The "Battle" of Monterey

Murder at the Mercer Williams House

Ralph Mark Gilbert Civil Rights Museum
Preview the Tour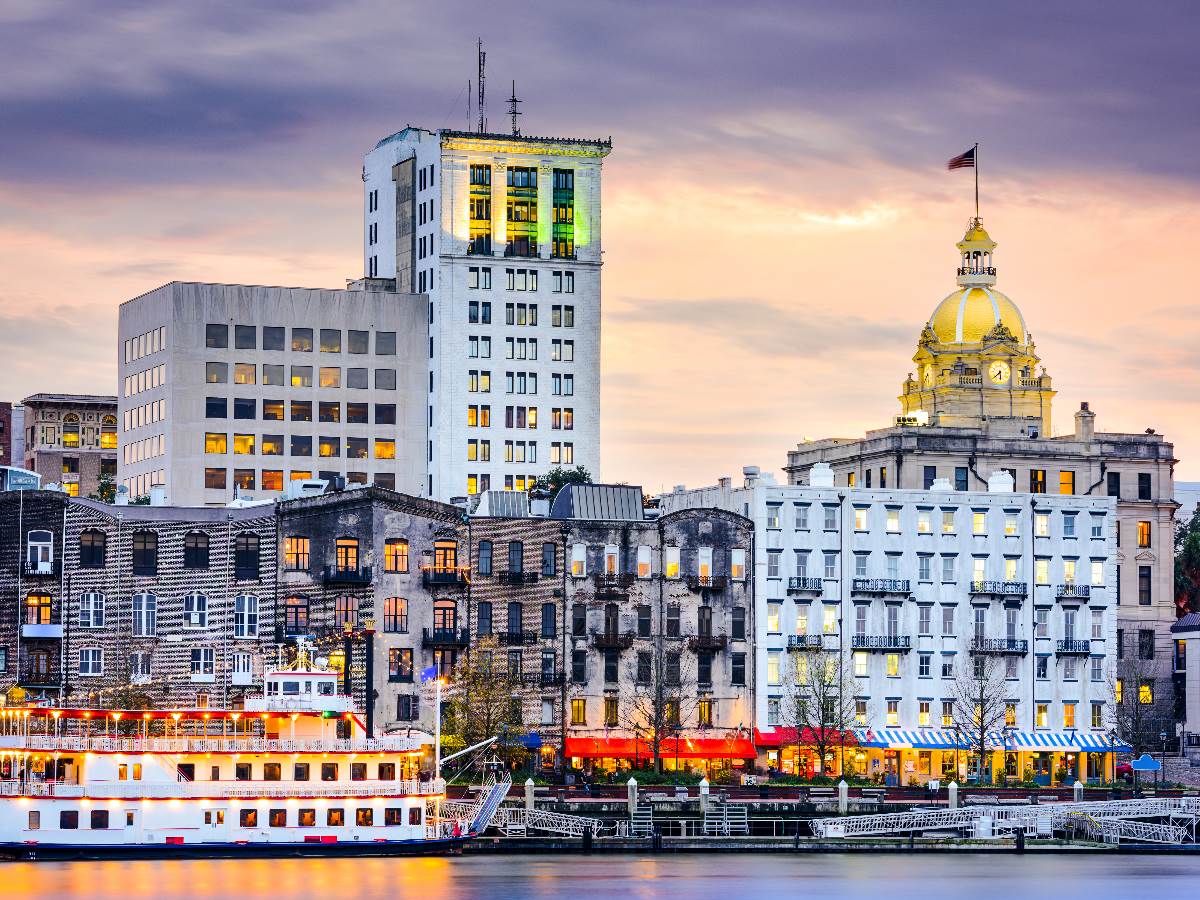 Port City Audio Story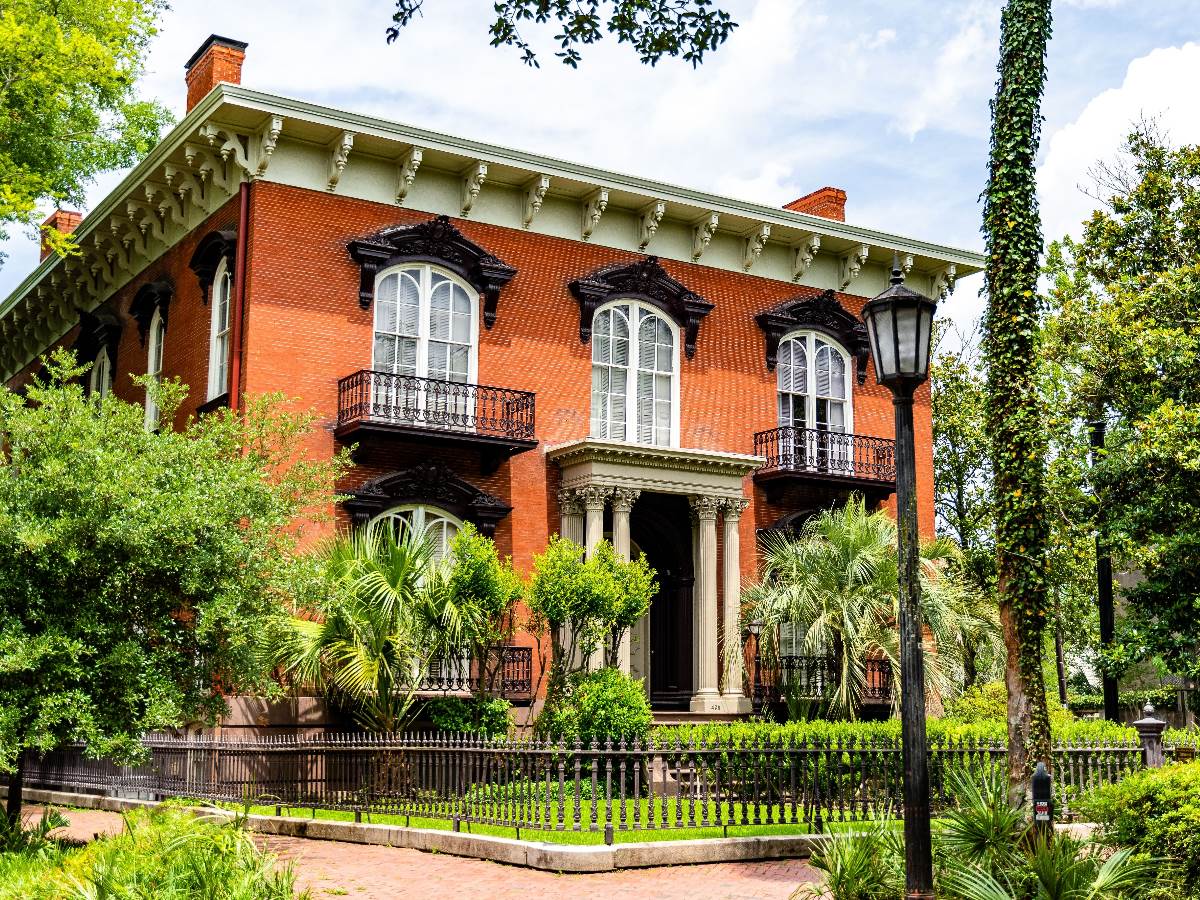 Murder At Mercer Williams House Audio Story
Tour FAQs
Yes, Savannah is a great walking city with its historic squares, cobblestone streets, and charming neighborhoods that are perfect for leisurely strolls.
Savannah is famous for its well-preserved historic district, picturesque squares, southern hospitality, and its role in American history, including being one of the first planned cities in the United States.
Spending 2-3 days in Savannah is usually enough to explore its historic sites, museums, riverfront, and enjoy its unique atmosphere.
People love Savannah for its enchanting historic architecture, lush parks, vibrant arts scene, delicious cuisine, and warm southern charm.
Yes, there's a Pulaski exhibit at the Georgia Historical Society in Savannah, honoring Count Casimir Pulaski's contributions to American history.
You can see ships along the Savannah River at River Street and also at the Savannah International Trade & Convention Center.
The First African Baptist Church is the famous black church in Savannah, Georgia. It has a rich history and played a significant role in the African American community.
Factors Walk in Savannah is a historic area along the riverfront where cotton brokers and factors used to conduct business in the 19th century.
Savannah is often nicknamed the "Hostess City of the South" due to its warm hospitality.
The Olde Pink House is known for its historical significance, Southern-style cuisine, and being one of the oldest buildings in Savannah.
The Olde Pink House has a rich history and was originally built as a private residence for James Habersham Jr., one of Savannah's colonial leaders.
The best months to visit Savannah are typically in the spring (March to May) and fall (September to November) when the weather is pleasant.
Generally, the winter months of December and January tend to be less crowded and more affordable for visiting Savannah.
Savannah has a warm and humid subtropical climate. Summers are hot and humid, while winters are mild with occasional colder spells.
Inclusions and Exclusions
Inclusions:
App on your phone: A link to download the Action Tour Guide App and Password for your tours.
Flexible schedule: Use any day, any time. Travel over multiple days or on next trip. Never expires.
Easy to use: Stories play automatically by GPS. Hands-free. Get HELP all day: Call, Chat, or Email.
At your own pace: No group. Take breaks for photos/ snacks/hikes. Go at your own pace.
Offline use: No cell signal or wifi required. Offline GPS Map & route. Stop-to-stop direction.
Don't miss a thing: Full itinerary, travel tips, professionally narrated videos, text, and hidden gems.
Exclusions:
Transportation, parking fees, food, and drinks.
Entry tickets or reservations to any attractions along the route.
Car Rental: Please arrange a rental car at the closest airport or train station.