Tour Details



Walking


Per Tour 2 - 3 Hours



Purchase QTY


One Per Person



Distance


Per Tour 2+ miles



Audio Stories


Per Tour 25+



Self Guided


At Your Own Pace



Tour Benefit


Tour Anytime
Any Day



Works Offline


100%
Money-back
Guarantee
Welcome to the Bundle of All Boston Tours
Explore Boston and its surroundings! This package covers the Boston walking tour of the Boston Freedom Trail (Old North Church, Faneuil Hall, & more), Harvard University's main campus in Cambridge, the historic Boston harbor tour along the Harborwalk, and the Boston Ghost tour. This is the ultimate "must-do" package for a Boston and New England trip.
Below are the tours that are part of the bundle
Freedom Trail
Bunker Hill Monument
Harvard Square
Boston Harbor
Boston Ghost
Cambridge (Bonus)
Boston

Freedom Trail Self-Guided Tour
Walk in the footsteps of Revolutionary War heroes, discover the story of Paul Revere's Midnight Ride, and relive the fight for American Independence with a self-guided tour of the Boston Freedom Trail! Journey back in time to historic Boston in George Washington, Paul Revere, Samuel Adams, and their revolutionary collaborators. On the Boston Freedom Trail self-guided tour, you will learn about everything from Boston Common (the heart of colonial Boston) to Bunker Hill (site of the first Revolutionary War battle) — and everything in between! This is one of our bestselling tours on TripAdvisor, Expedia, and Viator.
Bunker Hill Monument Tour
Relive the famous Battle of Bunker Hill with this thrilling tour of the Bunker Hill Monument. Stroll around this urban park as you listen to a blow-by-blow rendition of the battle that defined the American Revolution. Hear about Colonel William Prescott's heroism, the British commanders' critical errors, and the bravery of America's ragtag militiamen. Then, climb to the top of the monument itself for incredible views of Boston!
Harvard Square Tour
Visit the heart of Harvard University's campus in Cambridge: Harvard Square! This Harvard tour covers must-see campus sights like the John Harvard Statue, Widener Library, and former dorms of famous alumni like Bill Gates, Mark Zuckerberg, Natalie Portman, and more. Explore Harvard's history, legacy, and fame in full.
Boston Harbor Tour
Immerse yourself in the stories of the American Revolution, Boston Tea Party, and Sons of Liberty as you stroll along Boston's scenic Harborwalk! Unearth tales of rebellion, sabotage, and intrigue surrounding the Founding Fathers. Discover the Boston Harborwalk tour's historical and storied past while enjoying its beautiful views between South Station and Long Wharf!
Boston Ghost Tour
This bone-chilling self-guided walking tour through Boston's otherworldly side begins at Boylston Street Station, where a gas explosion killed several workers. Some believe it was an accident, but others wonder if the countless graves dug up during construction had something to do with it. One thing is certain: the victims have not yet left the place of their grisly demise.
Cambridge Driving Tour (Bonus Tour)
Explore historic, beautiful Cambridge with total freedom and flexibility! This picturesque city's past is alive and well, from some of the oldest and more storied educational institutions to Revolutionary War remnants. See Harvard and MIT, hear about the founding of Cambridge, and admire the city's gorgeous old-timey architecture. This cute, compact city is every bit as fascinating as Boston, so visit it to see what all the hype is about!
Upgrade to Action+
For $99.99, you can upgrade to Action+ Annual Unlimited Subscription with 100+ tours. Use the tours as often as you like during your one-year subscription period. You also get free access to any new tours that come out during the time you are subscribed.
How does it work?
Once you book a tour, you'll get a text/email with instructions.
Download the app (while in good wifi/signal) and use your unique password to access your tours.
To begin touring, go to the starting point and launch the app.
The audio starts automatically once you reach the starting point. Stick to the tour route & speed limit for the best experience.
Please note that no one will meet you at the starting point.
What You'll See
Boston Common

Massachusetts State House

Park Street Church

Granary Burying Ground

The Latin School

Irish Famine Memorial

Old South Meeting House

The Old Corner Bookstore

Old State House

Boston Massacre Site

Faneuil Hall

Haymarket

The Paul Revere House

Old North Church

Copp's Hill Burying Ground

USS Constitution vs. the Guerriere

Bunker Hill Monument

Johnston Gate

John Harvard Statue

Harvard Science Center

Harvard Memorial Hall

Memorial Church

Widener Library

Weld Hall

Wigglesworth Hall

Grays Hall

Matthews Hall

Straus Hall

South Station

Federal Reserve

Russia Wharf

The Boston Tea Party

Rowe's Wharf

Marina at Rowe's Wharf

Goose Cove Reservation
Preview the Tour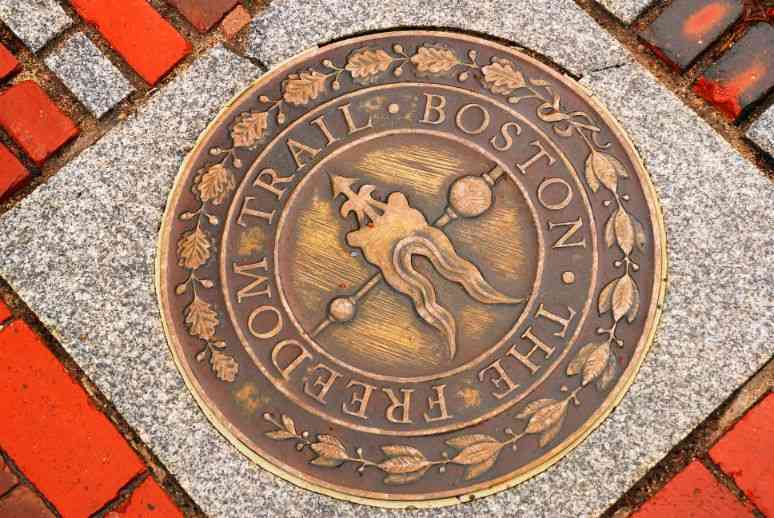 Welcome Audio Story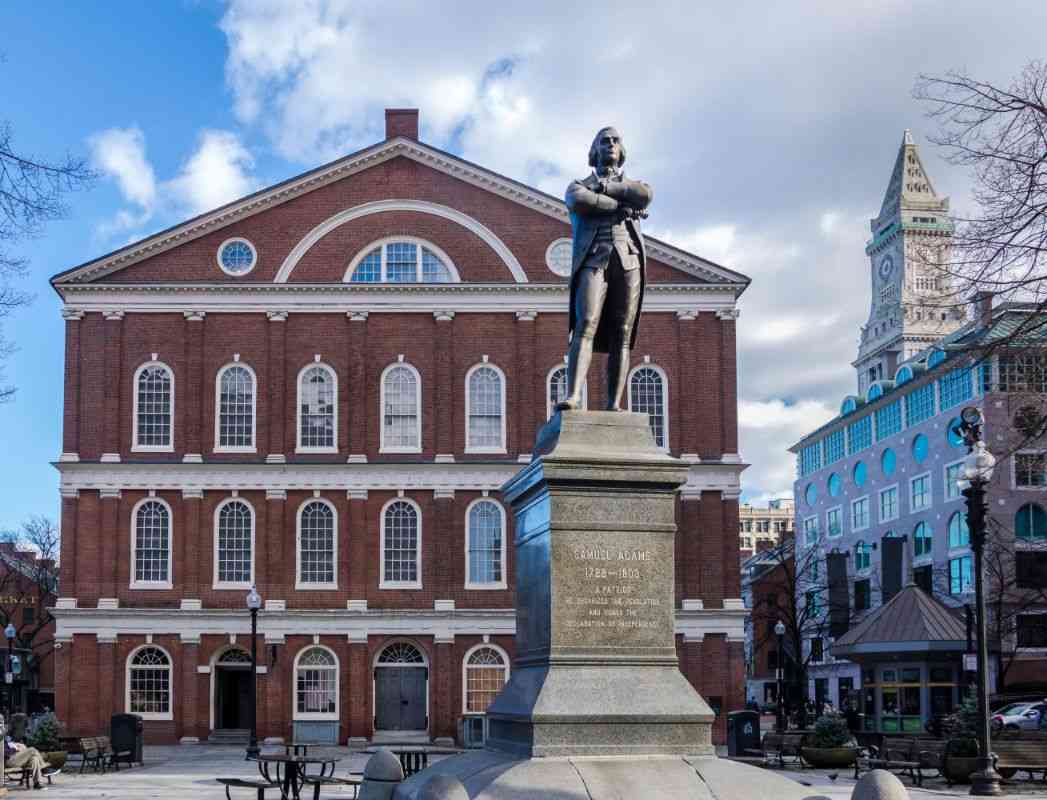 Faneuil Hall Audio Story
Tour FAQs
The Freedom Trail is a 2.5-mile-long path through downtown Boston that passes by 16 historically significant sites related to the American Revolution.
At the Bunker Hill Monument, you can see a tall granite obelisk that commemorates the Battle of Bunker Hill, a crucial early battle in the American Revolution.
Harvard Square is known for being the heart of Cambridge and home to Harvard University. It's a vibrant area with shops, restaurants, street performers, and historical landmarks.
The Boston Ghost tour takes you on a spooky journey through Boston's haunted history, sharing tales of ghostly encounters and paranormal activity at various locations.
The Boston Ghost tour takes you on a spooky journey through Boston's haunted history, sharing tales of ghostly encounters and paranormal activity at various locations.
The Freedom Trail can be explored on your own as a self-guided walking tour. You can follow the marked trail and use resources to learn about each historic site.
Walking the entire Freedom Trail typically takes around 2 to 3 hours, depending on how much time you spend at each site and your walking pace.
The Bunker Hill Monument commemorates the Battle of Bunker Hill, one of the early battles of the American Revolution, fought on June 17, 1775.
Harvard Square is unique for being a bustling cultural and intellectual hub, surrounded by historic buildings, bookstores, cafes, and diverse street performances.
The Boston Harbor tour offers insights into Boston's maritime heritage, including its role in the American Revolution, the Boston Tea Party, and modern-day waterfront attractions.
The Boston Ghost tour may not be suitable for young children, as it involves spooky and sometimes intense stories of haunted locations.
Cambridge is known for its prestigious universities, including Harvard and MIT. The tour likely highlights historical and cultural aspects of the city.
Yes, visitors can climb the 294 steps to the observation deck of the Bunker Hill Monument for panoramic views of Boston and its surroundings.
Walking the Freedom Trail itself is free, but some of the individual historic sites along the trail may have admission fees.
The Boston Harbor tour provides insights into Boston's maritime history, including trade, shipbuilding, and notable events like the Boston Tea Party.
Inclusions and Exclusions
Inclusions:
App on your phone: A link to download the Action Tour Guide App and Password for your tours.
Flexible schedule: Use any day, any time. Travel over multiple days or on next trip. Never expires.
Easy to use: Stories play automatically by GPS. Hands-free. Get HELP all day: Call, Chat, or Email.
At your own pace: No group. Take breaks for photos/ snacks/hikes. Go at your own pace.
Offline use: No cell signal or wifi required. Offline GPS Map & route. Stop-to-stop direction.
Don't miss a thing: Full itinerary, travel tips, professionally narrated videos, text, and hidden gems.
Exclusions:
Transportation, parking fees, food, and drinks.
Entry tickets or reservations to any attractions along the route.
Car Rental: Please arrange a rental car at the closest airport or train station.