The Freedom Trail in Boston is a 2.5-mile route that winds its way through the city past 16 of the most important historical monuments and landmarks.
The Freedom Trail in Boston is one activity you won't want to skip. There's also a lot of options for how to experience the Freedom Trail, from guided walking tours to self-paced discovery. Here are a few tips for travelers interested in walking the Freedom Trail and a bit of what to expect to help you plan.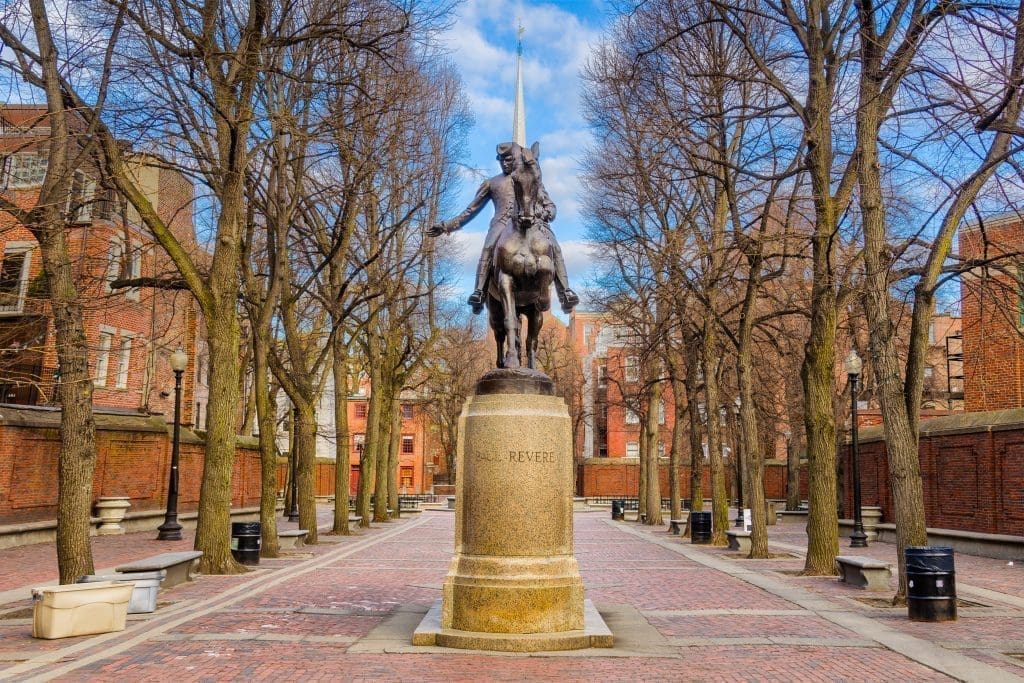 The Logistics
Thankfully, the trail's clear signage and brick pavement make it challenging to get lost, even if you decide to do a self-paced tour.
There are two starting points for the route: Boston Common and the Bunker Hill Monument. Both parking garages are available; even though you have to pay a fee, it's probably the safest and most convenient parking option.
We recommend parking, then taking public transportation to the opposite end of the trail and working your way back, so you're conveniently at your car when you're tired out at the end of the day.
How Long does the Freedom Trail Take?
To get an appreciation for what you're seeing, we recommend taking more time than this, but everyone has their own pace. 4-6 hours seems to be average, although some people will opt to split the Freedom Trail between two days to spend more time at the individual stops along the route.
Points along the Boston Freedom Trail
We picked our starting point at Boston Common, but remember that you can walk the Freedom Trail in either direction or split it up into sections as needed.
1. Boston Common
Founded in 1634, Boston Common is the oldest public park in the US. While its diverse history includes being used as a grazing area for farm animals, and execution and punishment site, and a military training ground, today it's a popular spot for outdoor recreation, whether that's having a picnic lunch in the summer or enjoying the famous ice skating rink in winter.
2. Massachusetts State House
Also called the "New State House," this is the current Massachusetts government building. It's open from 8:45 am to 5 pm on weekdays, with self-guided or public tours (by reservation).
3. Park Street Church
This historic church was constructed in 1809 and continues to be actively used to this day. You can attend a service on Sundays or during visiting hours during the summer months if you want.
4. Granary Burying Ground
Some of the most famous historical figures in America were laid to rest at this graveyard dating back to 1660. You can search for the tombstones of Samuel Adams, John Hancock, and Paul Revere, among others.
5. King's Chapel and Burying Grounds
Founded in 1686 and then rebuilt in 1754, this is the first Anglican church of Boston. The cemetery next to the church is the resting place of several noteworthy historical American figures.
6. Ben Franklin Statue and Boston Latin School
The oldest public school in America was the education site of at least 5 of the members who signed the Declaration of Independence. Although the school is only a replica and has been rebuilt, the original site is now commemorated by the statue of Benjamin Franklin.
7. Old Corner Bookstore
This historic shop was built in 1718 and was used by numerous publishing companies over the years. Today, it has been put to a less glamorous use as a Chipoltle, but hey, it's a nice spot to grab lunch on your Freedom Trail tour in Boston!
8. Old South Meeting House
Visit the place where notable events like the Boston Tea Party were planned and numerous historical artifacts and documents held in the museum.
9. Old State House
Once the site of the Massachusetts Court, the Old State House is now open for self-paced tours and occasional re-enactments of historic events performed by staff.
10. Boston Massacre Site
The Boston Massacre is one of the most notable events leading up to the Revolutionary War. The spot where British soldiers fired into a crowd of people, killing 5, is commemorated by today's site marker.
11. Faneuil Hall
Historically used for government meetings, debate, and diplomacy, Faneuil Hall today is one of Boston's most popular shopping areas. It is a great place to get a souvenir of our Freedom Trail experience.
12. Paul Revere House
Visit the home of one of Boston's best-loved patriots and learn about Paul Revere's life before his role in the Revolutionary War. Tours take place from 9:30 am to 4:15 pm daily, with occasional special events or re-enactments.
13. Old North Church
Boston's oldest church includes several attractions within it, including the gardens, Old North Church Bookshop, and Captain Jackson's historic chocolate shop (be sure to grab a well-deserved treat!).
14. Copp's Hill Burying Ground
The largest colonial cemetery in Boston, Copp's Hill, is free to enter and includes the gravesites of notable people such as the anti-slavery activist Prince Hall and USS Constitution builder Edmund Hard.
15. USS Constitution and Museum
After seeing the ship builder's grave, you can see the warship itself at the USS Constitution Museum. It's the oldest warship still floating and holds numerous artifacts of war in the ship museum.
16. Bunker Hill Monument
The final (or first!) stop on the Boston Freedom Trail is the Battle of Bunker Hill site, which was the first significant clash between the British and Colonists during the Revolutionary War. You can get a pass to climb to the top of the monument from the Bunker Hill Museum.
Plan for the Freedom Trail
Now that you have the low-down on this historic Freedom Trail Boston Tour, you can plan out your own Freedom Trail Self-Guided experience.
Remember that while the Freedom Trail itself is accessible, many of the individual stops will have prices. It's also worth checking if there are any special events like re-enactments or festivals in Boston during your stay, which you can incorporate with walking the Freedom Trail.