Yellowstone can be a pretty intimidating destination whether you're a first-time explorer or a national park enthusiast. It's so huge that you might find yourself wondering: "How can I possibly see all of it on a single Yellowstone trip?"
That's precisely where a self-guided tour comes in! Let's look at why this type of tour is the absolute best way to experience Yellowstone National Park.
Don't miss a thing on your Yellowstone Self-Guided Tour
The absolute last thing you want on a trip to Yellowstone National Park is to miss one of its most breathtaking spots. And believe me, there are plenty of them! Wyoming's crown jewel isn't just home to spectacular geysers like the world-famous Old Faithful (although this crowd favorite is a must-see spot for sure). Yellowstone also features incredible vistas, naturally heated river swimming, brilliantly-colored hot springs, valleys full of bison, and so much more. If you go in without any sort of guide to help you, you run the risk of missing out on a vast number of significant attractions (not to mention plenty of perfect spots for your very own Yellowstone photo op)! A self-guided tour like this one not only points out all the best sights in the park—it'll also give you some profound peace of mind in knowing that you're not missing anything.
Go at your own pace
Just picture it: You're standing at the edge of Yellowstone's Lamar Valley, watching North America's largest bison herd meander through the long grass. It might be the only chance you have to watch these magnificent creatures in their natural habitat, and you want to soak it in. Just then, your tour bus driver shouts, "Time to go, everyone! Get back on board!" What a drag, right? A self-guided tour removes that problem because it puts you in charge of where you stop and how long you spend at each place. Whether you feel like breezing through Yellowstone or taking your Time and lingering at each of the national park's treasures, this self-guided tour gives you total control to tour the way you want to tour.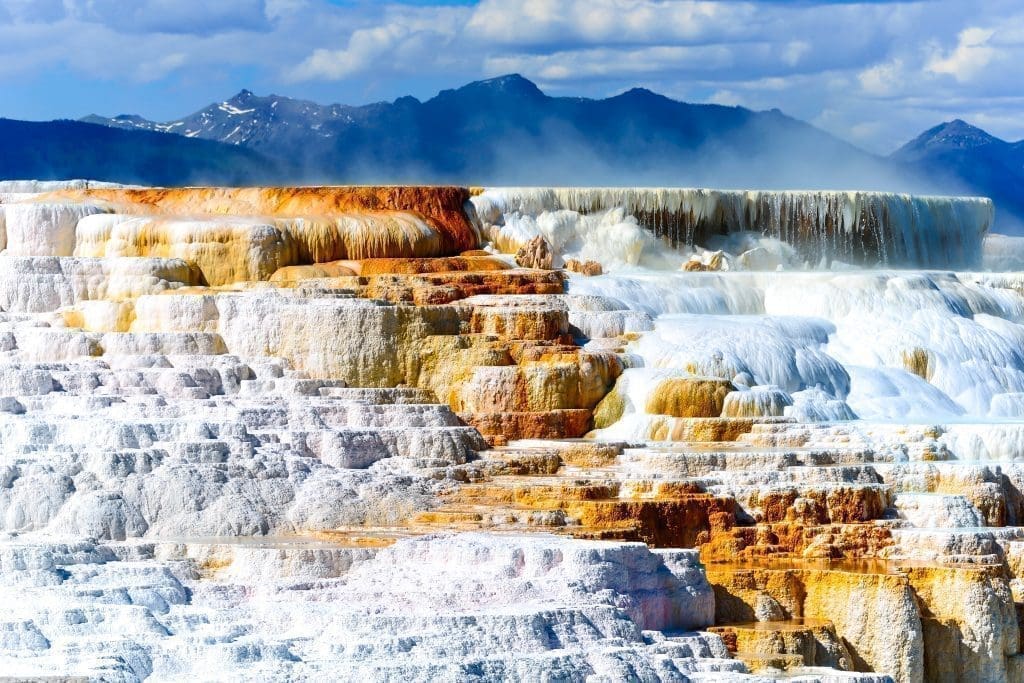 Dodge the crowds
Yellowstone is one of America's most popular national parks for an excellent reason, but that popularity comes with a significant downside: the crowds. Nobody wants to spend their whole trip shuffling through a vast mass of other tourists, right? Unfortunately, that's exactly what happens with traditional tours of Yellowstone because the crowd is moving in sync with you every step of the way! A self-guided tour lets you break away from the herd and explore the park your way. Trust me; it's quite a breath of fresh air!
Dive beneath the surface
We all know that Yellowstone is host to some seriously spectacular sights. Still, you might not realize this national park also boasts a lot of genuinely fascinating history, from the fierce struggle to protect the park to the wacky antics of some of its early visitors. Would you believe fishermen used to cook their catch in one of the geysers and eat it on the spot? No, really! While Yellowstone's beauty is one of the main reasons to visit, diving into the national park's storied past adds a whole extra layer to anyone's experience of this natural wonder. A self-guided tour is a perfect way to get this sort of interesting info in a discreet manner that won't interfere with your sightseeing in the slightest! You might be surprised how much a tour like this one adds to your visit!
Find out how it all works
It's one thing to see Yellowstone's volcanic features on the internet, but these steaming sensations are something else entirely in person. Words and pictures simply can't do them justice. Once you see them up close, however, you're bound to wonder how Yellowstone's geothermal features work and why the park has so many of them! Just like with history, this self-guided tour has you covered here. Get ready to discover anything you or the little ones want to know about geysers, hot springs, paint pots, and more! Who says learning can't be fun?
Be in the driver's seat
With so much to see and do, a Yellowstone National Park tour can quickly get overwhelming, especially if you're not in control of where you're going. I can't count the number of times people have complained to me about how difficult it was to figure out and navigate the park's shuttle system—and you don't even want to think about the hassle of being left behind by your tour bus! Luckily, there's an easy solution to this unnecessary stress: Drive! Self-guided tours let you enjoy Yellowstone from the comfort of your very own vehicle or rental (which also means complete control over the A/C settings, something we all take for granted until we suddenly don't have it). Go wherever, stop wherever, and stop worrying about whether the person sitting across from you is going to decide now is the perfect time to start eating that tuna salad sandwich they've been saving. Unless, of course, your significant other has a sudden tuna craving, in which case I can't help you!
It's the excuse you've been waiting for
Let's be honest with ourselves. We could all use an excuse to get out of the house and visit one of the natural wonders of the world. And what better reason than finding the perfect way to experience Yellowstone? A self-guided tour is the low-stress, low-cost way to explore Yellowstone, and it's the best way to get the most out of your trip. So what are you waiting for? Pick up the app at Action Tour Guide and get ready to make some memories that will last a lifetime!