So you're about to embark on a Smoky Mountains road trip for the first time. Spanning 500,000 acres between Gatlinburg, there's a lot of ground to cover! How will you know which sights to stop for on your Smoky Mountains road trip and where to find them? I've got you covered! For your Smoky Mountains self-guided tour, here are ten of my favorite hidden gems, from natural wonders to modern mills.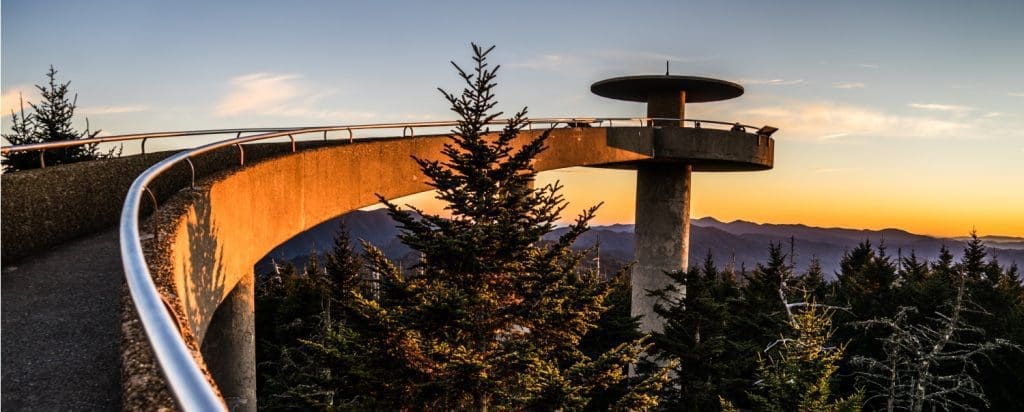 1. Clingmans Dome Tower
How would you like to get a bird's eye view of the whole park? Head for Clingmans Dome! At 6,643 feet above sea level, it's the tallest mountain in the Smokies… and the tallest mountain along the entire Appalachian Trail!
Once you've reached the peak, you can make your way up a manmade tower. The spiral ramp is full of distinctive 1950s Atomic Age charm. The ramp leads to a futuristic observation deck, where you can get a lay of the land. There are no words to describe the incredible view!
2. Alum Cave Trail
While on the Great Smoky Mountains road trip, you'll want to check out the most fantastic geological features. Alum Cave Trail is like three tourist attractions in one! 
First, the path takes you under Arch Rock, a massive slab of slate that naturally eroded into the shape of a doorway, perfectly sized for a human hiker.
Later in the trail, you'll come face-to-face with Little Duck Hawk Ridge: a cliff face where peregrine falcons make their nests. Take it from me; you'll want to bring your binoculars!
Finally, the trail leads you to the entrance of Alum Cave. The walls are covered in a chemical compound called aluminum potassium sulfate. It sounds scientific, but it's a similar ingredient to baking powder. The Cherokee would have used it for tanning leather, staunch bleeding wounds, and deodorizing clothing.
3. Rainbow Falls on your Smoky Mountains Road Trip
There's no shortage of waterfalls in the Smokies, but I want to tell you about one spectacular standout. Rainbow Falls is the tallest single-drop waterfall in the Great Smoky Mountains. Springwater from the summit falls 80 feet before reaching the smooth rocks below!
Rainbow Falls lives up to its name if you visit on a sunny day. The sunlight refracts in the misty water droplets, creating a powerful rainbow effect in the air. The stunning sight is worth the hike!
4. Chimney Tops
While we're talking about unique natural wonders, you won't want to miss Chimney Tops. It's a rare double-capstone mountain with two summits instead of one. Early European settlers thought it looked like the two flues of a classical brick chimney.
The name became darkly ironic centuries later when it became the site of a devastating wildfire in 2016. The mountain once sported dark burn scars, but new trees are starting to grow today, making the mountain green again.
5. Cades Cove
You've heard a lot about mountains, but the valleys are worth a look too! The most famous is the idyllic meadow known as Cades Cove. It was a seasonal hunting camp for the Cherokee back in the day. You can tell why it was a good choice with all the animals around. Cades Cove is home to deer, raccoons, turkeys, coyotes, otters… and even bears! Cades Cove is a must-see on your Smoky Mountains road trip if you're an animal lover like me. 
6. Newfound Gap
The Great Smoky Mountain National Park spans Tennessee and North Carolina, so you get to explore two states at once! The mountain pass that crosses the border is known as the Newfound Gap. There you'll find a huge two-tiered stone structure commemorating the Rockefeller family who helped fund the park. On the balcony of the memorial, President Franklin Delano Roosevelt gave his speech to dedicate the national park at its opening in 1940… and you can stand in the same place that he did! 
7. Mingus Mill
Calling all Little House on the Prairie fans! You will want to stop at all the carefully preserved pioneer buildings, like Mingus Mill. The mill is located at the center of a huge network of small farms. In the 1800s, farmers came from miles away to grind their harvest and meet with their seldom-seen neighbors.
The best part is this mill is still in operation! You can watch corn turn into cornmeal and take home a bag to make flapjacks later.
8. Ephraim Bales Cabin
And where there's a mill, there's a farm! You'll find plenty of them along the Roaring Fork Motor Trail.
The Ephraim Bales cabin, dating back to the 1890s, exemplifies the iconic "dog-trot" style of architecture. Two halves of the cabin are connected by a sheltered breezeway, keeping it shady in summer and conserving heat in the winter. Now that's smart design!
9. Ogle Place
Speaking of intelligent design, have you heard of a tub mill? It's like a personal grist mill, the size of a barrel, used on small farms where a giant water wheel isn't necessary. An antique homestead called Ogle Place features the only functional tub mill left in the Smokies. You can find his tiny cabin on the banks of LeConte Creek. And yes, I mean tiny… his whole family lived in a structure the length of a modern school bus!
10. Sugarlands Valley
Now that you know all the best-kept secrets, you can plan your own Smoky Mountains road trip! How can you be sure to visit all these sites and many more? Check out Action Tour Guide's self-guided driving tour! You'll hear much more about each stop listed here and even more stories about Cherokee folklore, pioneer history, and the origins of the national park. GPS triggers each stop, so you can take the journey at your own pace and forge your path. Whether you're planning a quick day trip or a whole family vacation, you can help discover the Smokies!