There's something about the warm weather that makes you think about sand, the sun, and the salty air of the Atlantic Ocean. Millions of Americans flock to the east coast every summer, and no getaway is more popular than the Cape Cod tour in Massachusetts. 
Let me show you just a few reasons why the Cape is such a beloved vacation destination and a perfect place to take a self-guided driving tour!
Beaches and Lighthouses!
Be sure to pack your sunglasses and sandals for your Cape Cod tour! New England's beaches are a quintessential summer experience that you don't want to miss. And with 560 miles of coastline, Cape Cod is the best place to see the sea!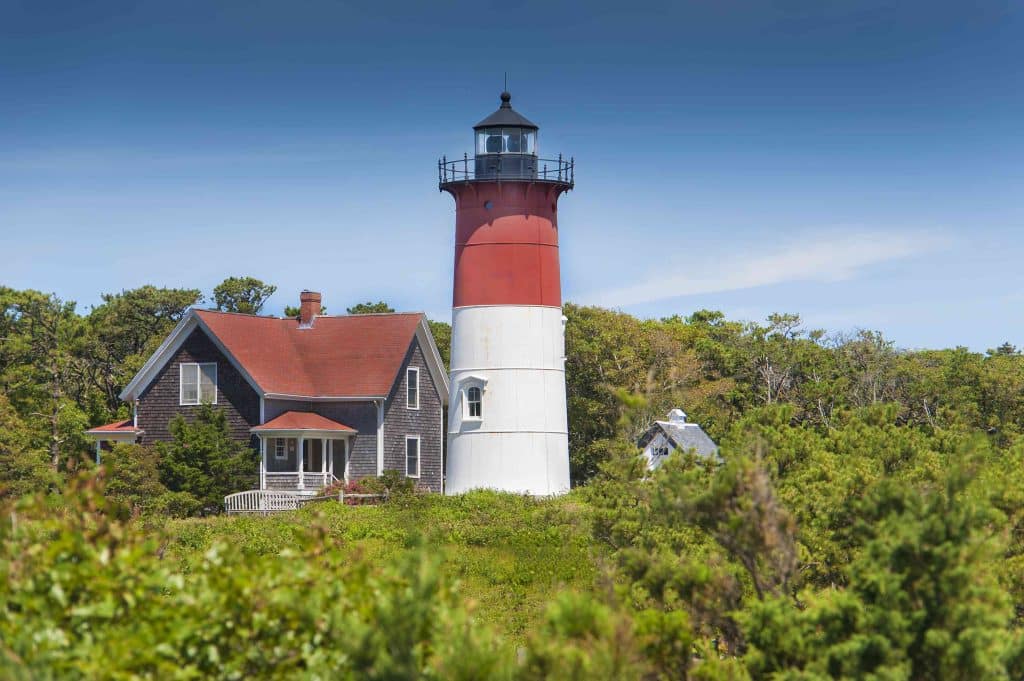 And where there's a beach, there's a lighthouse to protect it. As you drive up the coast, you'll pass by all of the Cape's most iconic lighthouses, including:
The Three Sisters, a trio of retired historical lighthouses from 1892
Highland Lighthouse, where writer Henry David Thoreau regularly stayed as a guest
Nauset Light, the model for the logo emblazoned on every bag of Cape Cod Potato Chips
And even more!
The beaches are good for more than just sunbathing and sightseeing. You can learn a lot about American history on the way, too! I recommend checking out Marconi Beach in Wellfleet–the first transatlantic radio communication site! The message was received loud and clear with an open ocean between Cape Cod and England. If you're into radios or would like to pay tribute to the origins of modern texting, it's worth a self-guided tour.
History!
Speaking of legendary beaches, Did you know that the history of Cape Cod is as old as the history of Europeans in America?
You might associate the Pilgrims with Plymouth, Massachusetts, but actually, they first landed on Cape Cod! Provincetown is home to First Landing Park, where the Mayflower first struck land after 66 long, stormy days at sea.
And in Eastham, you'll find First Encounter Beach–– the place where Pilgrims and the native Nauset tribe met each other for the very first time, way before the First Thanksgiving!
On the coast of the Cape, they formed the Mayflower Compact: a contract governing the colony's behavior, which would later serve as a blueprint for the U.S. Constitution.
Wildlife!
The Cape Cod tour has plenty of creature sightings in store for you. Dolphins play in the waves. Sea turtles lay eggs in the soft sand. Gull's search for stray chips dropped by tourists. It's not unusual to spot herds of seals sunning themselves on the shore. Just like we do!
Cape Cod didn't always have the friendliest relationship with its wildlife. This coast has a long history of whale hunting. The Cape helped inspire Herman Melville's novel, Moby Dick! But today, the same ports that once launched whaling ships have now been repurposed for whale-watching tours. Hop on a boat and see if you can spot one! You might even have a chance to see the critically endangered North Atlantic Right Whale. They narrowly avoided extinction in the 1800s, and today, only 400 remain in the wild. Don't worry. Fellow whale lovers now protect their population!
The Famous Arts Scene!
At the very end of the Cape Cod peninsula, the furthest corner of Massachusetts, you'll find yourself on Commercial Street. At the turn of the 20th century, Bohemian creatives flocked to Provincetown to establish a place where artistic expression is more important than societal expectations. And to this very day, it's still a thriving hotspot for the arts! You can tell by the galleries, photo studios, and theaters lining the main road.
As locals call it, P-town is one of the most LGBT-friendly places. In June, you can take part in legendary pride parades. Year-round, check out the dozens of queer-owned businesses along Commercial Street. In such a close-knit community, every day feels like a celebration.
How to explore Cape Cod
You might be wondering, How can I see all of these sights, and more, in just one day?
Answer: a self-guided driving tour!
Action Tour Guide's self-guided driving tour of Cape Cod allows you to travel across the whole coast at your own pace. Starting from Barnstable, the GPS-guided app will take you through Yarmouth, Eastham, Truro, and right up to Provincetown. The tour's audio plays as you drive — automatically! It's based on your location. Aw, It's like having a Cape Cod travel guide sitting in the car with you–– and it's less expensive and more time-flexible than a traditional tour. With over 63 stories to discover along the way, there's no shortage of fascinating tales to hear.
Download the app now and take your trip whenever you're ready! I hope you have a whale of a time!