The Freedom Trail is a 2.5-mile urban hike that winds its way through the heart of Boston. The Trail connects 16 historical sites such as museums, parks, and meeting houses. Starting at the Boston Common and ending at the Bunker Hill Monument in Charlestown, the Freedom Trail stretches from the city's heart, heading north and right over the Charles River.
Without factoring in the time to experience all of the stops, it should take an average walker about a couple of hours to complete a 2.5-mile journey on foot. However, the additional time taken to visit the sites is entirely up to you.
You can spend hours soaking up the sun at the Boston Common, watching the swan-boats drift by. Likewise, you could spend an entire day hanging out around Faneuil Hall and visiting all of the shops and restaurants in the area. This would certainly add some time to an otherwise quick 2.5-mile walk!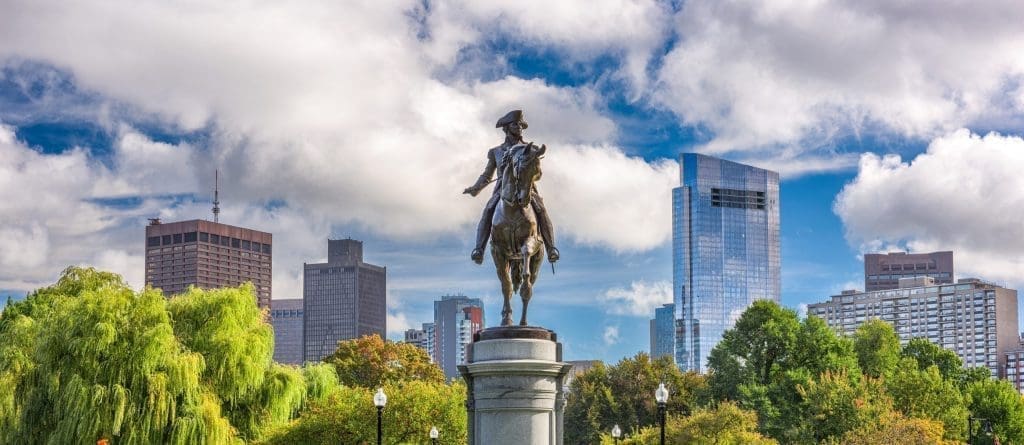 However, since the Freedom Trail is non-sequential, you can make the experience entirely your own. Not interested in visiting spooky historical burying grounds? Skip them! Only interested in checking out "Old Ironsides" and the Paul Revere House? No problem. You can skip stops, double back or wrap up your trip early if you'd like to and you would still be enjoying the Freedom Trail. All in all, this is a journey that could be a quick stop in a day trip or the main event on your itinerary.
How much time should be spent at each stop?
How much time you spend at each of the historical sites on the Freedom Trail is up to you. However, some stops do require more of a time commitment to be enjoyed truly. The museums, historic houses, and, of course, the massive frigate ship USS Constitution all need more than a five-minute visit to be thoroughly explored. With that said, if the more involved stops on the Freedom Trail don't excite you, you can walk right past them and onto the following stops!
Essential Travel Guide: