If you ask a historian what Gettysburg is most famous for, nine out of ten will say one thing: Pickett's Charge. And if you visit the national military park today, you can walk Pickett's Charge at Gettysburg yourself, retracing that fateful, doomed assault.
The Battle of Gettysburg is one of the most famous battles of the Civil War (if not the most famous) for many reasons. It represented a significant turning point in the war, deflected the Confederate invasion of the north, and all but guaranteed Union victory. So what makes Pickett's Charge so unique, and what makes the field on which it unfolded an absolute Gettysburg must-see? Put, this charge represented what folks now refer to as the "high watermark of the Confederacy." What does that mean? Essentially, Pickett's Charge was the closest the Confederacy ever came to winning the Civil War. Had it succeeded, the United States of America would look very different today and probably wouldn't be all that United. If you're looking for more background on all this, you can get it while touring the battlefield with a handy self-guided audio tour of Gettysburg.
In case you're not incredibly familiar with this Gettysburg must-see, Pickett's Charge was a seriously intimidating display of raw battlefield power — but also foolishness. On the third day of the Battle of Gettysburg, faced with the ever-growing possibility of Confederate defeat, General Robert E. Lee decided to pull out all the stops for an unprecedented assault on Union lines. He ordered his men to prepare for a charge of nearly 13,000 men strong to pierce Union defenses. One of Lee's generals, James Longstreet, cautioned against the plan, but Lee saw no other option and put General George Pickett in charge of the attack. This head-on attack, consisting of nearly half of Lee's entire fighting force, met with tremendous resistance from the outnumbered Union defenders. Cannons and rifles tore through the charging Confederates, cutting many down before they could even get close.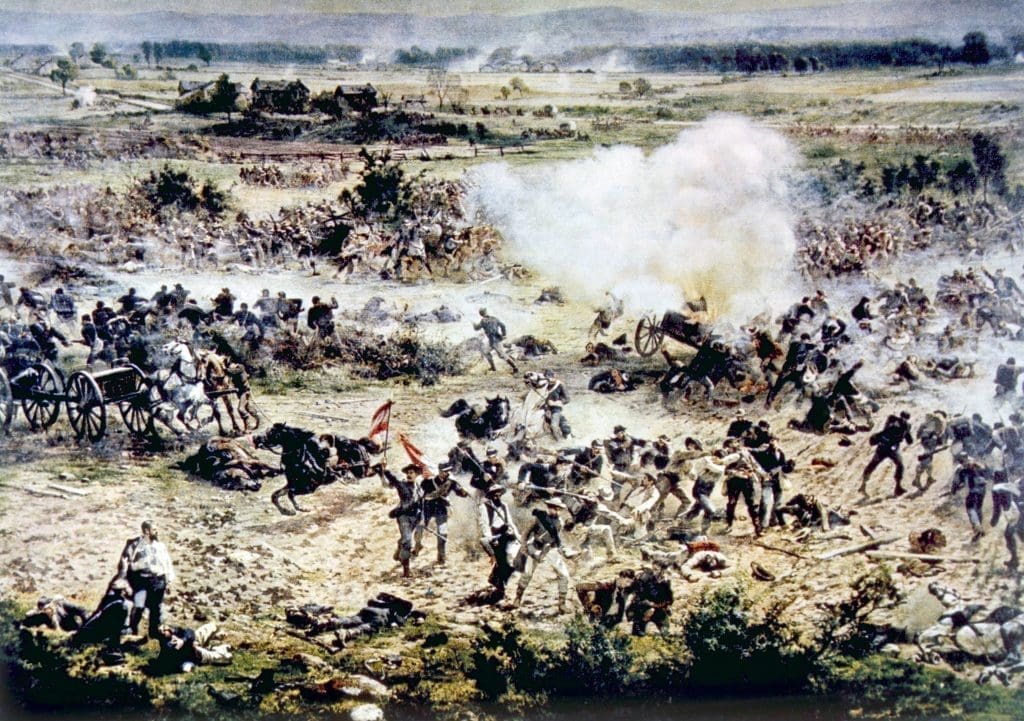 The attack ended in a miserable failure, leaving countless Confederate men dead or wounded and effectively securing victory for the Union army. To get an up-close, action-packed rendition of that monumental struggle, don't forget to bring a self-guided audio tour with you as you walk Pickett's Charge at Gettysburg.
When visiting the Gettysburg Battlefield and walking Pickett's Charge, you can walk to the exact spot of this "high water mark," memorialized by an impressive monument. (And don't worry about knowing exactly how to find this Gettysburg must-see, bring along an audio tour guide that will take you to it!) This monument marks the farthest point reached by anyone in Pickett's Charge. Confederate soldiers managed to break through Union lines at this spot, but their victory was short-lived. They were quickly shot down and forced out, and the defenders sealed up the gap.
To truly get a sense of what this maneuver was like, you have to walk Pickett's Charge at Gettysburg yourself. And with an audio tour guide to help you out, you'll feel like you're watching the charge unfold before your very eyes!