Cape Cod is a peninsula located in the Northeastern United States, on the Atlantic Coast of Massachusetts. It includes charming boardwalks and historic sites, numerous outdoor activities, amazing restaurants and plenty of places for you to explore during weekend trips or day trips. There's so much to see on a Cape Cod tour, from beaches to lighthouses to real live whales! Need ideas? I've compiled a list of some of my favorite things to do!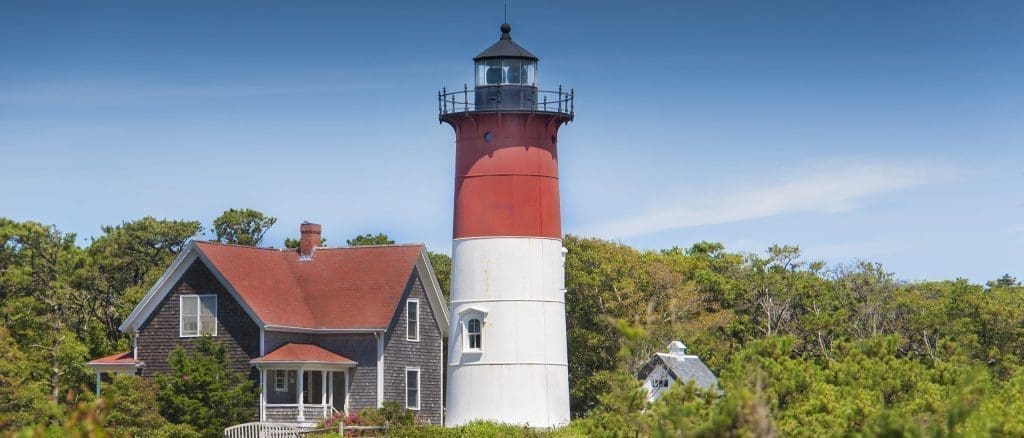 Hit the beach. Of course, when you're on the Cape, you're never far from the Atlantic Ocean! On the west side, you'll find the deep water harbors where fishing boats launch; on the east side, the sheltered bay is calm and perfect for swimming. Cape Cod is for history buffs just as much as it is for beach lovers! Check out First Encounter Beach (where the Pilgrims interacted with the Nauset tribe for the first time) and Marconi Beach (where the first wireless transatlantic radio message was sent in 1903).
Spot as many lighthouses as you can. There are 14 historic lighthouses on the Cape. This Cape Cod tour will lead you past famous sights like Highland Light, Nauset Light, and The Three Sisters. The furthest one is Long Point Lighthouse, on the very tip of the peninsula. This one is for true completionists; nothing remains in Long Point but the tower!
Shop at Commercial Street: Commercial Street specializes in small, locally owned, independent businesses. In the 1920s, Provincetown was a Bohemian artist colony; the spirit still remains in the dozens of galleries, museums, studios, and shops you'll see. It's also home to the Provincetown Theatre, which specializes in new and experimental works. Why not try to catch a show?
Take a walk: The Wellfleet Audubon Society features five miles of trails if you're looking to stretch your legs… and see some birds. Another beloved trail on the Cape is the Atlantic White Cedar Swamp Trail. The thick canopy of trees make the path seem like it's in perpetual twilight. It's no wonder visitors compare it to a fairy tale forest!
Whale watching: When you're on the Northeast coast, you can't miss your chance! Go to Macmillan Pier for an opportunity to glimpse a humpback, finback, or killer whale. Even if you don't see any whales, there's tons of other marine life worth looking out for: dolphins, turtles, seals… and probably more than a few seagulls.
One of the top attractions on Cape Cod is the National Seashore Park. The park also offers swimming, fishing and wildlife watching opportunities.
Try some local seafood: Cape Cod is known for its delicious seafood, so be sure to try some local favorites like lobster, clam chowder, and fried clams.
Visit a museum: Cape Cod is home to a number of interesting museums, including the Cape Cod Maritime Museum and the Cape Cod Museum of Art.
To accomplish all these in one day, enlist the help of a Cape Cod self-guided driving tour and you'll find out why this destination is adored by locals and tourists alike. The comprehensive route will take you from Barnstable to Provincetown, hitting all the major sites in between and giving you the centuries-long history of the land. Enjoy fresh seafood cuisines prepared by native islanders; dune walks; unspoiled countryside vistas; active lighthouse tours & more! While preparing for your visit to The Cape remember that due its location along the coast weather conditions can change quickly so it is important come prepared with rain gear just in case temperatures dip suddenly or storms pass through unexpectedly.
I'm sure you will love our self-guided tours. I strongly recommend that you subscribe to Action+, which includes all of our tours in a single, year-long package. Travel all year and take our self-guided tours with you wherever you go! The perfect year-long vacation is one click away!
Essential Travel Guide: