If the Freedom Trail starts at the Boston Common, you might be wondering, where does it end? The trail winds its way through 2.5 miles of Boston historical sites, and its final site is the Bunker Hill Monument. You'll have to cross over the Charles River and into Charlestown, but once you're there, you're in for a treat. The Bunker Hill Monument is a 221-foot obelisk, and yes, you can climb up to its top via a long, long staircase.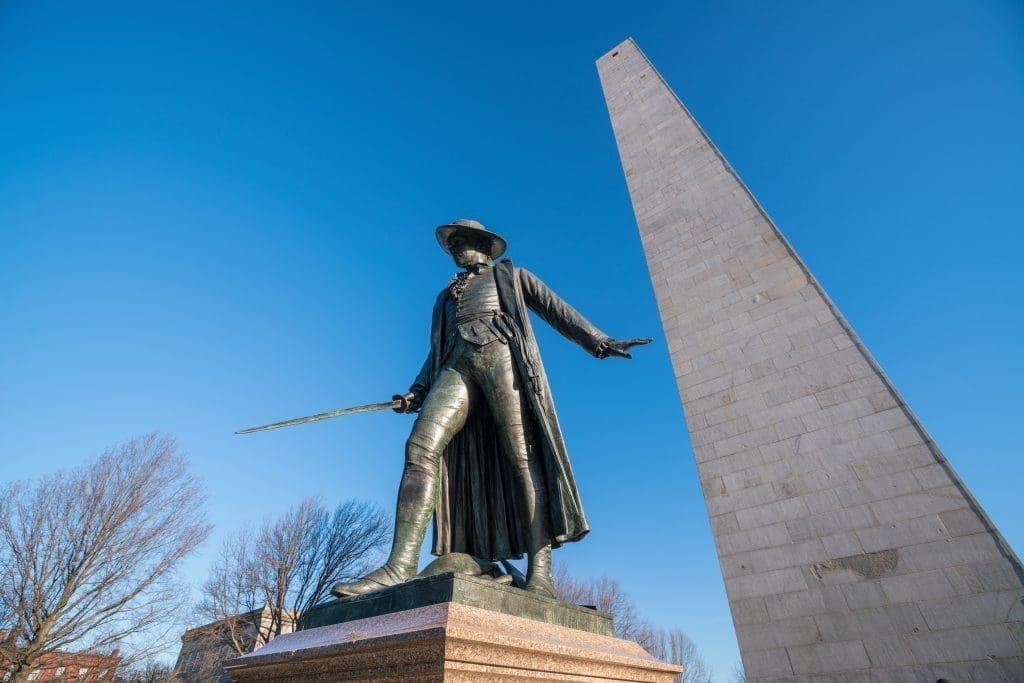 Traditionally, the Bunker Hill monument is where the Freedom Trail ends. However, the trail can be started at the Monument and finished at the Boston Common. The trail is non-sequential, so you can visit the sites in whatever order you'd like. There are sixteen stops in total on the Freedom Trail. Each stop on the Freedom Trail is a site of historical significance for Boston. You can see the Old North Church, the Massachusetts State House, the Granary Burial Ground, and many more.
Why was the Bunker Hill Monument Built?
The Monument was built as a memorial to the Battle of Bunker Hill, one of the first major battles fought between the British and the soon-to-be Americans. The vital battle was fought on Saturday, June 17th in 1775, during the Siege of Boston. The British were planning on sending troops out from the city into the hills surrounding the city. This would give them increased control over Boston Harbor. However, the colonists found out about the plan and stealthily placed 1,200 troops in the Bunker Hill area. The British won, but their victory was Pyrrhic. They lost many more officers and soldiers than the colonists had, including General William Howe and Henry Clinton. More importantly, the battle established the upstart Americans as a formidable defensive force against the British. In the end, 405 American troops were lost, while the British lost a staggering 1,054
To learn more about the Battle of Bunker Hill and the other sites on the Freedom Trail, visit Boston Freedom Trail Self-Guided Walking Tour
Essential Travel Guide: