There's plenty to do and see on a tour of Wall Street. Cobblestone streets connect the district's historically significant sites, rustic narrow alleys that hail back to colonial times, and dreamy Gilded Age architecture. Wall Street's destinations span from the site of a Revolutionary War tavern to glass-and-steel behemoths that include One World Trade, one of the tallest skyscrapers in the Western Hemisphere.
Touring Wall Street's Majestic Architecture
A walk through the Financial District gives the visitor a chance to see where some of the most defining events of the last century took place. The prosperity of America during the Gilded Age, during which oil barons and railroad magnates reaped the rewards of their investments in western expansion, is built into the very stones and streets of Wall Street. A walk through Wall Street is an architecture lover's dream. You can see the New York Stock Exchange, where all the most impactful movements in stock trading history have taken place. Trinity Church, which has been in numerous Hollywood movies, is a Gothic church with intricate stained glass windows and a small graveyard.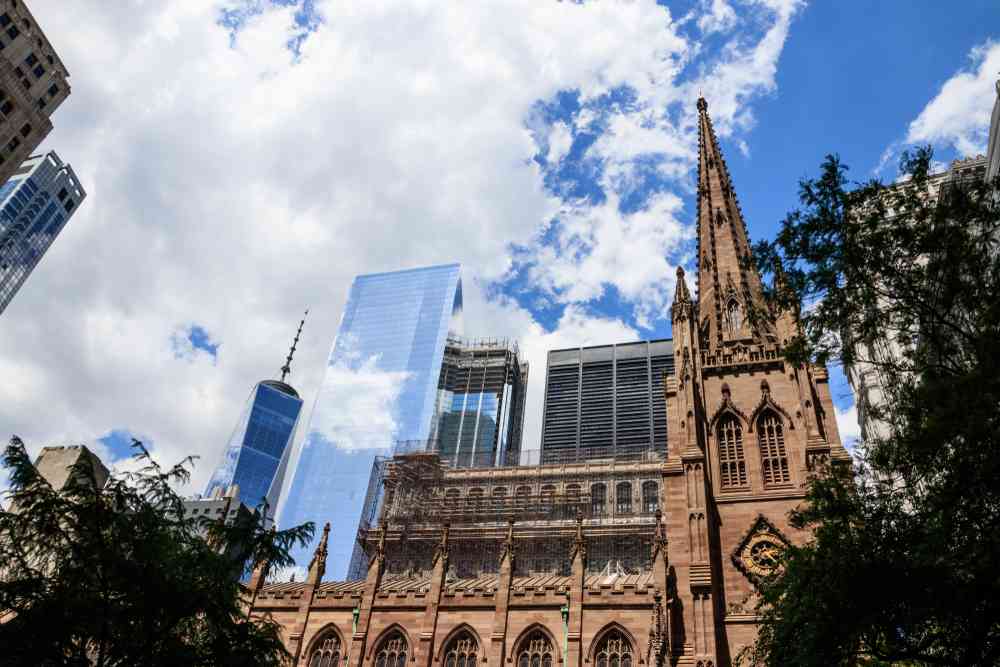 Wall Street Museums, Shops, and Restaurants
Wall Street is also home to several museums, including the September 11 Memorial Museum, next to the two square fountains that mark the original sites of the Twin Towers. Learn about the sacrifices made that day by first responders and remember those who lost their lives in the attack. Down south of Bowling Green is the Museum of the American Indian, which is on the former site of Fort Amsterdam, a military fort built by the Dutch to keep out Native Americans following the violent appropriation of their land. Just east of Wall Street is the Fulton Seaport District, home to many restaurants, bars, and cobblestone streets. The Oculus, a new underground mall and transit center near the World Trade Center, is home to many luxury stores and an interactive art gallery with rotating exhibits.
Start your self-guided audio tour of Wall Street today.