You better believe it! What sets the Smokies apart from other national parks? Take a look at the unique sights you'll see on your Great Smoky Mountains driving tour.
The highest mountain along the entire Appalachian Trail is found within the park. Clingmans Dome towers at 6,643 feet above sea level. It's so tall that the temperature at the top of the mountain is 15 degrees cooler than at its base!
How about the tallest waterfall? Look no further than Rainbow Falls. The clear freshwater comes from a high mountain source and pours over an 80-foot straight drop to the rocks below. The force of the water kicks up a fine mist that catches the sunlight, and that's what creates the magical appearance of a rainbow!
While we're on the topic of natural wonders, have you heard of Arch Rock? It looks like a stone archway carved by hand, but it's all-natural! This massive slab of slate accumulated several minor fractures over the years, which collected rainwater. When the rainwater freezes, the ice expands and causes the rock to fracture even more. Repeat this cycle for millennia, and eventually, the stone erodes a passageway big enough for hikers to walk through.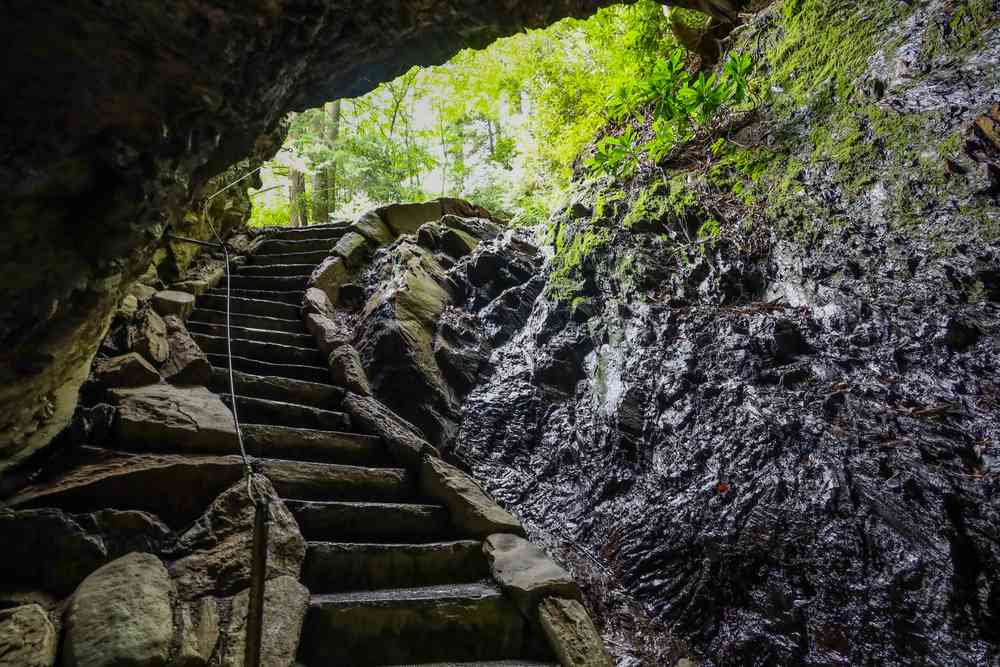 And that's not even counting the historical relics that remain in the Great Smoky Mountains! Settlers from the 1800s left behind several pioneer artifacts along the Roaring Fork River, like one-room cabins, horse barns, stone walls, and corn cribs.
For a more modern affair, check out Ely's Mill. The mill was opened by Andrew Ely, a retired lawyer, in 1925. He gave them a place to sell their crafts in exchange for asking local artisans to build a water wheel for him. The mill became a marketplace! Over the next 15 years, he added a blacksmith shop, storage sheds, chicken coops, livestock barns, flower gardens, beehives, and, ultimately, a second mill. By 1940, the estate consisted of twenty buildings! The complex is still open today to buy woven textiles, wooden furniture, and blacksmith tools from local artisans.
With so much history, culture, and natural beauty, you won't want to miss a single thing. Take a Great Smoky Mountains driving tour to see all these sights and hear the stories behind them!
Essential Travel Guide: