Hawaii's Big Island is full of beautiful waterfalls. Some of the best places to see them are on the northern and eastern sides of the island. If it's your first time visiting or if you love the idea of learning more about this incredible island as you travel, explore with Action Tour Guide's self-guided tour. The tour has you go to Hilo, a great home base to see these waterfalls from and dive into the island's rich history. But without further ado, here's a list of some of the best and easiest-to-visit waterfalls the Big Island has to offer!
Big Island Waterfalls
'Akaka Falls
This stunning waterfall is tucked away in a rainforest. There's a short 0.4-mile walk to the falls that is full of bamboo groves and wildflowers, which makes even hiking there a great experience. Of course, the waterfall itself is the biggest treat. The water here plummets 442 feet, so it's no wonder why this is one of the Big Island's most famous falls!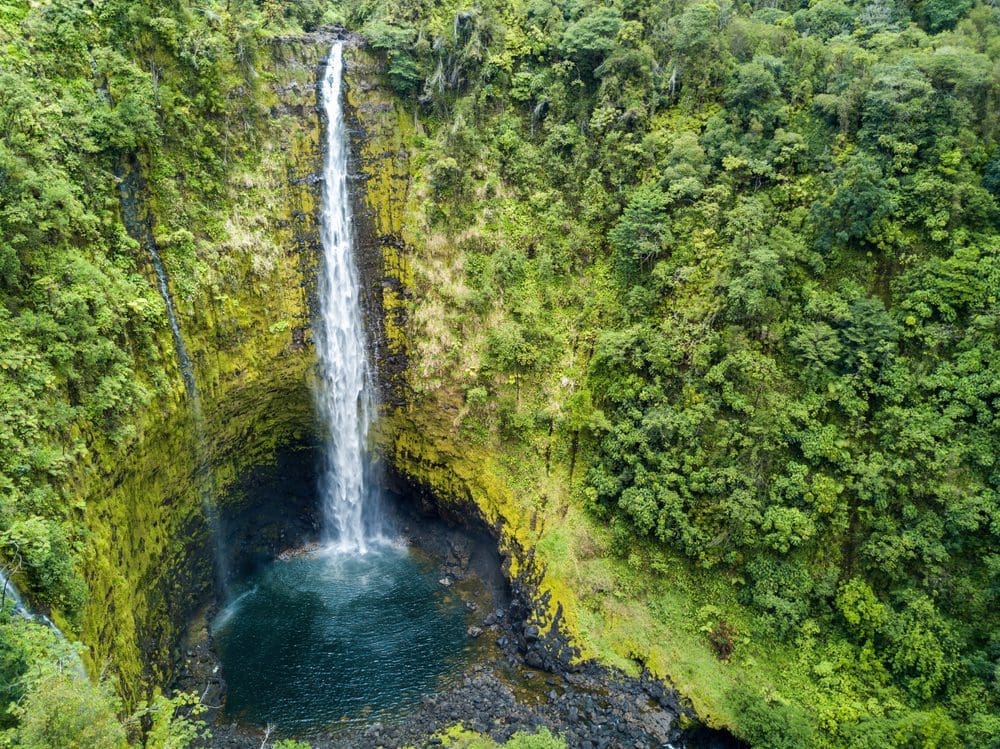 Rainbow Falls
Rainbow Falls might just be the easiest waterfall to see on the Big Island. For one, it's located right in the town of Hilo, so you don't have to drive far to see it while touring the island. It also has an accessible viewpoint that allows everyone to enjoy the view.
Try getting to Rainbow Falls early to see beautiful rainbows in the morning mist! But if you're not a morning person, don't worry! This 80-foot waterfall is stunning even on its own.
Peʻepeʻe Falls
One of the most interesting of the Big Island waterfalls is Pe'epe'e Falls. While the falls themselves are beautiful, they're also right next to the Boiling Pots area. The Boiling Pots are holes that are filled with stormwater. The river quickly stirs the water in these pots and makes them look like they're boiling.
What Is the Biggest Waterfall on Big Island?
Waihilau Falls is the tallest of all Big Island waterfalls at 2,600 feet! This waterfall is hidden away in the Waimanu Valley and is only accessible by a challenging trail.
Want to see more of Hawaii's Big Island? Download Action Tour Guide's self-guided tour! You'll learn about Hawaii as you drive to some of the island's greatest destinations. The tour uses GPS technology to trigger its narration, so you can focus on Hawaii's beautiful scenery instead of your phone's screen.
So why wait? Start your Big Island adventure today.