The National Park Service in Yellowstone, Wyoming, has strict guidelines for allowing pets in the park. You can bring your pet on a Yellowstone National Park tour… but with plenty of restrictions. The park itself is divided into four sectors. Each of these features a unique geyser, hot spring, lake, or cave. These features are all worth a visit, but they are not all dog friendly. You need to ensure your pet is inside a vehicle, tent, or on a leash no shorter than 6 feet and not left unattended. And pets are not allowed on boardwalks or hiking trails, even with a leash.
While you're planning your next trip to the national park, don't forget to look into the dog-friendly cabins available. As you can imagine, these accommodations fill up fast, so you'll want to book well in advance. It is important to find a reliable and experienced dog boarding service in Yellowstone to protect your beloved pet. If you do leave your dog in your vehicle, you must clean up any waste that is left behind, and have it properly ventilated.
Why the strict rules and regulations?
Many of these laws are in place to protect the safety of visitors, animals, and the environment. Some of these laws include the prohibition of dogs in any public buildings and vehicles. If you do plan to bring your dog with you, you should consult with the park to determine what rules you'll need to follow. The smell of a dog can make small animals and birds afraid to leave their homes. Like coyotes and mountain lions, that same dog scent can attract dangerous animals to your hiking party. Bears are extremely unfriendly towards dogs. Yellowstone wants to limit exposure to outside diseases that your dog might accidentally bring in in the spirit of conservation. You don't want to be the one who gets these protected populations sick! While you're out and about, you'll want to be sure to pack plenty of pet waste bags. Besides, it's always a good idea to keep your pet well fed and well hydrated during a trip. By keeping your pets in check, you're helping to support the whole ecosystem of Yellowstone to be safe and healthy!
Are Thermal zones dangerous to dogs?
Did you know there are 10,000 natural hot springs and thermal features within the park? Thermal areas pose a huge threat to dogs.
What animals are in Yellowstone?
Aside from dogs, you are guaranteed to see at least a few creatures on your national park road trip. When it comes to wildlife, the area is home to a huge variety of species. Yellowstone boasts the highest concentration of mammals anywhere in the lower 48 states!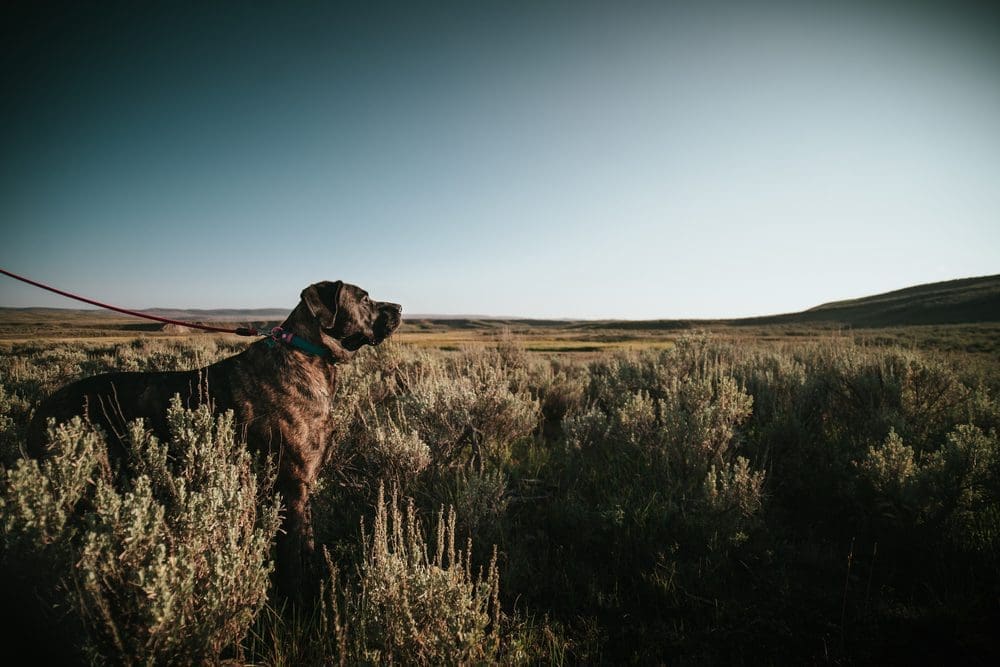 The most common animal you'll see is elk, with numbers in the tens of thousands. But there are plenty of other creatures, from grizzlies and wolves to sheep and otters.
Keep an eye on the skies for Yellowstone's birds. Over 300 distinct species have been identified here. Fish-eating birds of prey are especially prevalent. Ospreys, golden eagles, and peregrine falcons are the most likely to appear on your Yellowstone tour. 
The park's most iconic animal is the bison. Yellowstone is home to the oldest and largest bison herd in the country. It's truly magical to see them in their element. 
If you like the tour, I recommend you subscribe to Action+, which includes all of our tours in a single, year-long package. Travel all year and take our self-guided tours with you wherever you go!
Essential Travel Guide: