Yellowstone's driving route is arranged like a big circle, with five different entrances to the loop. Let's go through each of them now!
You'll arrive at the West Entrance if you're driving in from Yellowstone Airport. Here, you'll enter the loop via Madison Junction. According to legend, this was the very spot where Ferdinand Hayden got the idea for a government-protected national park in the late 1800s.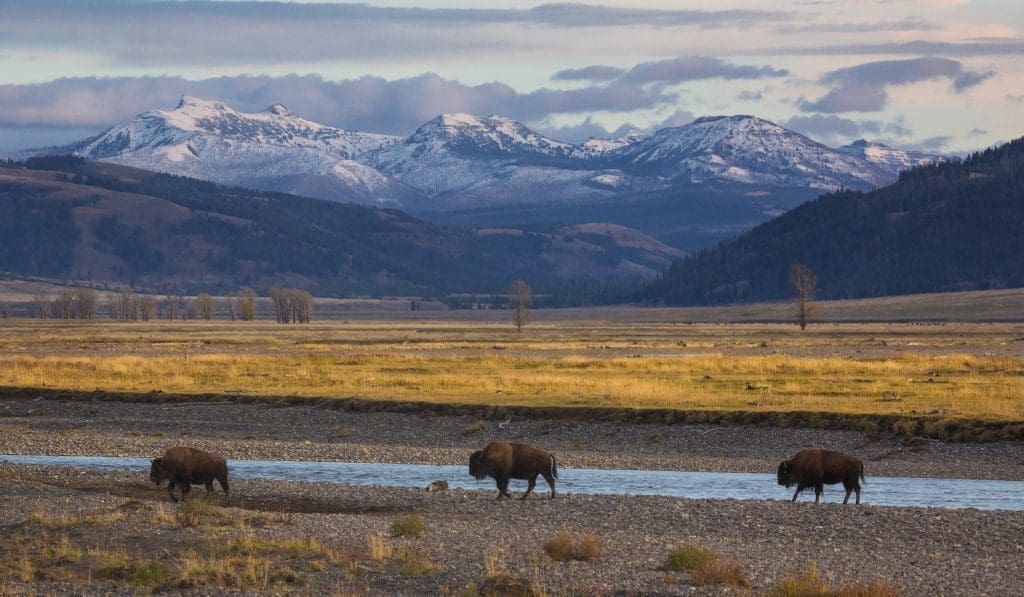 The South Entrance comes from Jackson, Wyoming. You'll pass by Fisherman's Cone on this route, a geyser with a unique history. Back in the pioneer days, folks would fish in West Thumb Lake and then bring their catch to the scalding hot spring to cook them instantly! 
The North Entrance begins at Roosevelt Arch in Montana. Before you cross the border into Wyoming, you'll encounter the Boiling River. Here, the cold glacial river combines with the volcanic hot springs. This is a great place to watch for bison, who love the warm water in cool weather. You're sure to see many bison on your Yellowstone tour; it's home to the country's oldest and largest bison herd.
Coming in from Cooke City? Yellowstone's Northeast Entrance starts in the heart of Wyoming's mountains. The tour begins at Trout Lake Trailhead–– home to the unique Yellowstone Cutthroat Trout.
Finally, there's one more way into Yellowstone National Park: the East Entrance from Cody, Wyoming. This is the path that follows the coast of Yellowstone Lake. There are lots of lovely picnic areas overlooking the water. The lake is so big that it has its own islands—see if you can spot them!
When you take a Yellowstone self-guided driving tour, you can join the loop at any of these five points and still get the full tour! This gives you the freedom to design your road trip any way you like. 
Download the complete Yellowstone National Park self-guided driving tour.