A driving tour through the Great Smoky Mountains National Park only takes about two hours. But I recommend planning to spend a lot more time!
The two-hour driving time estimated by the self-guided driving tour is based on the assumption that you won't leave your car. But trust me, there are a lot of attractions in the park that are worth stopping for! Here are some places where you might want to linger a little while: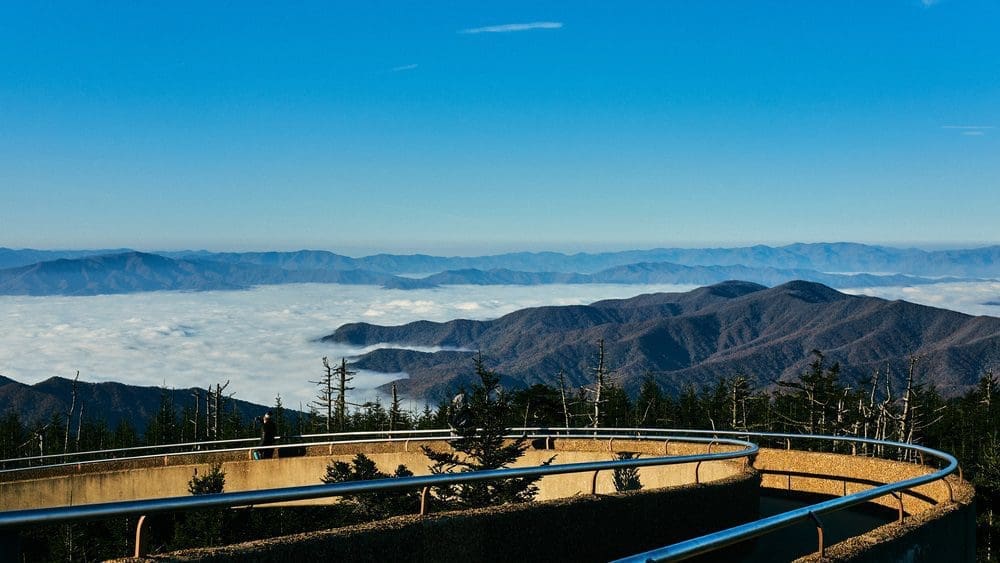 Clingmans Dome. The highest mountain in the Smokies—in fact, the highest peak on the whole Appalachian Trail—is just a short hike away. When you reach the top of the mountain, you can climb a sweeping spiral ramp leading up to a space-age observation deck. The iconic Clingman's Dome observation tower offers a 360-degree view of the surrounding wilderness. On clear days, you can see 100 miles in any direction. That means you can see seven different states from this one vantage point! It's definitely worth the trek up to the tower for the view alone. 
The Rockefeller Memorial. This two-tiered structure made of stones is fun to climb… and it doubles as a historical artifact. The balcony on the first tier is exactly where President Franklin Roosevelt dedicated the Great Smoky Mountain National Park when it officially opened on September 2, 1940. Imagine being in that crowd, watching FDR deliver a speech to hundreds of citizens, his words echoing through Newfound Gap!
Alum Cave Trail. If you stay in the car, you can't see one of the coolest geological features of the Smokies! First, the four-mile loop takes you under the magnificent Arch Rock. Next, you travel past the vista at Inspiration Point, which features a striking view of the ridge where the park's peregrine falcons nest. Finally, the trail takes you to the mysterious Alum Cave, covered in a chemical compound similar to baking soda. The Cherokee collected this compound and used it to staunch wounds, tan leather, and deodorize clothing.
The Great Smoky Mountains National Park self-guided driving tour features 45 stories and optional detours and "deep dives" for even more information. When you hear about each of these sites, you'll want to stop at every single one!
Essential Travel Guide: