Yes! Tulum is home to one of the last remaining vestiges of Ancient Mayan civilization. When you take a self-guided Tulum walking tour, you will be completely immersed in history from a thousand years ago.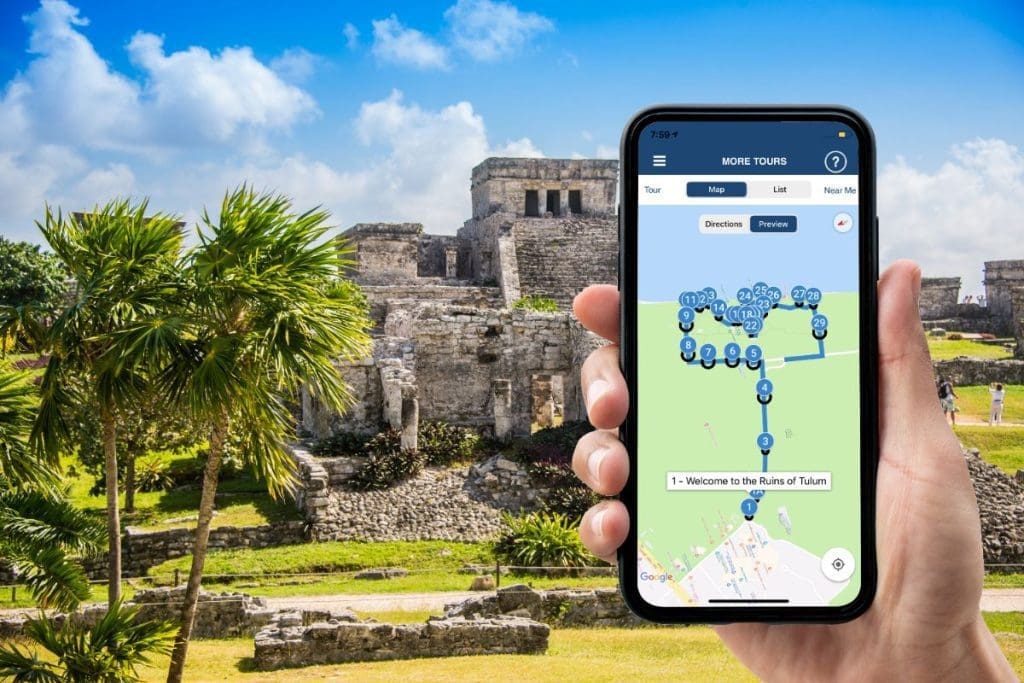 What kinds of relics will I see in Tulum?
Here are some of the coolest things you will learn about on your tour of Tulum:
As you can see, the ruins in Tulum are all incredible feats of design. To hear more about each of these stops and many more, download your Tulum self-guided walking tour today!
Are the Tulum ruins worth seeing?
Yes! This historic site is a must-see for anyone who is interested in ancient civilizations. A Tulum tour will tell you everything about these fascinating buildings. Each one is brilliantly designed to withstand hurricanes… that's why they're still standing today!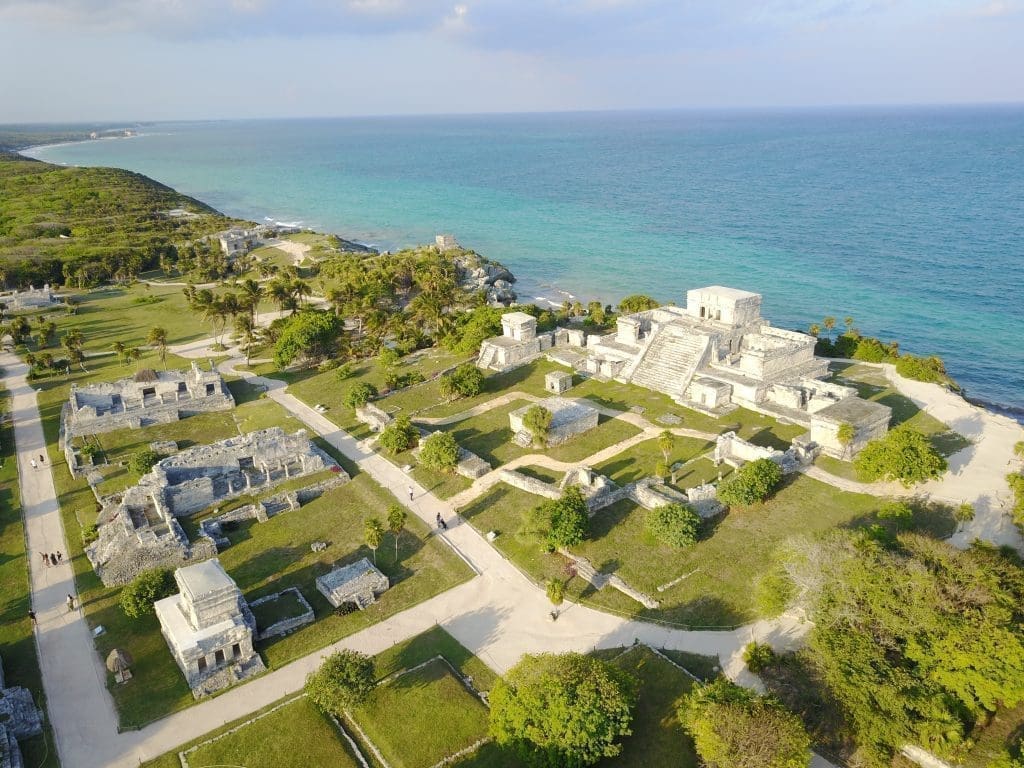 What can I see at the Tulum Ruins?
Here are some of my favorite stops in Tulum:
Without a tour guide, you might have trouble telling all these tumble-down stone structures apart. That's why I suggest using a self-guided walking tour. This Tulum tour will give you turn by turn directions through the entire site and tell you what makes each building unique. In between stops, you will hear stories about the myths, history, and culture of the ancient Mayan empire and how it is still preserved today.
Is Tulum Aztec or Mayan?
The Tulum ruins are remains of an Mayan civilization. When you take your Tulum tour, you'll learn all the fascinating hallmarks of Maya society.
What is the difference between Aztec and Mayan?
The Aztecs lived in central Mexico, while the Maya lived in South Mexico and the Yucatan Peninsula.
However, you'd be forgiven for getting them mixed up. A lot of the architecture, including the famous stepstone-pyramid made popular by Chichen Itza, is inspired by Central Mexican architecture. You can see this distinct Aztec style reflected in Tulum's Castle.
What was ancient Mayan culture like?
What is the name of the Mayan ruins in Tulum?
The ancient ruins in Tulum are known simply as "the Tulum ruins." This walled complex shelters one of the last cities built and inhabited by the Mayan people, and the best-preserved of all coastal Maya settlements. A Tulum tour will tell you ALL about the significance of these ruins.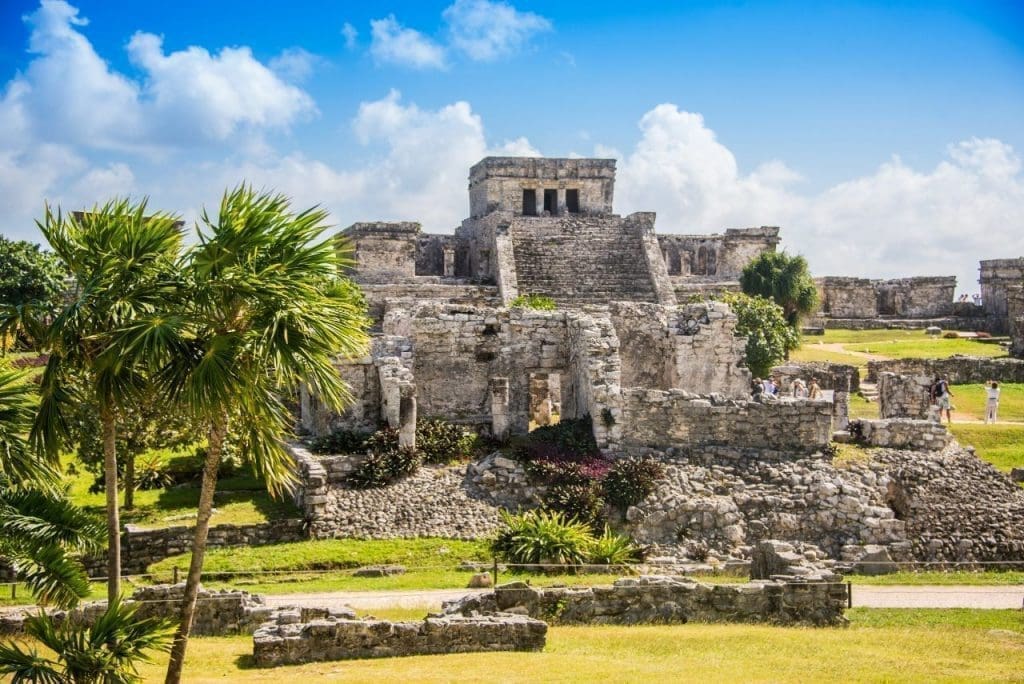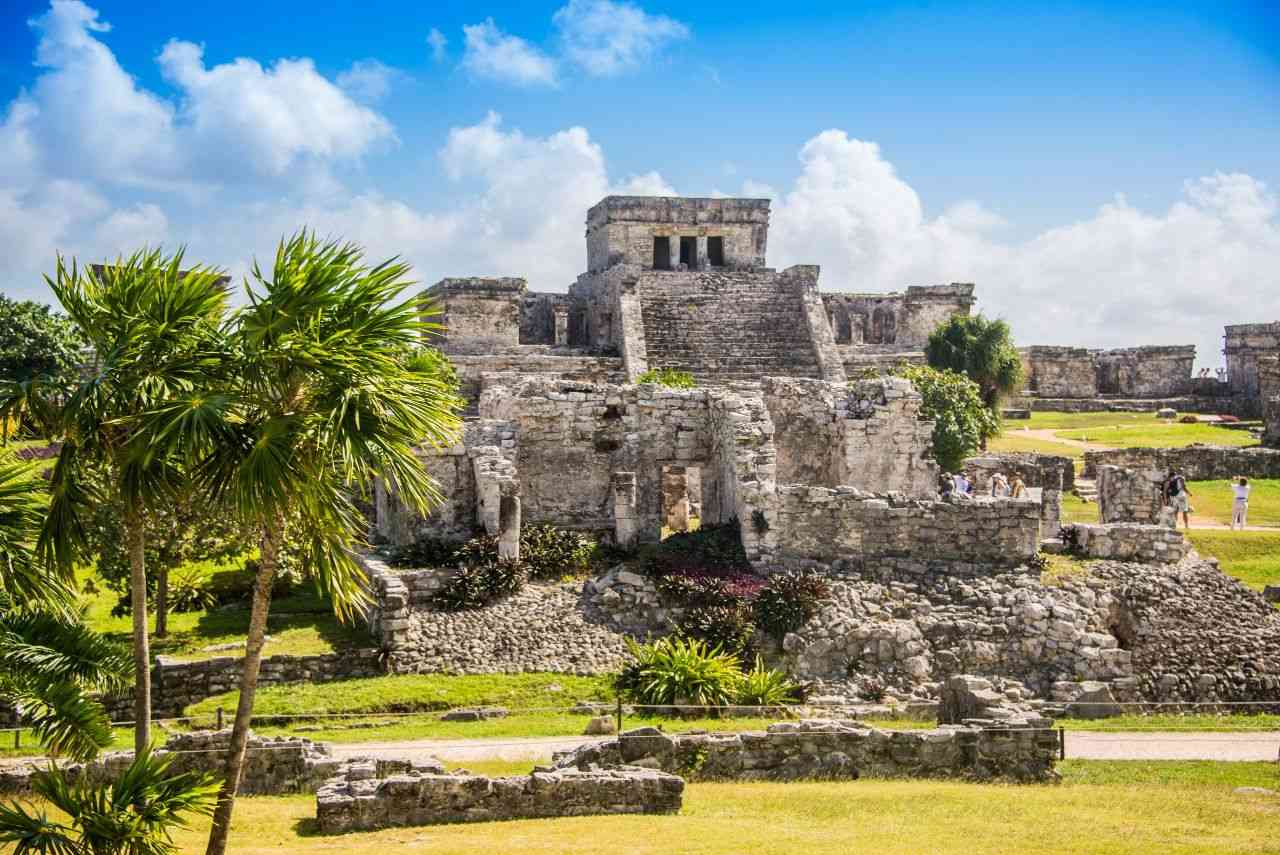 What can I find in the Tulum Ruins?
There are quite a few other Mayan ruins on the Yucatan Peninsula, but this is one of the coolest. The entire site is located within a walled city. Once, Tulum was a port of trade for the Mayan people. This site saw the trade of copper, gold, ceramic, salt, fabric, and feathers. There's even evidence of rare obsidian and jade here… a SUPER valuable commodity. Tulum was the connecting point between the inland Mayan empire and everyone else. You're looking at one of the most important trading hubs of the ancient world.
Its position on the coast makes it perfect for trade, but dangerous for hurricanes. Luckily the Temple of the Wind can help–– there's a hole at the top of the stonework that whistles loudly if a fast wind blows through it. Back before the Weather Channel was invented, this structure would warn citizens of an approaching tropical storm.
These ruins have been standing for hundreds of years–– how did they last so long? Let's look at the House of the Cenote on the Tulum tour as an example. Careful observers will note that the structure is not a perfect rectangle like most houses… it's a slight rhombus shape. A perfectly perpendicular angle is more vulnerable to instability. This seven-degree difference is more compromising… enough to render the building structurally sound in the face of a hurricane.
How can I learn more about the Tulum Ruins?
Take a self-guided walking tour of Tulum!
Essential Travel Guide: