Utah is known for its unparalleled natural scenery. There's narrow canyons, huge natural arches, and otherworldly hoodoos. Touring all of Utah's national parks and nearby Monument Valley and Grand Staircase-Escalante National Monument will give you the opportunity to see all of these things and more!
But since it can be difficult to plan a large trip like this, we've come up with some useful information and recommendations that will help you make your vacation a reality. So let's get started!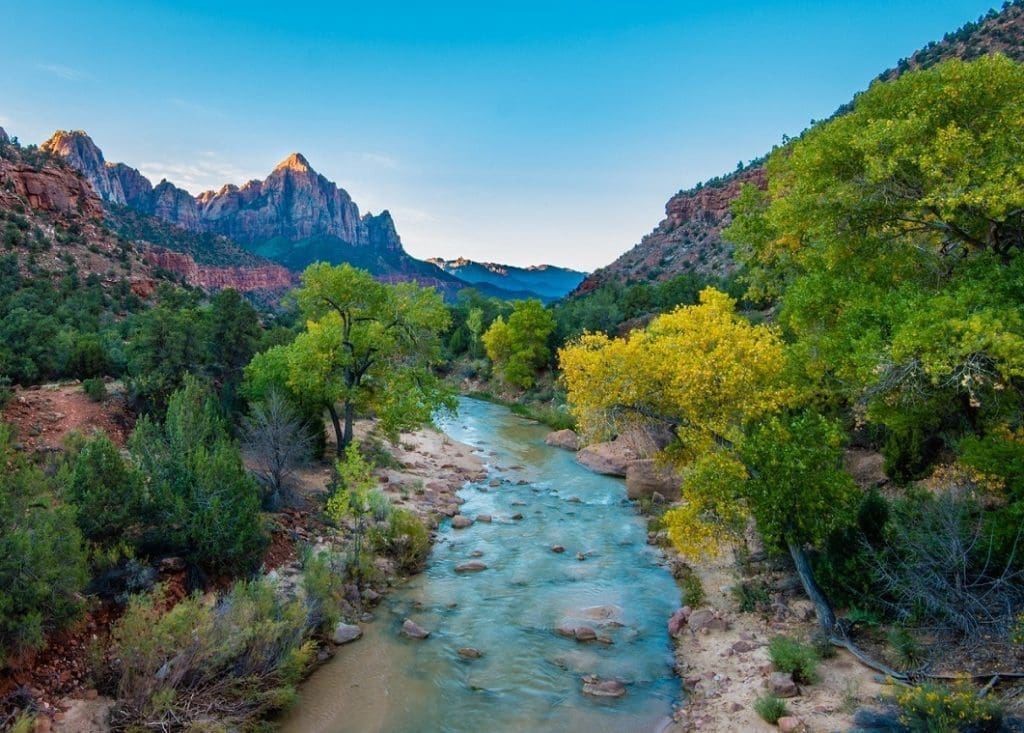 Park Admission
Visiting Utah's national parks might seem expensive at first glance. After all, if you've ever been to a US national park before, you know that the average park admission is around $30 per vehicle. And that normally only gives you access to one park for a week. Luckily, the park service offers something known as the America the Beautiful Annual Pass. This $80 pass gives you access to US national parks for a full year! So if you visit all of the Mighty Five over the course of a year, you'll save $70. You can learn more about and purchase the America the Beautiful Annual Pass here. And you can also purchase the America the Beautiful Pass at all five of these national parks.
Arches National Park also has a new timed entry system in place from April 3 through October 3, 2022. Anyone who wants to enter the park between 6am to 5pm during that time will need a timed entry reservation and a photo ID as well as a park pass. The timed entry reservations are free and can be made here, but note that they do have a $2 processing fee.
The nearby Grand Staircase-Escalante National Monument is free to enter, and Monument Valley only costs $8 per person per day. However, since Monument Valley is part of Navajo Nation, a good portion of it can only be seen with a guide from this list. These tours usually cost around $80 to $90 depending on the company who's offering it. The valley is only open to visitors at certain times of the day, so make sure to contact the park officials at (435) 727-5870 before your visit.
Parking
Utah's national parks are popular. The best way to find a parking space is to get an early start. Zion is one of the most crowded parks in the nation, so it's especially important to get an early start there. Its parking lots generally fill up around 8 in the morning!
Grand Staircase-Escalante National Monument and Monument Valley have dirt roads that lead you to some of their main attractions. So in order to be able to park at a viewpoint or a trailhead, you'll want to make sure that you're in a 4WD. Just make sure you check in with the visitor centers at both of these places before heading out onto unpaved roads. During and after a rainstorm, the roads can become impossible to drive on – even with a 4WD.
Top Attractions
While it'd be impossible to cover all of the top attractions of each park, here's one of our favorites from each of them.
Valley Drive – Monument Valley: This 17 mile dirt loop road takes you through the gorgeous valley. You'll be able to see towering buttes and sweeping views of vast, arid land. The Valley Drive is also one of the few places you can visit as a guest in this park without booking an expensive tour.
Grand View Point – Canyonlands NP: This viewpoint is located at the edge of a perfectly named mesa known as the Island in the Sky. It offers sweeping views of canyons, and is sure to take your breath away.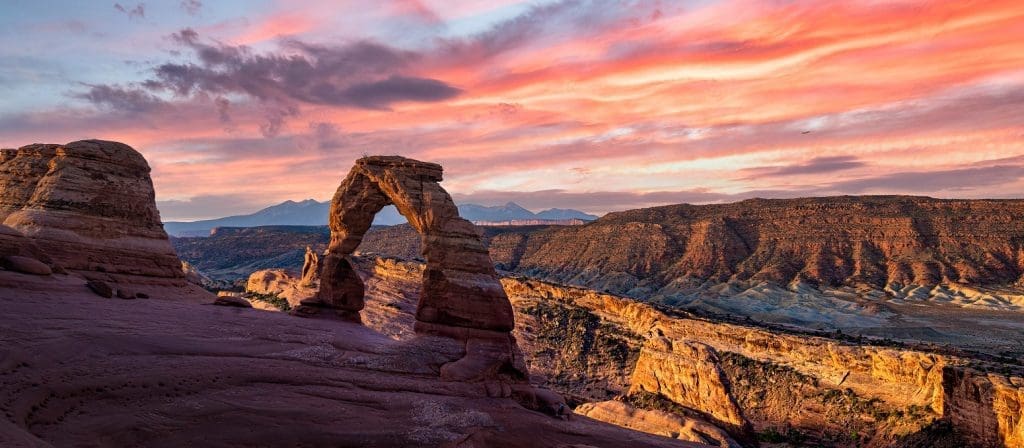 Court of the Patriarchs – Zion NP: These three red cliffs look like they're guarding the beauty of Zion. Their sheer size and their contrast with the blue sky is sure to grab your attention.
The Fruita Historic District – Capitol Reef NP: The small historic district of Fruita gives you a great insight into how some Mormon pioneers lived in the American West. Here, you can see an old schoolhouse and even an active orchard!
Park Avenue – Arches NP: This amazing rock formation reminded some of the first white visitors of towering city buildings near a wide street. Visiting Park Avenue is sure to make you in awe of the amazing sculpting Mother Nature can do!
Inspiration Point – Bryce Canyon NP: Bryce Canyon is known for its hoodoos, and Inspiration Point offers one of the best ways to see them. The viewpoint is broken into three levels, meaning that you'll be able to see the hoodoos from different angles.
The Hogback – Grand Staircase-Escalante NM: This stretch of UT-12 is sure to be one of the most scenic drives you'll ever experience. There are unparalleled views on both sides of the road. But if you're afraid of heights, you might want to have someone else drive you through the area. You'll be up hundreds of feet on a spine-like road with no guardrails. But don't worry, the road is quite wide and safe at the designated speed limit.
Where to Stay
Utah's Mighty Five are miles apart from each other, meaning that after a long day of hiking and exploring, you'll want to have a place nearby to turn in for the night. While we've made a short list of good lodging that's near each park, if that lodging doesn't work for you, check out other hotels that are in the area. You're bound to find a good fit!
The Chuckwagon – Torrey, Utah: This motel is located right in historic Torrey, making it a great place to rest after a long day of exploring Grand Staircase-Escalante. The motel offers rooms and cabins for around $200 to $300. What really sets The Chuckwagon apart is the food they offer. You can buy food at their store and visit their deli, making it easy to fuel up before heading out to nearby Capitol Reef. You can learn more about the store and deli and book a room here.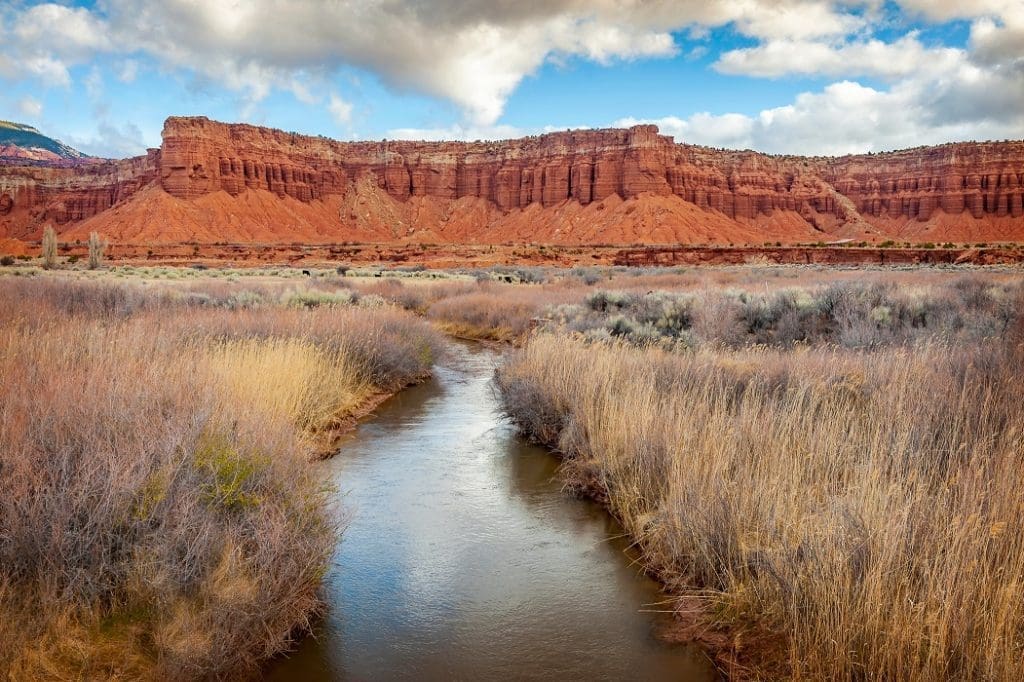 The View Hotel – Monument Valley, Utah: This hotel is called The View for a reason. It's the only hotel in the park itself and offers gorgeous views of the arid landscape. The third floor even has rooms that are StarView Rooms. This means that as long as the night's clear, you'll be able to have a unique stargazing experience. Rooms go for $100 up to around $400 depending on the type of room and when you're staying. The hotel also has a restaurant, though be warned, it's one of the only places to eat in the area and options are limited. You can learn more about The View and book a room here.
The Gonzo Inn – Moab, Utah: This hotel is located right in Moab – the gateway city for Canyonlands and Arches! The hotel is perfect for cyclists, as it has a place where you can wash your bike, lock it up, and even do some minor repairs. Rooms here go for around $225 for a standard room to around $400 for a luxury suite. You can learn more about this hotel and book a room here.
Majestic View Lodge – Springdale, Utah: This lodge is located right across from a Zion park shuttle, meaning that if you're visiting Zion during the peak season, you can hop on the shuttle for free and save yourself the hassle of getting up early in order to find a parking space. Most of the rooms in the lodge are in the mid-200s price range per night, with an exception of the Deluxe King Suite which goes for around $380. You can book a room here.
Bryce Canyon Inn – Tropic, Utah: Located in the sleepy town of Tropic, these small cabins are a great place to stay when you're exploring Bryce Canyon. Rooms start in the mid-100s with the more expensive suites being in the mid-300s price range. The inn has its own coffee shop, making it easy to grab a quick breakfast before exploring Bryce Canyon. It's open from March through October. You can book a room here.
Where to Eat
The towns and cities that surround these parks don't make it easy for you to choose where to eat! While some places like Springdale have a fun variety to choose from, other towns like Tropic only have a few options. Here's a few of the restaurants you'll want to check out when you're exploring Utah's Mighty Five.
Chak Balam – Torrey, Utah: This authentic Mexican restaurant might not look like much from the outside, but it's a big hit with the locals. Most meals cost $15 to $30. The restaurant can be reached at (435) 425-2877.
Sweet Cravings Bakery + Bistro – Moab, Utah: This bakery and bistro is a perfect place to stop at before starting an active day in Arches or Canyonlands. While the dining room is only open from 9 to 3, you can order in advance online and grab food to go from 7 to 3. You can place an order here.
Oscar's Cafe – Springdale, Utah: This cafe is home to some of the best Mexican food in the area. Breakfast costs around $10 – $15 while lunch and dinner costs around $20. You can check out their menus here.
IDK Barbecue – Tropic, Utah: In the mood for bbq? Check out IDK Barbecue! While the menu here is limited, what they do serve is food that's a cut above almost all of the rest in this area. Prices range from $11 bbq sandwiches to a little over $20 for the 3 Meat Plate. The restaurant is open Monday through Saturday from 11 to 9. You can check out their menu here.
Hikes
While Utah's park's are full of exciting and beautiful trails, here are some that you'll be sure to remember.
Delicate Arch Trail – Arches NP: Delicate Arch is a national park icon and is one of the most famous geological features in the whole world! You can get a great view of the arch by hiking this moderate 3 mile out-and-back trail.
Rim Trail – Bryce Canyon NP: Looking for an easy, customizable hike with great views? The Rim Trail follows along Bryce Canyon's great amphitheater, which means that you'll have views of the park's famous hoodoos. While this trail is 11 miles long out-and-back, the trail connects several viewpoints, so you can choose to walk between these viewpoints for as long as you want. The part of the trail that's between Sunrise Point and Sunset point is paved and wheelchair accessible.
Mesa Arch Trail – Canyonlands NP: Mesa Arch is one of the most beautiful sights this park has to offer. The natural arch almost acts like a window to a view of the canyons. And the hike to this amazing view is along an easy 0.5 mile loop trail.
Hickman Bridge Trail – Capitol Reef NP: This moderate 1.8 mile out-and-back trail takes you to a 133 foot natural bridge. And while seeing such a large natural bridge is awe inspiring, its beauty is rivaled by the canyon views you'll have while hiking.
Angels Landing – Zion NP: Angels Landing is one of the most famous national park hikes. This strenuous 5.4 mile out-and-back trail takes you up the side of a mountain and gives you unparalleled views of Zion Canyon. The hike itself is so daring that you have to hold onto chains. Otherwise, you might slip off the narrow ledge! This hike is very popular with thrillseekers, so popular in fact, that the park now requires visitors to have a special permit in order to take this trail. You can learn more about the permits and how to apply for one here.
Lower Calf Creek Falls Trail – Grand Staircase-Escalante NM: This moderate 6 mile out-and-back trail brings you to the popular Lower Calf Creek Falls. The falls are 216 feet tall with beautifully clear water. It's a stunning sight to see in this arid corner of Utah.
Wildcat Trail – Monument Valley: This moderate 4 mile loop trail takes you around a stunning butte known as Left Mitten. This is the only trail in the park that can be taken without an authorized Navajo guide, so you can truly take your time to soak in the beauty of this vast land. Make sure to travel around Left Mitten in a clockwise direction in order to head in the same direction that the Navajo do.
The Best Way to See Utah's National Parks
Now that you have more of an idea of what you can see and do when you're exploring Utah's national parks, you might want to check out some of the area's tours. Action Tour Guide offers a bundle where you can purchase self-guided audio tours of all seven of these parks! Each tour downloads straight to your phone and uses GPS technology to trigger its narration. It gives you the freedom of being able to explore these amazing parks at your own pace.