Cape Cod is home to fourteen historic lighthouses! That's an extremely high concentration for such a small peninsula. Let's take a look at some that you can see on your Cape Cod tours, and what makes each of them unique.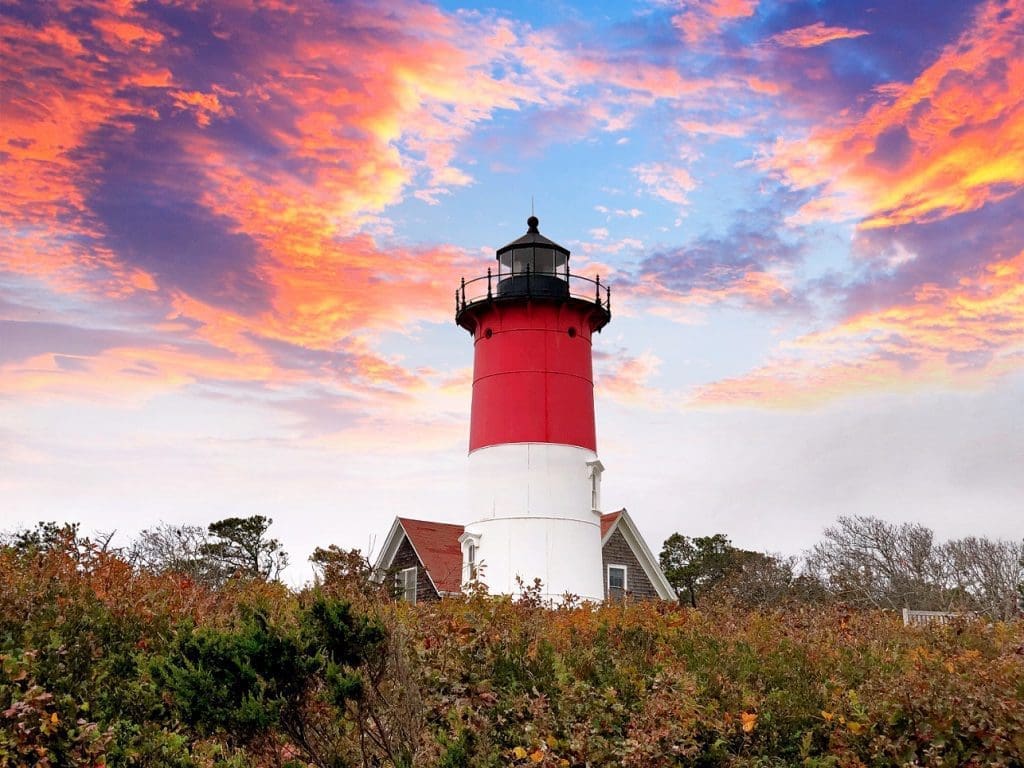 Nauset Light. Dating back to 1877, the lighthouse stands at 48 feet tall. It features a distinctive classical two-tone pattern: the bottom half white, top half bright red. Now, when you first see it, the lighthouse may look very, very familiar. You can find it in most New England grocery stores and vending machines. That's because Nauset Light features prominently on the famed Cape Cod Potato Chips bags!
Highland Light. This lighthouse had a famous fan–– writer and naturalist Henry David Thoreau. Thoreau often stayed here to record the legends and stories from locals. One woman told him about a beached canoe that mysteriously moved from the peninsula's west coast to the east. Another reported vegetables growing in the sand, possibly from a cargo ship carrying seeds. Thoreau also records the time he found a silver coin from 1741 in the beach surrounding Highland Light. Could there be more treasure where that came from?
The Three Sisters. As you drive along your Cape Cod tour, you'll find three short lighthouses located inland. Why aren't they on the coast? These three small wooden towers are enjoying their retirement! You're looking at the lighthouse trio that locals have nicknamed The Three Sisters. Where's that name from? Well, from a distance, the flared structures resemble a line of nuns in white robes and black habits, gathered on the shore. As the name suggests, these three different lighthouses were always viewed as a unit.
To visit all these lighthouses and more, download the Cape Cod tour app! The driving tour will automatically give you directions to each of these lighthouses, and many more fascinating stops.
Is Chatham Lighthouse Beach Open?
Lighthouse Beach in Chatham is open all the time! No matter when your next Cape Cod tour is, you can pay a visit.
Chatham Lighthouse Beach is considered by many to be the best beach on the Cape. It's certainly one of the most popular, especially during summer months. Lighthouse Beach is a top-tier location for swimming, sunbathing, kite-flying, and even beach yoga. Animals love it just as much as people do. You're sure to see many types of seabirds picking for oysters on the shoreline. Look out into the distance, too; you might see seals resting on Monomoy Island!
Between July 1 and Labor Day, Lighthouse Beach has a patrol that tells you how the swimming conditions are. This helps keep everyone safe from sharks and storms.
Is the Chatham Lighthouse open?
Depends on when you schedule your driving tour! During the summer months, you can enter Chatham Lighthouse and climb to the top. Inside, it's like a free mini-museum of the town's maritime history. Setting aside the awesome beach, Chatham Light itself is pretty cool:
The tower stands 48 feet tall. With the hill, the light is 80 feet above sea level.
It takes 44 steps to reach the top landing.
The electric light generates 2.8 million candlepower! That's 100 times brighter than when the light was powered by kerosene.
This is one of the only lighthouses in the United States that operates continuously 24 hours a day.
The light flashes twice every 10 seconds. This distinctive pattern is used to differentiate it from other lighthouses while at sea.
This lighthouse can be seen from over 27 miles away, giving ships plenty of time to correct their course.
Can you visit Sandy Neck Lighthouse?
Sandy Neck Lighthouse is now privately owned and not open to the public. But there are plenty of other lighthouses to visit on your Cape Cod tour! Here are some you CAN see on your trip: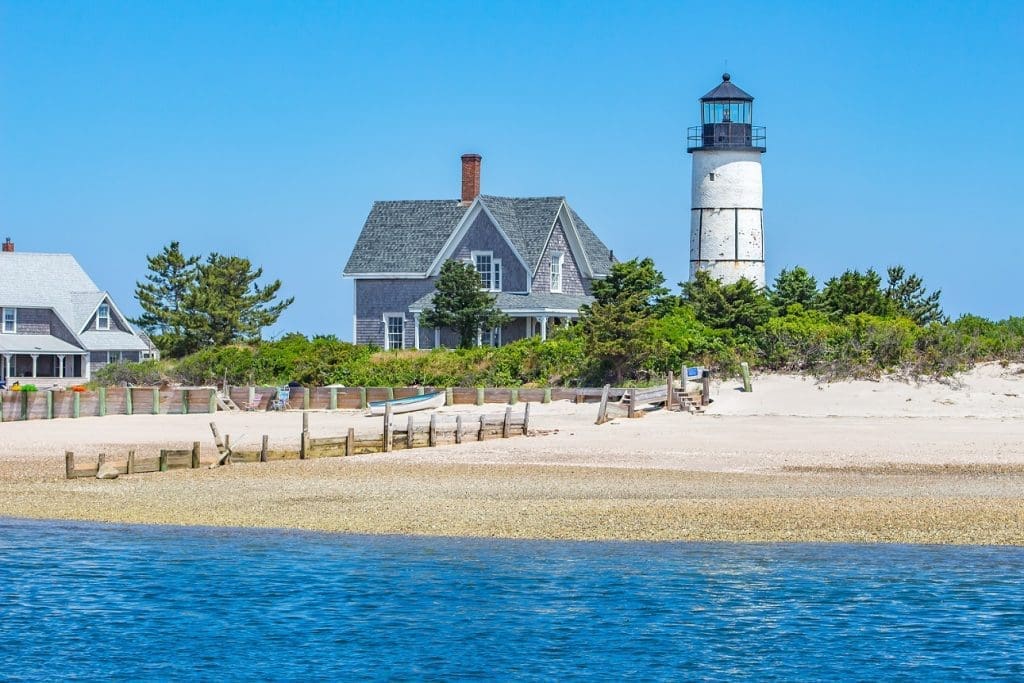 First we have Highland Light. The first version of Highland Light was commissioned by George Washington himself in 1797. It was, in fact, the very first lighthouse on the Cape! This first iteration of Highland Light was torn down due to instability in the wood. A second version was constructed in 1833, this time made of brick… only to be declared too dangerous to operate only 20 years later. That one was demolished too. As they say, third time's the charm– this iteration has been standing unchanged for over 150 years!
Further up the coast you'll come across Race Point Lighthouse. "Race Point" refers to the super-fast rip tides, and the undertow is super strong here. In 1808, Provincetown citizens started petitioning the local government for a lighthouse. They got their request within the decade, and this lighthouse has been operating continuously since 1816. In the 1930s, the children of lighthouse keeper James Hinckley were forced to walk to school every morning across three miles of sand. So Hinckley rigged a Ford to act as a dune buggy to make their commute much shorter and simpler!
If you drive all the way to the very end of the Cape (the last stop on this Cape Cod tour route), you'll find Long Point Lighthouse. In the 1800s, this was an extremely busy fishing port, with boats constantly coming and going, catching and exporting. But today it's a total ghost town. Nothing of the village remains except the lighthouse. What happened? Long Point wasn't exactly a fun place to live. The peninsula is totally isolated from the mainland, and the only drinkable freshwater came from collected rainfall. By the 1860s, only a few families remained. During the American Civil War, the Union army established a military base here to intercept any enemy ships. Of course, by this point, very little traffic came through the Long Point port. Locals nicknamed the base "Fort Useless" and "Fort Ridiculous." Today, the tower is the only thing that remains of the once-thriving Long Point.
And there's even more historic lighthouses, like The Three Sisters and Nauset Light. This Cape Cod self-guided driving tour will bring history to life as you drive through the Cape, telling the stories of the lighthouses and the people who lived in them.
I'm sure you will love our self-guided tours. I strongly recommend that you subscribe to Action+, which includes all of our tours in a single, year-long package. Travel all year and take our self-guided tours with you wherever you go!