You can easily see the autumnal beauty of the Smokies by taking a Great Smoky Mountain guided tour!
Can you guess how many different types of trees can be found in the Smokies?
There's 99 of them!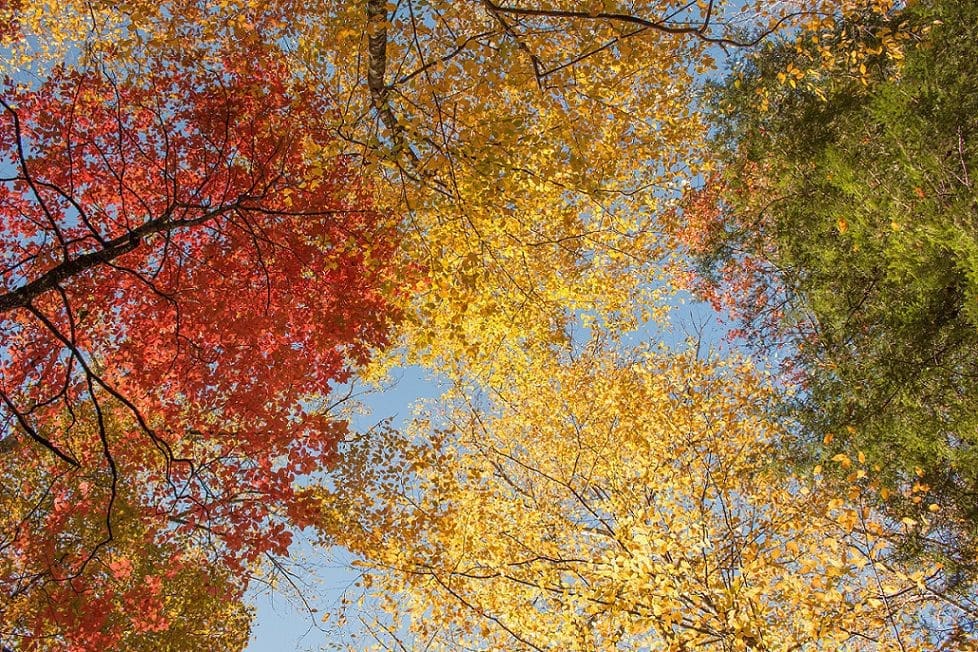 So what kind of trees can you identify?
Let's start from the top. At mountaintops, you're likely to see coniferous trees like firs, spruces, and hemlocks. These are the most common trees in high elevations…. mostly because they're the only trees that can survive there! The thin, cold air and moist atmosphere makes it impossible for most plants to thrive. But fir trees LOVE this chilly climate. Without competition from other plants, conifers have dominated the mountain peaks. They won't change for the seasons; the mountaintops stay green all year round, like Christmas trees.
Stepping down from the summit, at a range of 3000-4000 feet above sea level, you're more likely to find hardwood forests. These make up 80% of the Smokies, and a majority of what you will drive through. Maple, beech, and yellow birch are common species at this level. Unlike the evergreen peaks, these trees drop their leaves in winter and create spectacular warm-hued views in autumn.
Maple trees are also a great source of natural sugar. On your Great Smoky Mountain guided tour, you'll pass through a valley called the Sugarlands. Settlers moved here for the wealth of wild maples. Remember, this is before the mass production of cane sugar. The number one sweetener in the United States was syrup… which made maple trees a super valuable commodity. Having access to so many maples was like sitting on a treasure trove!
Not much remains of the Sugarlands cabins today… except for one thing. Along the trail, you can see tall structures made of stones: the chimneys. The last remnants of old houses of frontiersmen and pioneers. The rest of the houses have rotted away or been knocked down, but the sturdy chimneys still stand! See the Sugarlands for yourself on a self-guided driving tour of the Great Smoky Mountains.