Counting from the Big Island, O'ahu is the fifth of Hawaii's eight major islands, located smack dab in the middle of the Pacific Ocean.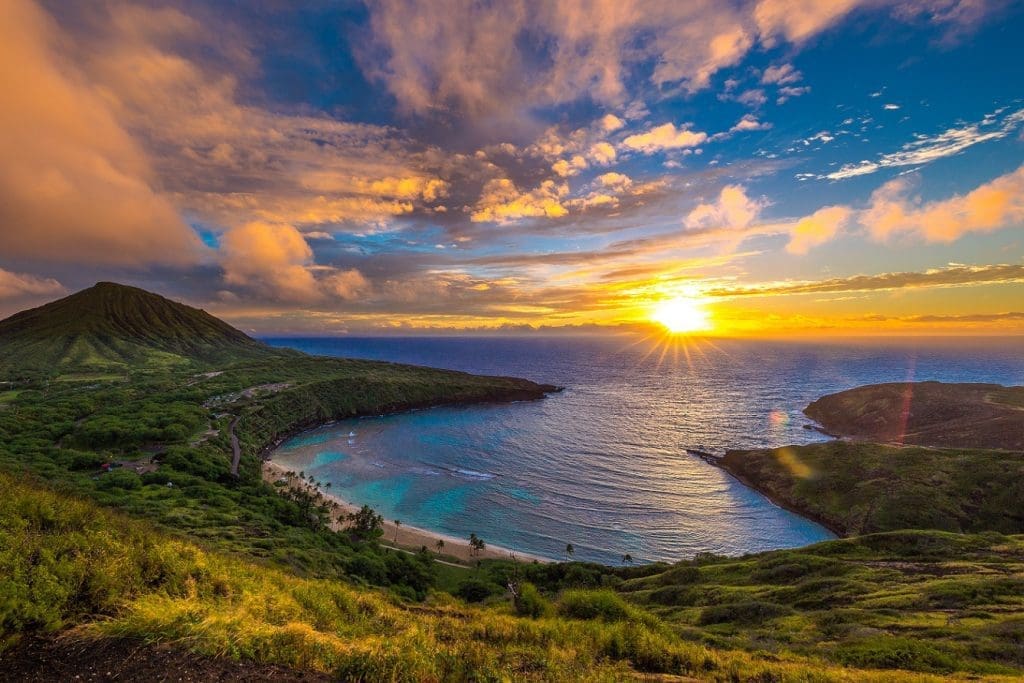 It's not the largest island, and it's not the closest to the mainland. But it IS the most popular–– and populated–– island of them all. Why? O'ahu is home to Honolulu, the state capital. As you will learn on your O'ahu tour, Honolulu has been a port city for centuries. It's the central hub for Hawaiian tourism, trade, fishing, and feasting.
What can you see on O'ahu?
I'm glad you asked! There's so much to see on an O'ahu tour. Here are some of my favorite stops:
Volcanic formations. Let's go back in time… four million years. Back then, O'ahu was nothing more than two gigantic volcanoes. The magma spouted by these two volcanoes cooled off once it reached the surface. The resulting rock became the foundation for the island of O'ahu. Today, you can see the remnants of this explosive past: Pele's Chair, China Walls, and Diamond Head Crater.
Turtle Beach. Ever wanted to see a green sea turtle in real life? Turtles LOVE this spot on O'ahu, where they freely climb up to the beach to sun themselves and feed on kelp. It's totally worth a trip to Hawaii just to see these gentle giants in their natural habitat.
Waikiki Beach. It wouldn't be a Hawaiian vacation without a little surfing action! You'll see plenty of athletes tearing up the waves off the shore of O'ahu. The bronze statue of Duke Kahanamoku, one of the world's most influential surfers, is decorated with fresh leis every day. It's like he's welcoming you to share in the exciting and ancient culture of Hawaii.
How do I see it all? 
You're going to want the help of an O'ahu self-guided driving tour! This app will give you turn-by-turn directions following a single route that takes you past all the best destinations. Since the narration is activated by GPS, you can take as much time as you want before moving along to the next stop. There's no better way to discover everything that O'ahu has to offer!
Essential Travel Guide: