The Newport Cliff walk and the 40 Steps are part of a moderate 3.5 mile hike along the stunning coast of eastern Rhode Island. The Newport Cliff Walk is paved and level in some areas but there are a couple of spots along your journey that are steeper, unpaved and less even as the path snakes along the rugged coastline.The Cliff Walk is not a loop, so make sure that you're ready for a 7 mile trip in total or plan of catching a trolley back to your car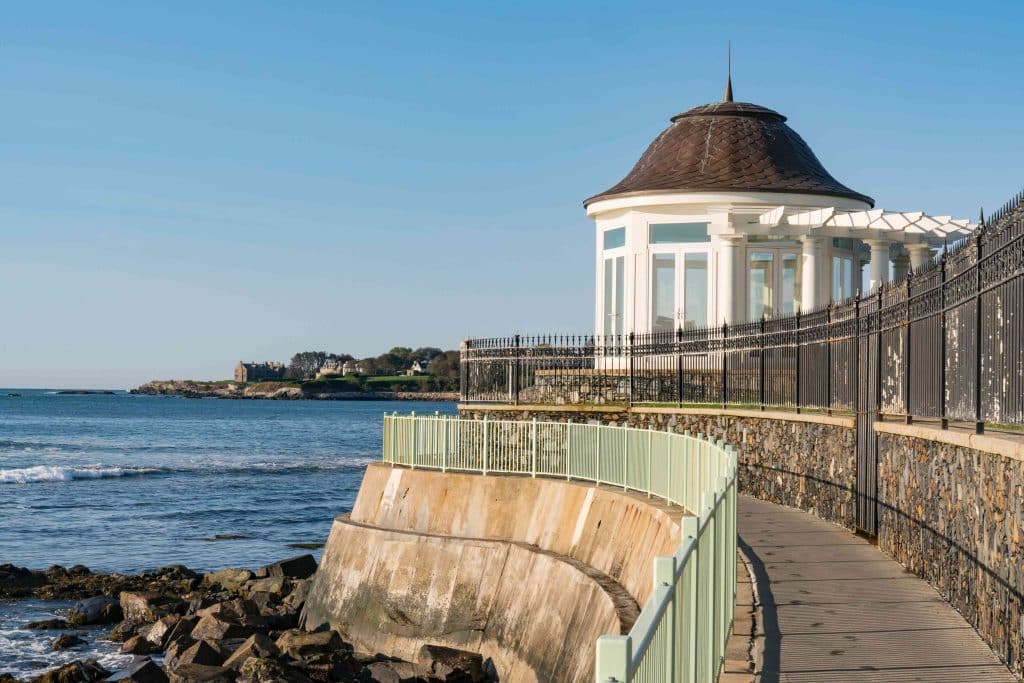 There are a number of spots in the Newport Cliff walks with stunning views as you walk along 70 foot high cliffs. Use caution, but don't let that get in the way of soaking up some sights and history! The Newport Cliff walk features both natural beauty and man made views in the form of many hulking and castle-like mansions from the Gilded Age. If you plan on adding the 40 Steps to your trip, this will add a little extra exertion. The long, steep staircase offers up some breathtaking views, so lace up your sneakers and get ready to see some of the most beautiful views that Rhode Island has to offer!
Where do you park for the Newport Cliff walk?
Parking is plentiful for folks looking to embark on the Newport Cliff Walk. You can find parking at Memorial Boulevard at Easton Beach, as well as at the 40 Steps at the the end of Narragansett Avenue. Payment is registered with your license plate and the parking fees vary from lot to lot. There are several entrances to the Newport Cliff walk. You can start your journey at Webster Street, Narragansett Avenue, Marine Avenue Sheppard Avenue, Bellvue Avenue or Ledge Road. Entrances to the Cliff Walk are well marked, so making your way from your car to the trail should be a piece of cake.