There is no vehicle road to drive to the top of Diamond Head on your O'ahu tour. But good news: you CAN get there if you bring your hiking boots! The steep trail from the parking area to the top takes about 45 minutes, and the view is worth every moment. From this great height, you can get a panoramic view of Waikiki village and the entire south shore of O'ahu.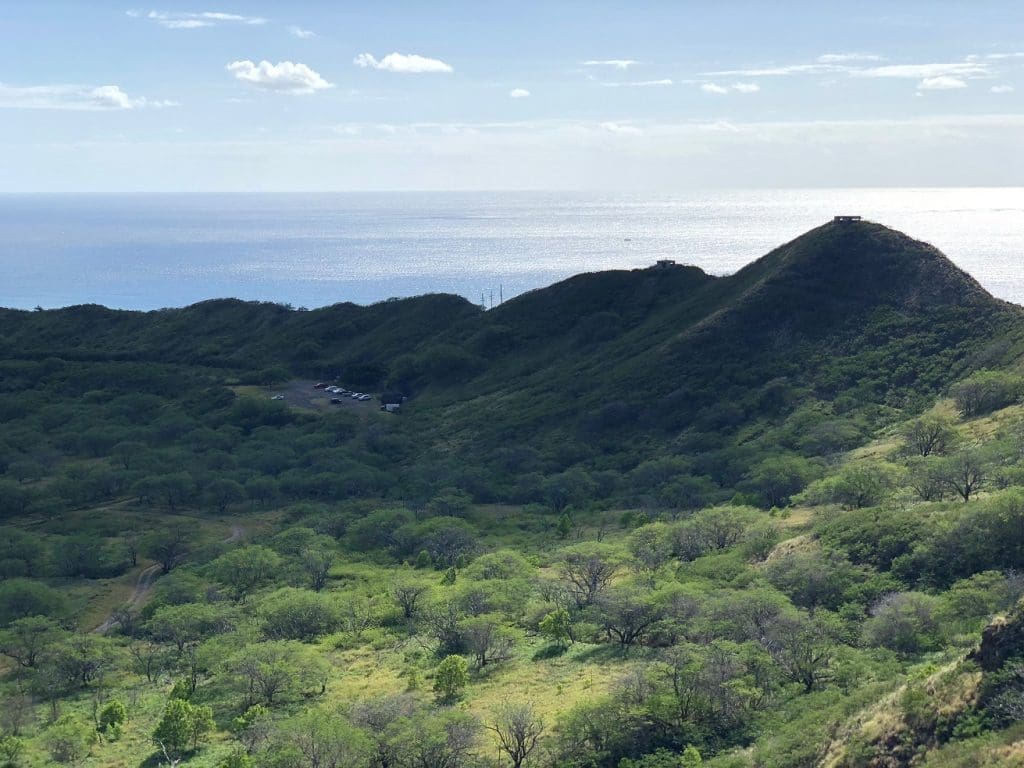 If you'd rather stay in your car, Diamond Head Lookout is a scenic pullout right on the main road, boasting an amazing view of the open Pacific.
How did Diamond Head form?
Diamond Head is a volcanic crater that formed around 300,000 years ago. Before that? It was a normal mountain! But that mountain was full of geothermal pressure. Over time, that pressure built and built, until the mountain just couldn't contain it any longer. But instead of exploding upward, like some volcanoes, this one just blew up completely, leaving behind the crater you see today.
Do you have to worry about another volcanic explosion?
Nope–– Diamond Head is a monogenetic volcano, meaning it erupts only once and then it's done. The pressurized underground energy is gone for good.
Are there any other volcanoes on O'ahu?
There are no active volcanoes anymore, but you can see the formations they left behind on this O'ahu tour! One of them is Pele's Chair, a rock formation that looks like a throne for the Hawaiian goddess of fire. Ancient volcanoes also created both the Koko Crater Botanical Garden and the Ko'olau Mountain Range. Hundreds of thousands of years have passed since the last eruption on O'ahu, but they've left behind some pretty incredible landmarks to remember them by.
Ready to explore?
This Oahu Grand Circle Island self-guided driving tour will take you all around Diamond Head and beyond. The app's narration will tell you everything about Hawaii's volcanic past as it gives turn-by-turn directions to every great attraction on O'ahu. Hope you have a great trip!
Essential Travel Guide: