Wealthy people flocked to Rhode Island both because of its proximity to New York City and because of what there is to do in Newport, RI. The rich would come to Newport to sailboats, go fishing, and hold events on top of the cliffs overlooking the Atlantic.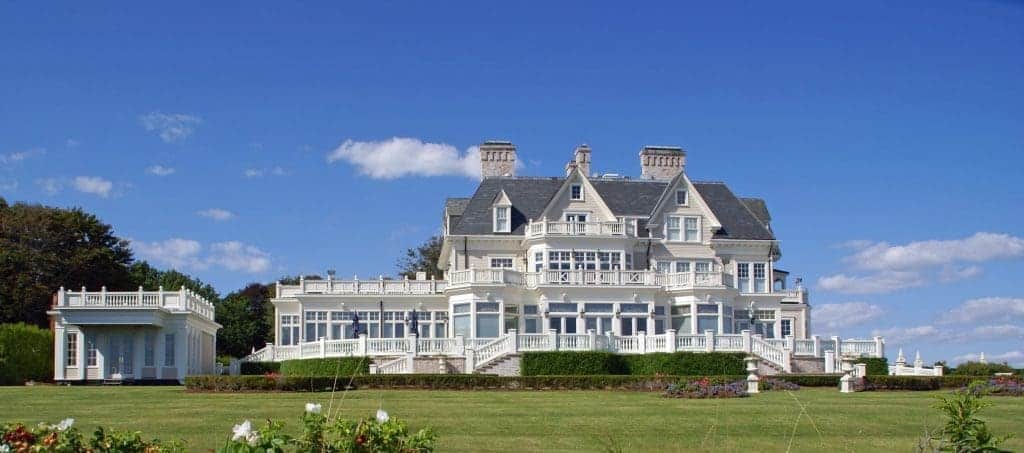 Newport also offered a microcosm of high society without the crowds of the city. Families like the Astors, the Vanderbilts, and the Morgans built mansions in Newport so they could spend the summers there, holding fancy balls and parties by the sea. To the Manhattan aristocrats who visited, it was a chance to stretch their legs and enjoy the open space that allowed them to build their 70-room "cottages."
During Newport's peak in the Gilded Age, its high society was run by Carolina Schermerhorn Astor, known to her friends as Lina or, at her insistence, Mrs. Astor. Lina was the gatekeeper of New York City society and jealously guarded it against the nouveau riche midwestern businessmen and their wives who moved to Manhattan in the late 19th century. She invented "The 400," a list of only 400 people she considered to be true members of fashionable society. When she built Beechwood, a 16,000-square-foot mansion in Newport, the first thing she did was design a ballroom big enough to fit all 400 members of the list, an extravagance Mrs. Astor could never achieve in the crowded skyscrapers of Manhattan.
To see Beechwood for yourself, as well as the other sights of Newport, we recommend checking out Action Tour Guide's own Scenic Newport Self-Guided Driving Tour. With 49 stops all over the city, this tour will have a little something for every member of your family, from mansions to scenic cliffs.
Essential Travel Guide: