Yes! Pet-lovers rejoice, your four-legged pals are more than welcome on the Newport Cliff Walk and the 40 Steps. All animals must be kept on a leash for the duration of the journey, but the Newport Cliff Walk is a great way to give yourself and your dog some fresh air and exercise. Always remember to clean up after your pets. Most travelers recommend shorter leashes because of the steep drop offs and areas where the path narrows. If you visit with a pet in the summertime, make sure to keep them out of the poison ivy that grows in a couple places along the path.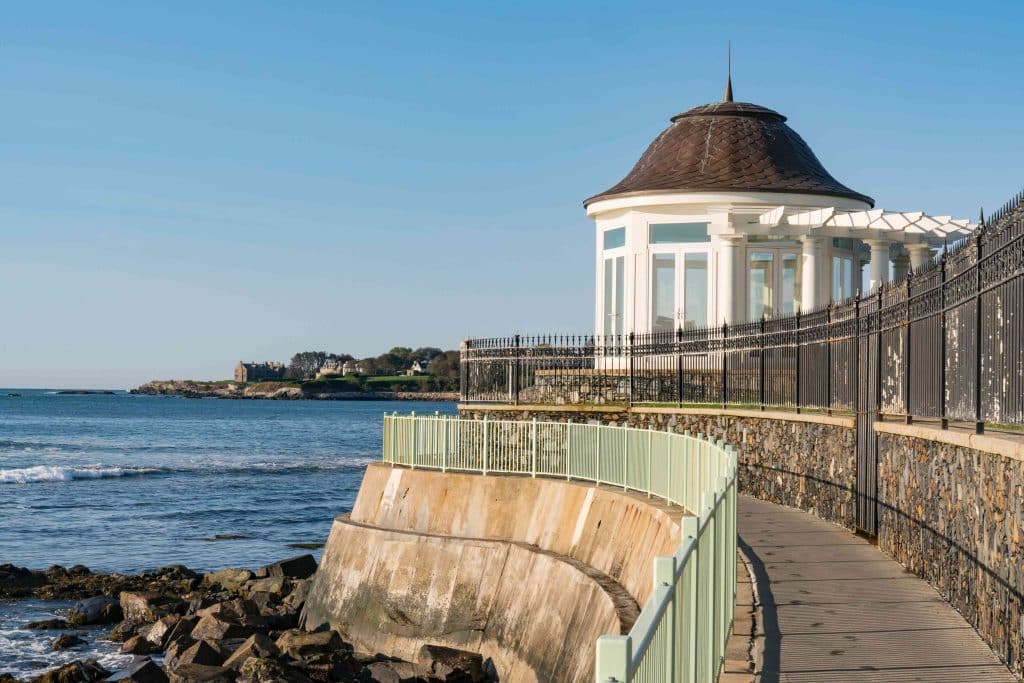 Is the Newport Cliff Walk family-friendly?
The Newport Cliff Walk and the 40 Steps are very family friendly and a great way to enjoy some time outdoors with your children. The Trail is safe, with guardrails along the edge and a moderate grade. Make sure to pack food, water and good walking shoes for yourself and family members. Enjoying the Newport Cliff walk provides tons of fun for the whole family. Keep in mind if you have stroller-aged children that about 2 miles into the trail, it does become steeper and a bit rougher than the rest of the Newport Cliff Walk, so if you have very young children or babies who might struggle to walk the entire 3.5 miles, consider a partial route of the trail. 
How old is the Newport Cliff Walk?
A walking path along the coast of Newport has existed for a long time. Legend has it that the Newport Cliff Walk and 40 Steps area started out as little more than a deer path, which was worn down further as a trade route used by members of the Narragansett tribe. Around the late 1800's wealthy New Yorkers began seeking refuge from the big city on the coast of Newport, where they built the lavish homes you still see today. Around the same time, with the rise of tourism, serious development of the Newport Cliff Walk began. Piece by piece the Newport Cliff walk was completed and by 1929, the path was completed, delayed slightly by the Great Depression. 
Essential Travel Guide: