The highest point in Shenandoah National Park is the peak of Hawksbill Mountain at 4,050 feet. The highest point on Skyline Drive is at 3,680 feet, but it's only about a two-mile hike to the summit of Hawksbill from there. If you're a moderately experienced hiker and you're looking for a great view of the Shenandoah Valley, then we highly recommend checking out Hawksbill Mountain. It's a short hike but somewhat strenuous, so feel free to take your time. Once you reach the top, you'll be rewarded with a 360-degree view of Linville Gorge about 2,000 feet below you. On a clear day, you can even see the Charlotteville skyline almost 100 miles away.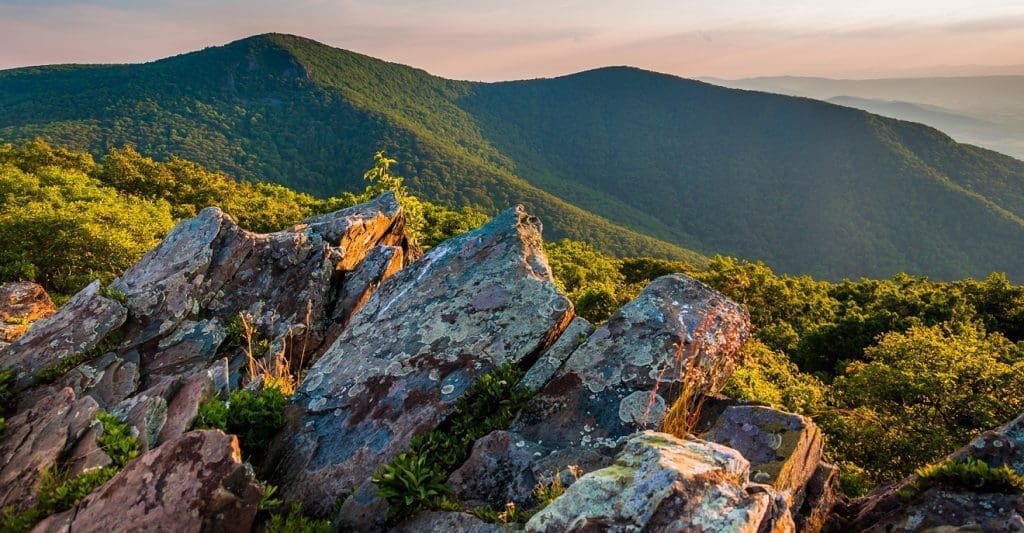 While Hawksbill is the highest mountain in the park, it's not the most popular. That distinction belongs to Old Rag Mountain in the eastern part of Shenandoah. While Old Rag is only 3,284 feet high, almost 800 feet shorter than Hawksbill, it's generally considered to have the superior view of the two mountains. In fact, many people say Old Rag Mountain has the best viewpoint in the entire park, although there's some pretty stiff competition. Like Hawksbill, the hike up to Old Rag can be fairly strenuous, so make sure you're prepared for some exertion before you get there. It's also a common destination for rock climbers from up and down the east coast, featuring splitter cracks, dihedrals, and crystal pinching slabs. There is a pretty wide variety of rock climbing paths on Old Rag Mountain, ranging from beginner-friendly ones to some difficult paths that should only be attempted by experts.
If you're thinking of seeing Shenandoah for yourself, we recommend taking our very own Shenandoah National Park Self-Guided Driving Tour.
Essential Travel Guide: