17 Mile Drive Entrance
17-Mile Drive has a few primary entrances at the Pacific Coast Highway, in Carmel, and in Pacific Grove. This drive has a long, beautiful route that hugs the Pacific coastline. The drive is open to visitors through each of these entrances with a toll of $11.25 per vehicle, although the toll will be refunded if you choose to eat at one of Pebble Beach's many restaurants during the 17-Mile Drive tour. The entrance from the PCH is the most common since most visitors to the area took State Route 1 to get there, but we actually recommend entering through Pacific Grove and exiting through Carmel if you get the chance. However, every entrance will take you to the same stops along the way, so don't worry too much about how you get to 17-Mile Drive.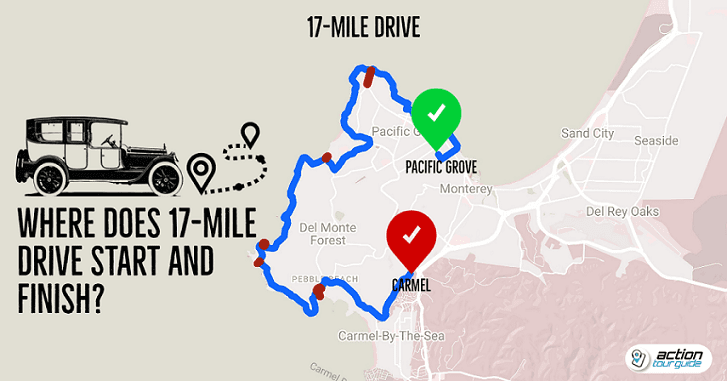 Some Beautiful Spots along the 17-Mile Drive
Lone Cypress
The Lone Cypress tree is one of the most famous sights along the 17-Mile Drive in Pebble Beach, California. This unique tree has become a symbol of Pebble Beach Resorts and is included on their logo. It is the oldest Monterey Cypress tree in existence and is believed to be over 250 years old.
A cypress tree, the Lone Cypress is perched on a rock outcrop, facing the Pacific Ocean. It has survived wind, lightning, and saltwater for more than two centuries. One limb of the tree was recently broken during a massive storm in 2019.
Spanish Bay Beach
Spanish Bay Beach is one of the prettiest beaches in Monterey County. Visitors can enjoy sunbathing or picnicking at this popular beach. This wide stretch of beach is backed by sand dunes, but it's not safe to swim.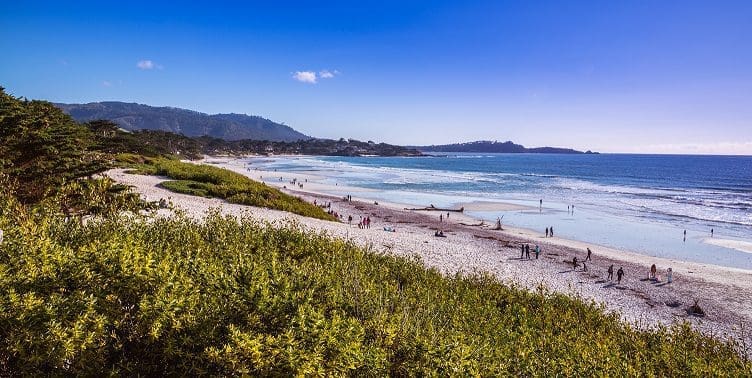 Whale watching trips on Monterey Bay
Monterey Bay is one of the best places in California for whale watching.
Ending Point of 17-Mile Drive
The Carmel entrance to 17-Mile Drive is right next to the Lodge at Pebble Beach and the famous golf course attached to it. You can hit all the same stops if you start in Carmel, just in reverse order, although we prefer to end there because the exit will take you right into downtown Carmel, one of the most charming small towns in the Monterey area.
If you'd like to see the drive for yourself and you want to make sure you're reaching all the best stops, we recommend taking our own Scenic 17-Mile Self-Guided Driving Tour.
If you like the tour, I recommend subscribing to Action+, which includes all of our tours in a single, year-long package. Travel all year and take our self-guided tours with you wherever you go!