While fairly strenuous, Angels Landing is one of the most popular hikes for anyone spending one day in Zion National Park. The trailhead is accessible by both car and shuttle, so it's easy enough to get there. The hike itself, however, is fairly difficult and typically takes about four hours round trip. The trail is a little under five and a half miles and requires some climbing and scrambling, but it's well worth it for experienced hikers. One particular highlight is a series of 21 steep zig-zags called "Walter's Wiggles." Some hikers might feel a little skittish with the sheer cliffs along the side of the trail, but there are plenty of steps, guardrails, and chains for safety. It is worth noting that, as of April 2022, hiking Angels Landing requires a permit from the Park Service, so make sure you take care of that before you go.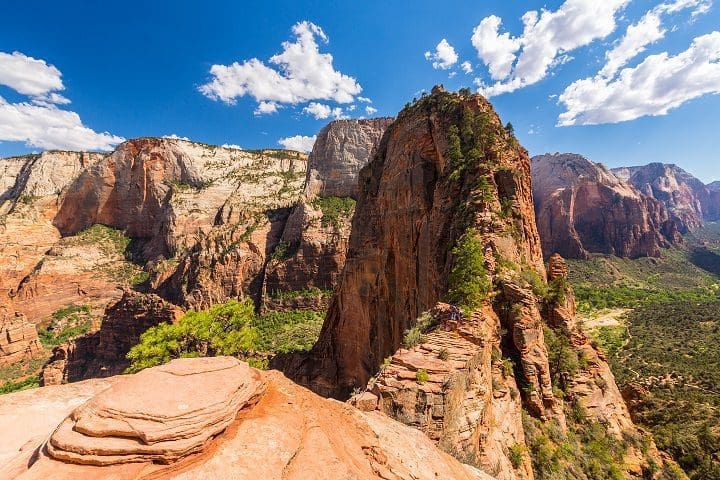 Zion National Park features a wide range of trails for all levels of experience. One easier hike is the Emerald Pools Trail, a two-mile loop that takes visitors to a hidden desert oasis surrounding a stream that gathers in three pools. The trail to the lowest pool is very easy for just about anyone, while the loop to the higher two pools is slightly more difficult.
Hikers looking for more of a challenge should head straight to the Narrows, a moderately strenuous day hike through some of the most beautiful slot canyons in the whole state. If you do plan on visiting the Narrows, make sure you bring some waterproof shoes and a flashlight in case you're still on the trail when the sun goes down.
For more popular spots, check out our Zion National Park Self-Guided Driving Tour, available on our website.