Tulum Ruins, located in the Yucatan Peninsula of Mexico, is an archaeological site that offers a unique glimpse into Mayan culture and history. This ancient city was once one of the most important coastal settlements for the Maya civilization before its eventual abandonment centuries ago. Today, visitors can explore this breathtaking destination to discover amazing architecture, beautiful views and vibrant wildlife. From learning about Tulum's past to taking part in our self-guided tour through these ruins – there are plenty of activities awaiting you at this stunning place. Whether you're interested in discovering more about its long-standing history or simply want to take some unforgettable photos – come visit Tulum Ruins today.
Overview of Tulum Ruins
It was one of the last cities built and inhabited by the Mayans, and it is now a popular tourist destination. The ruins are situated atop a 12-meter high cliff overlooking the Caribbean Sea, making it one of the most picturesque archaeological sites in Mexico.
The Tulum Ruins are divided into two main areas:
El Castillo (the castle) and El Mercado (the market). The former is where you will find some of the best preserved structures from this period including El Castillo Temple, which stands at 29 meters tall and offers stunning views over both land and sea. Other notable buildings include Las Pinturas (the paintings), La Iglesia (the church), Los Muros de la Serpiente (snake walls) as well as several other temples, palaces, dwellings and courtyards.
The second area known as El Mercado consists mainly of residential complexes with small houses arranged around plazas or patios that were used for social gatherings such as religious ceremonies or festivals. Here you can also find many artifacts such as pottery shards, stone tools, jewelry pieces and figurines that provide insight into life during this time period.
The Tulum Ruins are an amazing sight to behold, offering a glimpse into the past of this once thriving Mayan city. Now let's explore its history in more detail.
History of Tulum Ruins
The ruins of Tulum are located on the Yucatan Peninsula in Mexico, and they were first discovered by Spanish explorers in 1518. The site was occupied from around 600 AD to the early 16th century when it was abandoned due to disease and warfare with other tribes.
In 1842, John Lloyd Stephens and Frederick Catherwood visited Tulum during their travels in Central America. They extensively explored the ruins, which revealed a unique architectural style that blended Mayan culture with influences from Europe and North Africa.
The walls surrounding the city of Tulum were constructed using limestone blocks cut into rectangles and fitted together without mortar or cement. This type of construction is known as "dry-stone" masonry, which has been used since ancient times for its strength and durability. Inside these walls lies a complex system of plazas, temples, palaces, residences, ball courts and altars – all built according to strict rules based on astronomical observations made by Mayan priests over centuries ago.
Tulum's main temple is called El Castillo (the castle) because it stands atop a 40-foot high pyramid overlooking the Caribbean Sea below it – an impressive sight even today. Other important structures include Temple of Frescoes (also known as Temple of Diving God), House Of Columns (a palace where rulers lived), Temple Of Descending God (dedicated to rain god Chaac)and Great Palace (where ceremonies took place).
Today visitors can explore this fascinating archaeological site at their own pace while learning about its history through guided tours or self-guided audio tours available at the entrance gate. There are also several restaurants near Tulum offering traditional Mexican cuisine, so you can enjoy some delicious food after your visit.
The history of Tulum Ruins is a fascinating one, filled with stories of ancient civilizations and their way of life. Now let's explore the architecture of these ruins to gain an even better understanding of this important archaeological site.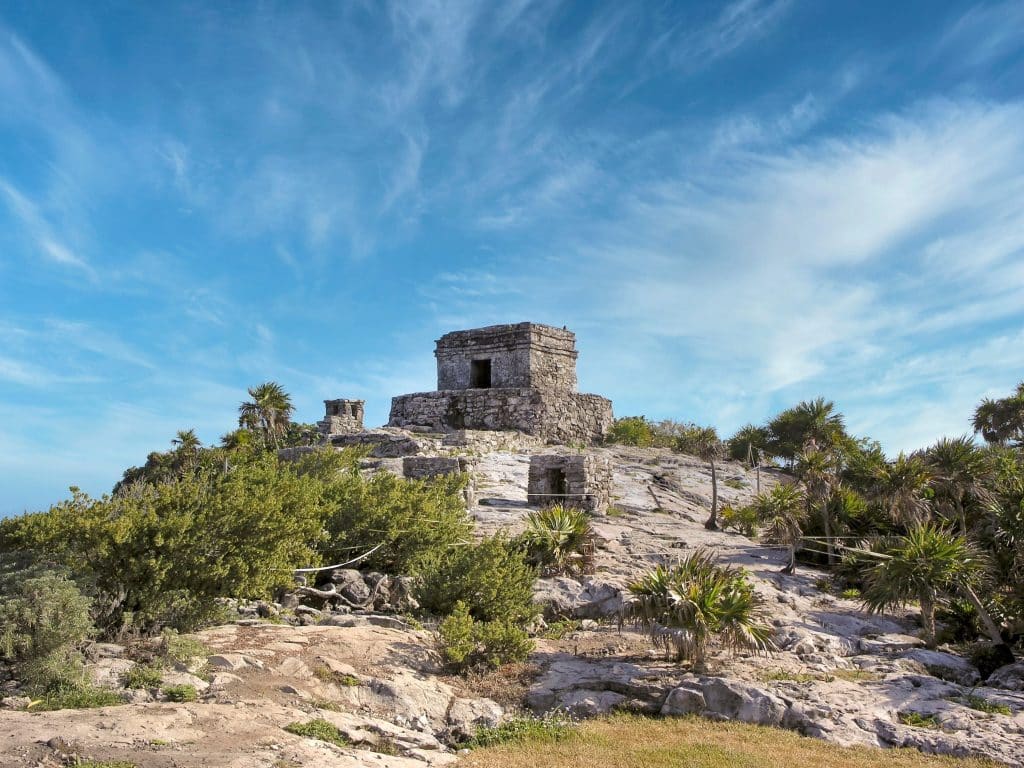 Architecture of Tulum Ruins
Tulum Ruins is a unique Mayan archaeological site located on the Caribbean coast of Mexico. It is renowned for its distinctively coastal style architecture, which was constructed from limestone blocks and decorated with stucco reliefs depicting gods and symbols associated with trade and commerce.
The main structures at Tulum include El Castillo (the castle), Temple of the Frescoes, Temple of the Descending God, Temple of the Wind, House of Columns, and Great Palace. The most iconic structure in Tulum is El Castillo (the castle). This two-story pyramid stands 30 meters tall and has four staircases leading to an upper platform that offers stunning views over the Caribbean Sea. Its facade features intricate carvings depicting figures such as Chaac Mool – a rain god – as well as hieroglyphic inscriptions relating to trade routes between Yucatan cities.
The other major structure at Tulum is known as Temple of the Frescoes or Templo de los Frescos due to its colorful murals inside. These paintings depict various scenes related to Mayan mythology including gods such as Itzamnaaj – creator deity – along with images related to warfare, fertility rituals and offerings made by priests during ceremonies held here centuries ago.
Temple of the Descending God or Templo del Dios Descendente also features several frescoes but these are much more faded than those found in Templo de los Frescos due to exposure over time from wind and rain erosion. This temple's name comes from one particular mural showing a figure descending towards earth while holding something resembling a torch in his hand; this image symbolizes death according to some interpretations although there are many theories about what it could represent given its age.
The architecture of the Tulum Ruins is a testament to the ingenuity and skill of the Mayan people, making it an awe-inspiring sight. Next up, let's explore what there is to see at this incredible site.
What to See at Tulum Ruins
It was once a bustling port and trading center, but today it is one of the most popular tourist attractions in the region. Visitors to Tulum can explore its many structures including El Castillo which served as a watchtower for incoming ships. This structure stands at 30 meters tall and offers stunning views of both land and sea from its top platform.
The Temple of the Frescoes features colorful murals depicting scenes from Mayan mythology. The temple also has two stelae that were carved with hieroglyphs, giving insight into how this civilization lived centuries ago. The Temple of the Descending God is dedicated to Chaac, god of rain and fertility, making it an important religious site within Tulum's walls. Its facade contains several carvings depicting gods such as Chacmool who holds a bowl for offerings or sacrifices made by worshippers in his honor.
The Temple of the Wind has intricate carvings depicting wind gods along with other figures associated with water and storms like Ah Puch – god of death – depicted wearing a mask representing death itself. Nearby lies House Of Columns which was used for ceremonies related to religion or politics; its columns are decorated with images related to different deities worshipped by ancient Maya people such as Ixchel – goddess associated with fertility – represented carrying her traditional symbols: rabbit ears headdress, mirror shield and crossed arrows staff .
Finally, visitors should not miss out on the Great Palace which served as an administrative center for trade activities between different regions during pre-Columbian times. Here you will find several stone masks representing Kukulkan (a feathered serpent deity) looking down from above, protecting all those who visit this majestic place full of history and culture.
From the amazing architecture to the breathtaking views, there's something for everyone at Tulum Ruins. Now let's explore how you can visit this incredible site.
How to Visit Tulum Ruins
Visiting the Tulum Ruins is a great way to explore and learn about Mayan culture. Located on Mexico's Yucatan Peninsula, these ruins are one of the most popular archaeological sites in the country. With its stunning views of the Caribbean Sea, it's easy to see why this ancient city has become such an iconic destination for travelers from around the world.
Getting to Tulum is relatively easy with several transportation options available. The easiest option is by car or bus from nearby towns like Playa del Carmen or Cancun. There are also guided tours that offer direct transportation from those towns straight to the ruins site so visitors can explore on their own or take part in a guided tour led by local experts who provide insight into Mayan culture and history.
Once at Tulum, visitors will be able to marvel at its unique architecture which includes El Castillo (the castle), Temple of Frescoes, Temple of Descending God and many other structures built between 1200-1521 AD during its peak period as a major trading port for goods like jadeite and obsidian coming from Central America and beyond. Visitors can also explore the surrounding areas including nearby beaches or cenotes where they can take part in activities such as swimming, snorkeling or kayaking.
The best time to visit Tulum is early morning when crowds are minimal and temperatures cooler making it easier for visitors to explore without feeling rushed or overwhelmed by large groups of people. It's important not forget your sunscreen though as there isn't much shade within the walls of this ancient city. Additionally, if you're planning on taking pictures make sure you bring extra batteries as cell phone service can be spotty due to location being surrounded by thick jungle foliage.
Tulum Ruins is an amazing place to explore, and with a self-guided tour you can make the most of your visit. Let's now take a look at the options available for a self-guided tour of Tulum Ruins.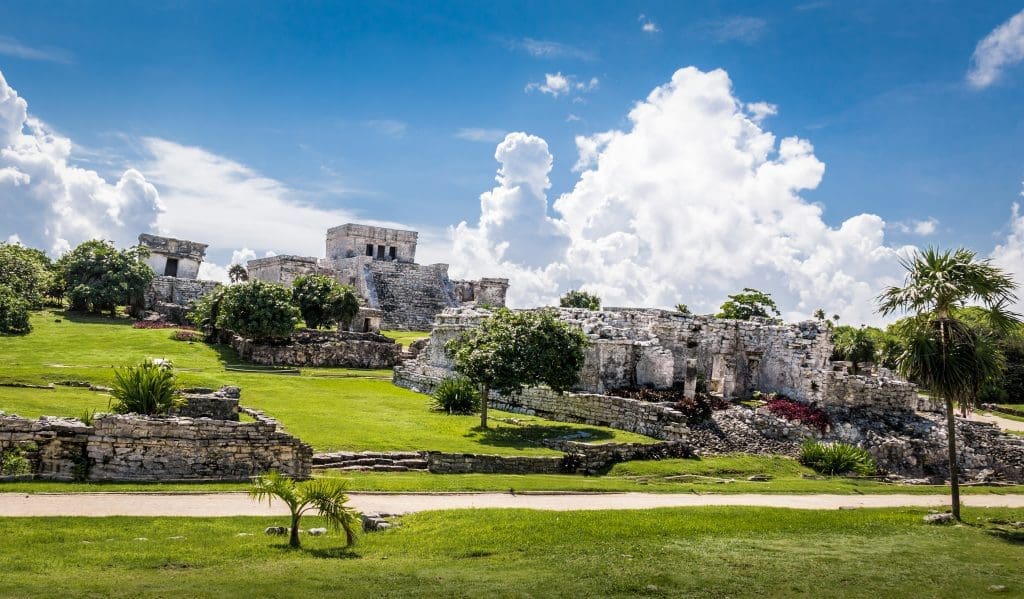 Self-Guided Tour of Tulum Ruins
Tulum Ruins is one of the most iconic archaeological sites in Mexico. Located on the Yucatan Peninsula, it was once a major trading port for the Mayan civilization and has been well-preserved since its abandonment centuries ago. A self-guided tour of Tulum Ruins allows visitors to explore this ancient city at their own pace, learning about its history and culture along the way. Some of the key stops on the tour are as follows:
House of the Cenote:
This structure is located near a cenote (natural sinkhole) that provided water to Tulum's inhabitants. It was used as an important religious site by both Mayans and Aztecs alike. The House of the Cenote features two small rooms with walls decorated with carvings depicting gods and other figures from Mayan mythology.
Temple of the Wind:
Built atop a platform overlooking Tulum's coastline, this temple served as an observatory for predicting weather patterns using wind direction and speed readings taken from nearby lagoons. Its entrance faces eastward towards sunrise, suggesting that it may have also been used for religious ceremonies or rituals related to solar worship.
The Palace of the Great Lord is believed to have been where Tulum's ruler lived during his time in power over 500 years ago. It stands out among other structures due to its unique architecture, which includes three levels connected by staircases made from limestone blocks carved into steps leading up to each level's entranceway and flanked by columns adorned with snake heads representing fertility deities worshipped by ancient cultures living in Central America at that time period.
Temple of Descending God:
Named after a sculpture found inside depicting a god descending down stairs while holding onto two serpents, this temple serves as another example showcasing how much importance religion played within daily life in pre-Columbian times throughout Mesoamerica. Inside you can find several stucco reliefs featuring various gods such as Kukulkan (the feathered serpent deity), Chaac (god associated with rain), Ixchel (goddess associated with childbirth & medicine).
House of Columns:
One of few remaining buildings still standing today, this structure consists mostly remains intact despite being exposed outdoors without any form protection or preservation efforts done on it. Inside are five columns carved out stone which are thought have held up roofing material providing shade those who resided here back then. Visitors will also notice many hieroglyphic inscriptions covering wall surfaces giving insight into what kind activities took place here long before arrival Europeans Americas.
FAQs in Relation to Tulum Ruins:
What is special about Tulum Ruins?
It was once an important trading port for the ancient Mayan civilization and one of the most visited sites in Mexico. The ruins are perched atop 12-meter high cliffs, offering stunning views of the turquoise sea below. Visitors can explore several structures including El Castillo, a pyramid temple that served as Tulum's main landmark; Temple of Frescoes, which features colorful murals depicting scenes from Mayan mythology; and Temple of Descending God, where visitors can admire a unique sculpture carved into limestone rock. With its beautiful scenery and fascinating history, Tulum Ruins is an unforgettable experience for any traveler.
Is Tulum Ruins worth visiting?
Yes, Tulum Ruins are definitely worth visiting. Located on the Caribbean coast of Mexico's Yucatan Peninsula, the ruins offer a unique combination of ancient Mayan history and stunning natural beauty. The site is one of the best-preserved coastal Maya sites in existence and offers breathtaking views from its clifftop location overlooking the turquoise waters below. Visitors can explore fascinating archaeological structures such as El Castillo, Temple of Frescoes and Temple of Descending God, all while learning about this remarkable civilization's culture and beliefs. With its stunning setting and wealth of history, Tulum Ruins is a must-see destination. Alternatively, you can also check out: Why is Tulum famous?
How much does it cost to get into Tulum Ruins?
The cost of admission to the Tulum Ruins in Mexico depends on your age and nationality. For Mexican citizens, admission is free for children under 13 years old, while adults pay a fee of 70 pesos (approximately $3.50 USD). Foreigners are charged a flat rate of 220 pesos (about $11 USD) regardless of age. There is also an additional charge for taking photos or videos inside the ruins. Alternatively, you can also check out: Where do you fly into when you go to Tulum?
Conclusion:
With its stunning architecture, historical significance, and unique artifacts, it's easy to see why this site has become a popular tourist attraction. Whether you choose to take a self-guided tour or explore on your own, Tulum Ruins is sure to be an unforgettable experience. So don't miss out – plan your visit today and discover all that Tulum Ruins has to offer.
Check out our Action+ One Year Subscription plan with all of our self-guided driving and tours included. Travel every week to a new place and let our 6000+ stories across 100+ tours be your tour book, guide and app – all in one!