The islands of Hawaii are world-famous for their beaches, making it difficult to choose the best one. Here are our top three:
Beloved by tourists and residents alike, Po'ipu Beach on the island of Kaua'i is one of the most popular in the state for a reason. Kaua'i is the most rural of the four main Hawaiian Islands, which means even the most popular beaches aren't too crowded. Po'ipu Beach has a little something for everyone, including tide pools, friendly sea turtles, and some killer waves for surfing. When you're finished, make sure to stick around and watch the sunset.
Also located on Kaua'i, Hanalei Bay is another great place to spend your whole day. Hanalei is one of the largest bays on the island and features over two miles of soft white sand. It also gives you great views of the jagged emerald peaks and valleys of the Na Pali mountains in the distance. Finally, be sure to check out the Hanalei Pier that extends out into the bay – the perfect place to jump into the ocean for some swimming or bodyboarding.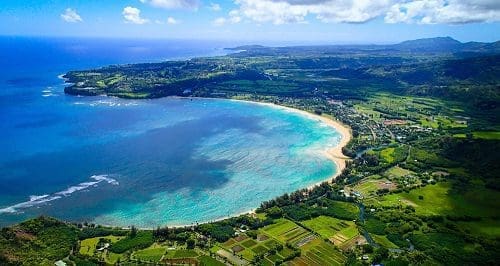 While Kaua'i claims several of the state's best beaches, our personal favorite is actually located on the nearby island of Maui. Ka'anapali Beach on the island's west side stretches for three miles of white sand and bright blue ocean. Of course, while Ka'anapali is gorgeous enough to challenge any beach in the state, the real attraction of this beach is what you'll see under the water: native coral reefs and playful sea life, including sea turtles and plenty of colorful fish. In the winter months, you could even spot a humpback whale as it passes by the shore.
To make the most of your trip to Hawaii, check out our All Hawaii Self-Guided Driving Tour Bundle. If you're interested in taking more tours, we also offer Action+, which grants you access to all 100+ of our US tours for a single price.