You'll find plenty of places to swim on an Olympic National Park tour, although the water might be a little colder than you anticipate. The most popular swimming hole in the park is Lake Crescent, a serene glacial lake located on the northern edge of the park. Blessed with some of the clearest water in the state, Lake Crescent is calm and easy to swim in, although you should be aware of its depth. The lake is over 600 feet deep in the center, and even the swimming areas by the shore are often 100 feet deep or more, so make sure you don't drop anything in the water.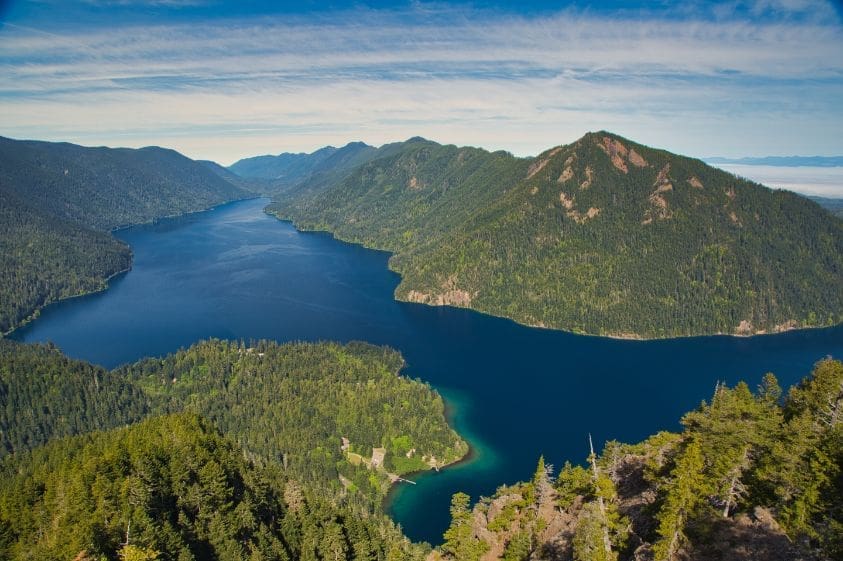 One of the most popular swimming spots on Lake Crescent is the Devil's Punchbowl on the eastern side of the curve. The bridge spanning the mouth of the punchbowl is a popular spot for jumping, although real daredevils might prefer to take a 30-foot plunge from the cliffs overlooking the water's edge. The water at the Devil's Punchbowl is very deep, making cliff jumping a relatively safe option, although you should still be careful to leap as far out as you can to avoid hitting the rocks.
Lake Crescent is also a great place to do a little paddling. We'd recommend launching from the Log Cabin Resort on the eastern edge of the lake. You can use your own kayak or paddleboard if you have one, or you can just rent one from the resort. Either way, it's one of the most relaxing ways to spend an afternoon in the park, especially if you're not a fan of swimming in cold water.
Make the most of your trip to the park with our Olympic National Park Self-Guided Driving Tour, or check our Action+ to gain access to all 100+ of our US tours for a single yearly price.
Essential travel Guide: