The rainiest month in Aruba is November, but that month still only averages about 3.8 inches of rain, a far cry from the tropical climates in the rest of the Caribbean. The island only gets about 20 inches of rainfall each year, giving it an arid climate that almost resembles the American Southwest. Because Aruba is located at the very western end of the Leeward Antilles island chain and the trade winds blow east to west, the rain clouds have dried out and dissipated by the time they reach the island. The islands to the east of Aruba also have higher elevations, causing a rain shadow effect that leaves Aruba fairly dry year-round. The island is also south of the hurricane belt, which means the tropical storms that pound the rest of the Caribbean won't affect your Aruba tour.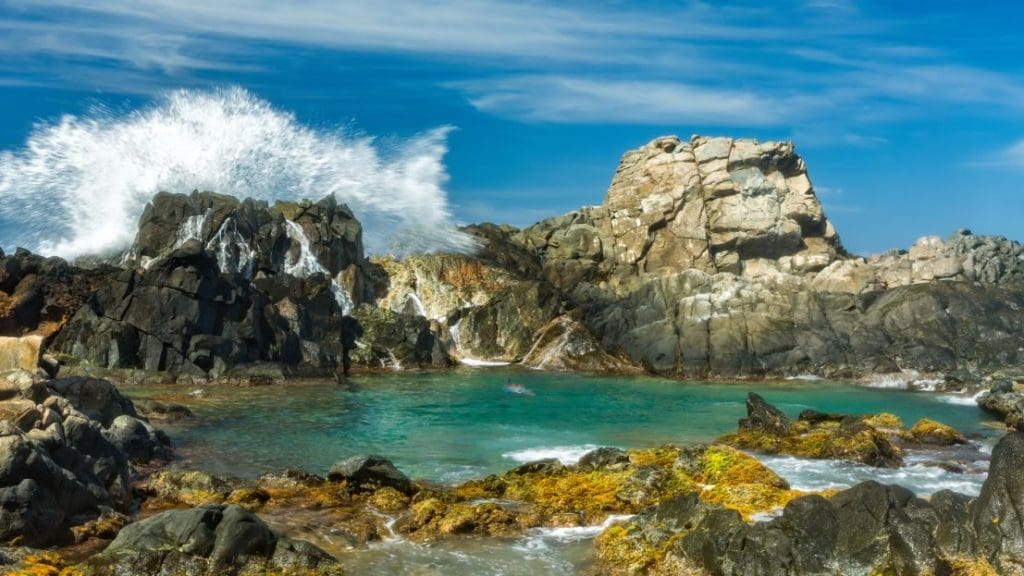 Aruba is also very close to the equator, which means it gets more sun than most of the globe. The intense sunlight and the lack of rainfall combine to give the island its distinctive desert landscape, complete with cactuses. Fortunately, the trade winds that constantly blow across the island help to temper the intense sun, keeping the temperature there comfortable year-round in the 80s. The trade winds also help the island feel less humid, creating the perfect climate for vacation relaxation. This unique mixture of geographic forces is a big part of why Aruba is such a popular tourist destination – after all, who wouldn't want to relax in a place with warm sun, cool breezes, and barely any inclement weather? Just make sure you bring plenty of sunscreen because the breeze won't do anything to protect you from UV rays.
Make the most of your next trip to Aruba with our own Aruba Island Self-Guided Walking & Driving Tours, or sign up for Action+ to gain unlimited access to over 100 tours for a single yearly price.
Essential Travel Guide: