As the island's capital city, Oranjestad is the perfect place to start any Aruba tour. The colorful architecture and decoration of the city are a testament to Aruba's blended cultural history, with influences from Dutch, Spanish, Arawak, and American culture. But where does the unusual name come from?
The history of Oranjestad starts at the very end of the 18th century when Aruba was a Dutch colonial holding. In 1798, the colonial authorities constructed Fort Zoutman on the coast of Aruba, and the town that would become Oranjestad began to grow around the fort. At the time, the town was mostly used to raise horses and export them to nearby colonies like Jamaica or Curaçao, so it was informally named Paardenbaai – "Bay of Horses" in Dutch. However, as more and more of Aruba's ~2,000 inhabitants moved to the area surrounding the fort, the Dutch decided to formalize the new city. Paardenbaai was designated as the capital city for Aruba in 1824, and officially renamed Oranjestad, or "Orange City," in honor of the Dutch ruling family, the House of Orange.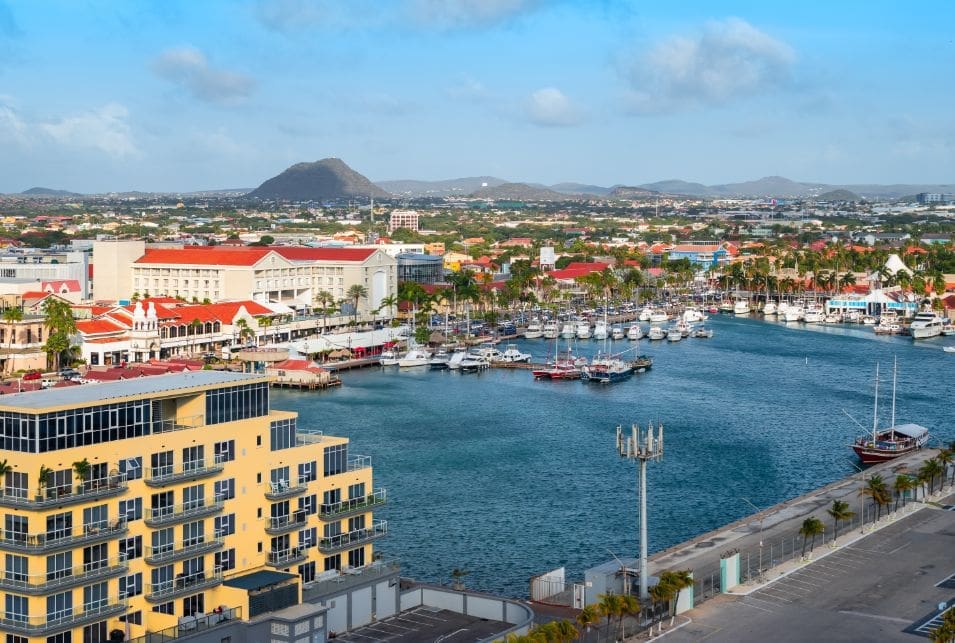 There is one more wrinkle to the story of Oranjestad's name. While the Dutch had ruled Aruba for over 150 years by the time Fort Zoutman was built, the people of the island never adopted Dutch as their primary language. By the turn of the 19th century, most people in Aruba spoke Papiamento, a creole language based on colonial-era Spanish and Portuguese and influenced by Arawak, Dutch, and West African creole. In Papiamento, the area surrounding the fort was originally called Playa Caballo, or "Horse Beach," and the name stuck. Even today, you're more likely to hear a local refer to the city as "Playa" than as "Oranjestad."
If you're interested in seeing Oranjestad for yourself, we recommend taking our Aruba Oranjestad Blue Horses Self-Guided Walking Tour, or check out Action+ for access to over 100 tours at a single yearly price.
Essential Travel Guide: