Despite being only 69 square miles, the island of Aruba has plenty of variety. The culture you'll see on an Aruba tour features influences from Dutch and Spanish colonists, Arawak natives, South American immigrants, and even American tourists. This diversity of experience isn't just limited to the culture, either – the island itself can be split into two halves, each with its own unique vibe.
The north-western half of the island is more "touristy," and features plenty of high-end resorts, restaurants, and places to shop. This part of Aruba is dominated by a sprawling metropolitan area where the cities of Oranjestad, Noord, and Santa Cruz have grown together. Oranjestad is a particularly popular spot for tourists, featuring several museums and attractions like the Aruba Butterfly Farm. Historic Dutch Colonial architecture also gives Oranjestad a quaint, uniquely Dutch-Caribbean feel. Other popular destinations on the northwestern half of Aruba include Palm Beach, which is the center of the island's nightlife, and Eagle Beach, one of the best sandy beaches in the entire Caribbean.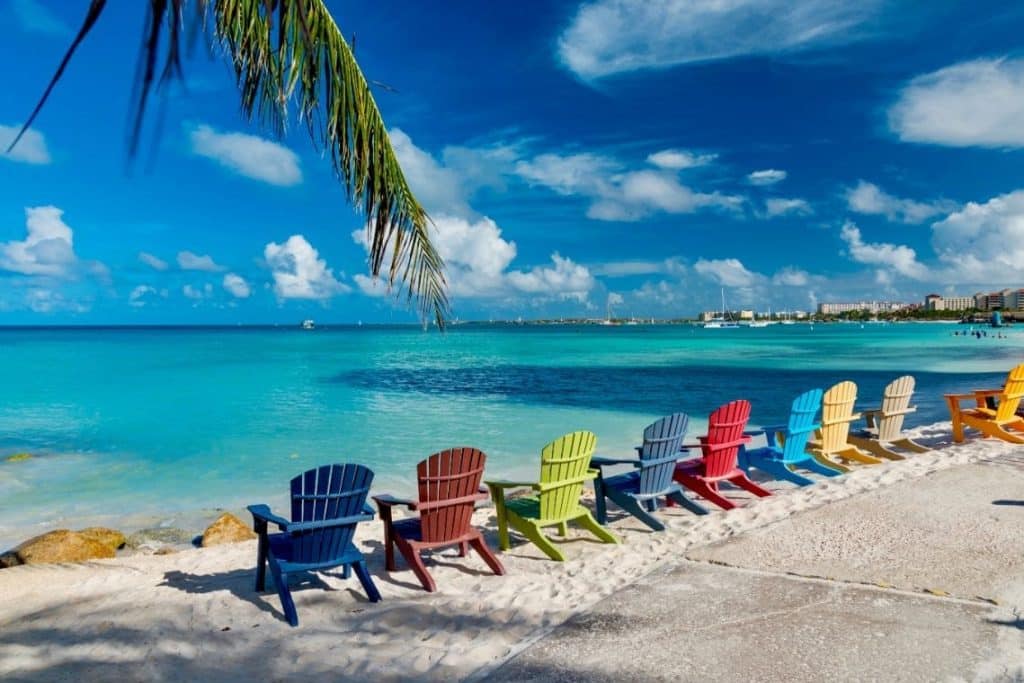 If you're hoping to find a more "local" vibe on your trip, then the southeastern half of Aruba is the spot for you. The beaches in this half are much more rugged and feature caves, dunes, and volcanic hills. Travelers looking to avoid other tourists might want to get a hotel in Savaneta on the southern coast. Well off the beaten path, Savaneta has some of the island's quietest beaches and some of the best opportunities for snorkeling or kayaking. Located on the southeastern tip of Aruba, San Nicolas is the island's second-largest city after Oranjestad, but it maintains a much artsier and more relaxed feel. Stay in San Nicolas for colorful street art, lively Caribbean music, and a double dose of local charm.
To make the most of your trip to Aruba, we recommend checking out our Aruba Oranjestad Blue Horses Self-Guided Walking Tour, or sign up for Action+ to gain access to over 100 tours for a single yearly price.
Essential Travel Guide: