Aruba is an extremely popular tourist destination for good reason. The weather, beaches, and local culture of Aruba are all spectacular, making it the perfect place to get away and relax for a while. Here are just a handful of reasons why so many people choose to spend their vacation on an Aruba tour:
The Weather – Aruba's climate is fairly unique among Caribbean islands. While the sun there is very strong, trade winds from the north are constantly cooling the island, giving it year-round average temperatures between 80 and 85 degrees Fahrenheit. Aruba also has very little rainfall, so you can enjoy day after day of warm, clear weather without sudden showers or too much humidity.
Sandy Beaches – Aruba has some of the best beaches in the Caribbean, including the world-famous Eagle Beach in Oranjestad. The beaches in Aruba are known for soft sand and relaxing views, and the island even features several unique pink beaches with sand made of crushed coral and shells. The eastern side of the island has some more rugged shores as well, with some volcanic features.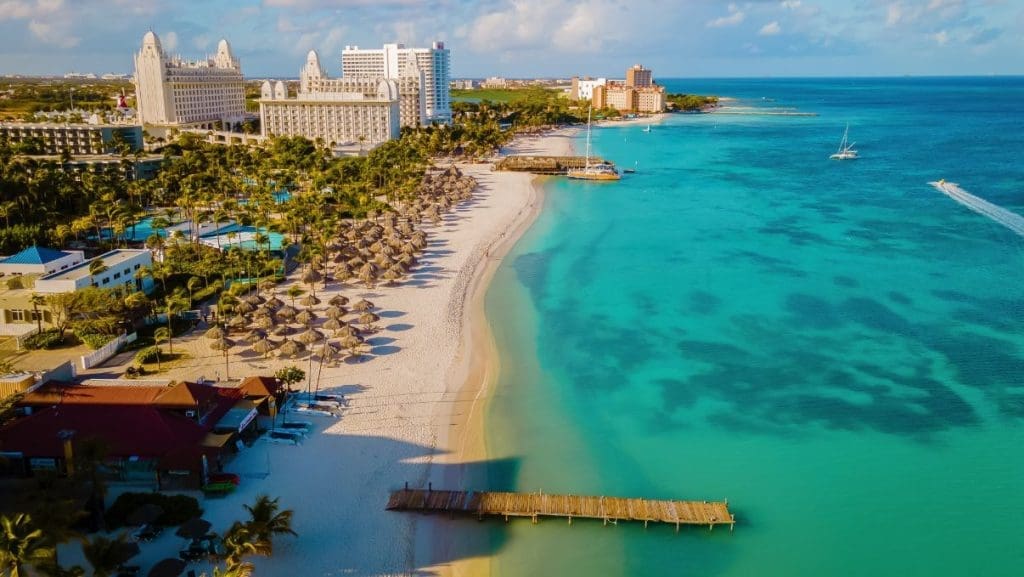 Vibrant Culture – The culture in Aruba features a blend of Dutch, Spanish, and Arawak influences. There's a relaxed island vibe there, as well as plenty of colorful street art and music. Keep an eye out for bright pastel Dutch Colonial architecture, especially in the capital city of Oranjestad. We also recommend checking out the Bon Bini Festival, held every Tuesday at Fort Zoutman, for an introduction to Aruban culture, including dancing and island cuisine. Anyone interested in local art should visit San Nicolas as well, the arts capital of the island.
To make the most of your trip to Aruba, check out our Aruba Island Self-Guided Driving and Walking Tour Bundle, or sign up for Action+ to gain unlimited access to over 100 tours for a single yearly price.
Essential Travel Guide: