Saguaro National Park is split into two sections, one on each side of the city of Tucson, Arizona. If you're wondering where to stay near Saguaro National Park, then there are plenty of hotels and accommodations in Tucson itself. Both Saguaro East National Park and Saguaro West are about half an hour from downtown Tucson, so you can easily drive to either section from a hotel located in the city. There are also plenty of places to stay in the suburbs outside the city, although you'll miss out on the vibrant Tucson nightlife.
The two sides of Saguaro National Park were founded about 30 years apart, which is why they're separated by the city. The eastern portion, now called the Rincon Mountain District, was founded in 1933 after Tucson newspaper owner and former Postmaster General Frank Harris Hitchcock successfully lobbied President Hoover for land to preserve the native giant saguaro cactuses. Hoover responded by creating the Saguaro National Monument east of Tucson.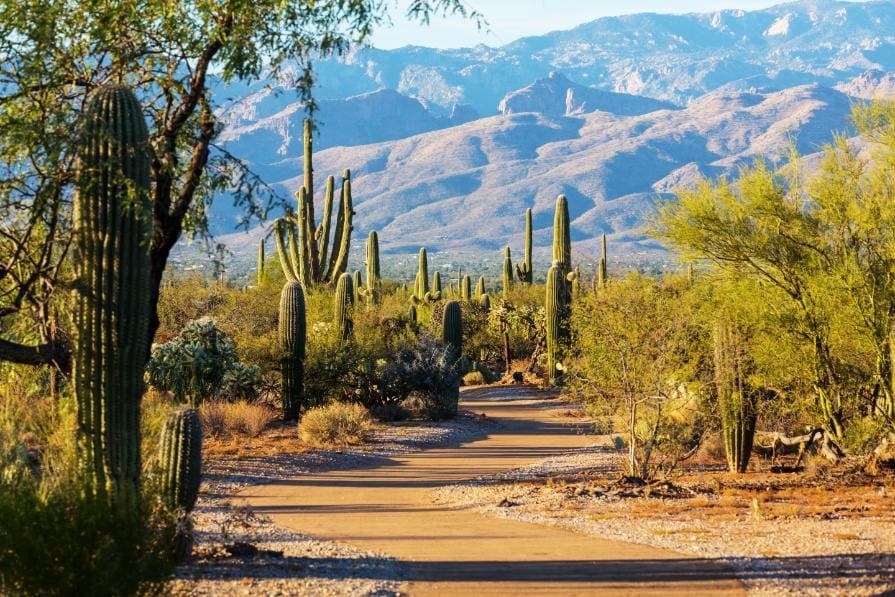 The western portion of the park, called the Tucson Mountain District, wasn't founded until the early 60s. When President Kennedy ordered that the monument be expanded, the government decided to use land that it already owned instead of trying to remove farmers living around the Rincon district. Most of the land that makes up the Tucson district was carved from the federally-owned Tucson Mountain Recreation Area and the county-owned Tucson Mountain Park. The result is, essentially, two different parks under the same management – one to the east of Tucson, one to the west. Luckily, merging them into a single national park means that you only have to pay once if you want to visit both sections.
To make the most of your next trip to Saguaro, check out our Saguaro National Park Self-Guided Driving Tour, or sign up for Action+ to gain access to over 100 tours for a single yearly price.
Essential Travel Guide: