Tour Details



Driving / Walking


4 - 5 Hours



Purchase QTY


One Per Person



Distance


50+ miles



Audio Stories


60+



Self Guided


At Your Own Pace



Tour Benefit


Tour Anytime
Any Day



Works Offline


100%
Money-back
Guarantee
Welcome to the bundle tour of Badlands National Park to Mount Rushmore
Uncover the hidden beauty and history of South Dakota with this combo tour of Mount Rushmore and Badlands National Park! Get the full story behind one of America's largest sculptures at Mount Rushmore. Learn who designed it, how they carved it, and why these four presidents were selected for the monument. Then, take a trip back in time to the Badlands, where a landscape of alien beauty hides ancient fossils, geological marvels, and Lakota history.
About the Tour
Your Mount Rushmore tour begins outside the Information Center. As you walk toward the mountain, you'll stop at a memorial to the sculptor behind this monument and hear his story.
Next, you'll stroll down the Avenue of Flags before arriving at the main viewing platform, boasting a clear view of Mount Rushmore. Too many people? A less-crowded platform waits just ahead, where you'll hear how workers carved the presidential faces.
Then you'll stop at the Sculptor's Studio, where you can see a plaster model of the monument's original design and learn more about Borglum himself. After that, you'll walk the Presidential Trail, a boardwalk through lush natural scenery. Along the way, you'll hear about the Lakota perspective on Mount Rushmore.
Your tour ends at the conclusion of the Presidential Trail, back at the main viewing platform.
At Badlands National Park, your tour begins in the town of Wall (or Philip if it's more convenient). Upon entering the park, you can choose to detour a prairie dog colony that's perfect for animal lovers! That's followed by Pinnacles Overlook, a great place to see bison or bighorn sheep.
At Ancient Hunters Overlook, next, the ancestors of the Lakota used to butcher bison they'd hunted. Then you'll pass Yellow Mounds Overlook, which reveals millions of years of geologic history!
Homestead Overlook comes next. Here, you'll find out how the Homestead Acts forever changed the Badlands. Then, at Burns Basin, you'll get a chance to see the site of one of those homesteads!
Prairie Winds Overlook next, offering views of the lush, flowing prairie. Then there's Panorama Point, one of the park's best spots for photos. After that, you'll learn to identify a golden eagle, one of the Badlands' most iconic residents.
The Fossil Exhibit Trail follows and is a must-see for anyone with younger travelers. This trail uncovers the history behind the many fossils and prehistoric creatures of the Badlands.
Next, you'll come to Saddle Pass Trail, a great hike for birdwatchers. Then there's the Cliff Shelf Trail, which takes hikers through a juniper forest to break up the rocky landscape.
You won't want to miss the next trio of trails known as The Notch, The Castle, and The Door. Boasting a whole breadth of difficulties and lengths, there's something for everyone!
Finally, you'll reach Big Badlands Overlook, offering some of the best views in the park. Your tour concludes here.
How does it work?
Once you book a tour, you'll get a text/email with instructions.
Download the app (while in good wifi/signal) and use your unique password to access your tours.
To begin touring, go to the starting point and launch the app.
The audio starts automatically once you reach the starting point. Stick to the tour route & speed limit for the best experience.
Please note that no one will meet you at the starting point.
Preview the Tour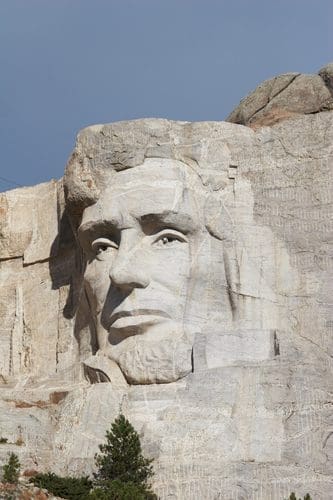 Mount Rushmore - Sculptors Studio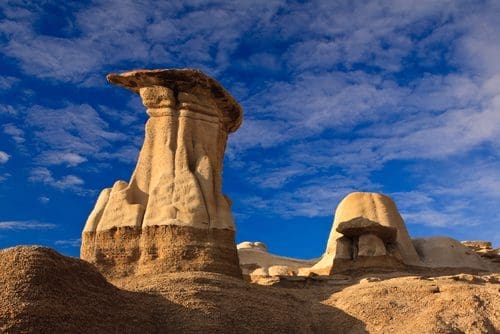 Badlands - Erosion
Inclusions and Exclusions
Inclusions:
App on your phone: A link to download the Action Tour Guide App and Password for your tours.
Flexible schedule: Use any day, any time. Travel over multiple days or on next trip. Never expires.
Easy to use: Stories play automatically by GPS. Hands-free. Get HELP all day: Call, Chat, or Email.
At your own pace: No group. Take breaks for photos/ snacks/hikes. Go at your own pace.
Offline use: No cell signal or wifi required. Offline GPS Map & route. Stop-to-stop direction.
Don't miss a thing: Full itinerary, travel tips, professionally narrated videos, text, and hidden gems.
Exclusions:
Transportation, parking fees, food, and drinks.
Entry tickets or reservations to any attractions along the route.
Car Rental: Please arrange a rental car at the closest airport or train station.